Dog troubles!
April 20th, 1995
It is time for our annual Spring Break. Yep, time to load up the busses and head for the desert.
Once again we are heading out with high hopes. We want to go someplace warm and also to someplace totally new to us. We figured southeastern California would be a sure bet, some place over by the Arizona border. Suzanne had been pouring over her maps and noticed a place called the "Chocolate Mountains", east of the Salton Sea. She called me on the phone, told me about her find and said:
"I want to go there".
"Great! I replied. "Let's do it."
Later, I took off my glasses and got my nose up close to my map of the area. I discovered that the "Chocolate Mountains" are marked as a gunnery range!
Nothing like a nearby explosion to cause one to
drop their book and spill their drink!
Looking around that area of the map more closely I noticed a place called "Hell".
I called Suzanne back.
"Hey, since it is Easter Week, why don't we go to Hell?"
"Why not!"
So, "Hell" it is.
I also told her that according to my map, just a few miles past "Hell", there is a turn-off into the "Chuckwalla Mountains. That area is identified as having 140,100 acres of road-less area; hills, peaks, washes, ridges, bajadas, canyons, valleys, rocky spires, springs, fan palms, Bighorn sheep, desert tortoise, raptors, camping, backpacking, hiking, rock hounding, and off highway vehicles".
Suzanne said, "Sounds good".
Anyway, that is the plan.
Ed asked me not to make any plans this year, "They seem to cause trouble". Last year, he pointed out, I predicted, "'Trouble free motoring' and look where it got us", but I can't help it. The first night I figure we will be dining out at the Basque Restaurant in Bakersfield and camping under the Joshua Trees south of Mojave. The next afternoon we should arrive in "Hell". That's my plan anyway. Meanwhile, the dog is sitting by the bus with her tennis ball. She's packed and ready to go.
---
April April 27,
Finally, it's over. The Sixth Annual Spring Break. (Ed says it was the seventh but what does he know?) Anyway, it's over.
Every year we are attacked from an unexpected quarter; Lolli breaking her leg, my bus breaking down, Ed's bus breaking down, Suzanne breaking down, but who would have ever suspected the dog? (I'll get to that in a moment.)
So there we were, right on schedule, eating a fine Basque dinner in Bakersfield and then camped out beside the Joshua trees south of Mojave the first night, the busses running fine. The second afternoon, just as planned, we arrived in "Hell", or did we? I hollered at Ed on the CB,
"Where the hell is it?".
He didn't see it either.
According to our maps "Hell" should be right beside Highway 10 out past Desert Center. We took an off ramp and did a closer reading of our maps. Upon further inspection they indicated that there should be a sandy road leading off to the north. We turned off into the sage brush and followed a maintenance road beneath some power lines and then took a seldom used rut headed in what seemed to be the right direction towards "Hell" and then we got stuck in loose sand.
After a bit of pushing and shoveling we finally lurched on and arrived at the spot where we felt "Hell" should be. The ladies got out their lawn furniture, glasses of wine, and read their books while Ed and I and the Dog searched high and low for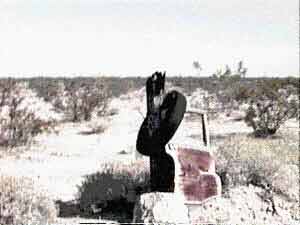 Hell.
We finally found it, we're convinced, but it was a disappointment, or a relief; all depends on how you look at it. Nothing was left but a post with a car door leaning against it and a tire draped over the top and some trash. Evidently the widening of Highway 10 pretty much paved over Hell!
Now that we had "Hell" out of our system, we pressed on for the Chuckwalla Wilderness Preserve. We found the turn-off and soon came upon a beautiful palm oasis with petroglyphs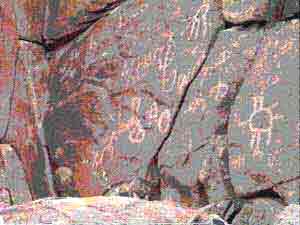 on the rocks. It was heaven compared to Hell but the sign said "Dogs on leash" so to hell with that. We went on up the canyon and pretty soon Ed got stuck in the sand at another beautiful spot.
Good enough. Out with the barbeque and beer.
The next morning I demonstrated the technique of letting out the air in my tires in order to drive out of the sandy wash but Ed wasn't a believer. So we jacked and shoveled and pushed his bus for a
hour and a half until he too became enlightened and let the air out. We then drove out of there and upon reaching the "good" road pumped them back up with my hand pump (don't leave home without one).
For the next few days we were chased by high winds from place to place. We went into Arizona and down along the Colorado River looking for that warm, peaceful spot but no, the wind and threatening rain chased us on. We did a thirty mile, rough road, drive out into a geode area and camped down in a draw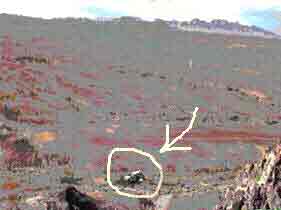 but the wind never let up. Suzanne and Lolli hiked around and found geodes but Ed and I never could (must be a wimmin thing).
Ed and I did excel at one thing though. We fired off a parachute bomb one evening and watched it come down in the star lit night. In the morning we went over to see where it landed. It was hung up in a sticker bush with the parachute weight hanging almost exactly over a spray-painted bulls-eye someone had painted on a abandoned car hood! We had no idea the hood was even out there in the ravine until we went looking for the parachute.
<click>Bulls-eye! <click>
(Must be a guy thing.)
Next, we went to a place called Glamis to restock our ice, water and milk.
Glamis was worse than Hell. The women behind the counter was surly and could teach me a lot about being a gas pump jockey. Water was $2.75 a gallon, ice was outrageous, and there were no toilets. To Hell with that! Off to Brawley for a real grocery store and then on to the town of Campo to see the train museum.
We got to Campo in time for more rain and wind. The train museum was locked. It almost snowed! And this is only eight miles north of Baja and 60 miles east of San Diego! The next morning we beat feet for the Tecoupa Hot Springs at the south east end of Death Valley.
Ah, finally warmth and rest, but it was still windy.
The next day we went for a hike through a wilderness preserve alongside the Amagosa River. During the return trip the dog started acting weird.
Remember the dog?
By the time we got back to the busses she was starting to fall down and breath hard. We went back into Tecopa and the Post mistress said the nearest vet was located in Pahrump, Nevada, 38 miles away.
Off we go.
We checked her into the vet and they decided to keep her over night. Nothing left to do but go back to Tecoupa and spend a strange, dog-less, night down in a wash beside cottonwood trees and wait to call the vet in the morning. We made the call the next morning and found she was better and that we could come pick her up. Happy dog, happy humans, sad checkbook. She had got into either bad water, loco weed, or coyote poison. She got an I.V, charcoal for toxin removal, a Band-Aid and a tranquilizer. $180.00 bucks.
During our return trip we discovered Boonville to be the warmest, prettiest, place during our whole trip. What can I say? The Sixth Annual Spring Break is finally over.
---