During Spring Break 2008 our friends Pete and Mary joined us. They have wanted to do Spring Break with our group for years and this year they finally made it. We showed them around to all our favorite places. That story is here. Towards the end of our trip, as we were driving home on HWY 395, Pete pointed at the Sierra Mountains near Mammoth, CA and mentioned he would like to take me up there and show me his favorite places!!
Thus was born the idea of me backpacking in the High Sierra. Yes, Me!!
During the five months after Spring Break I wavered and waffled on the concept.
Would I like to do it? YES!
Could I actually do it? Mmmm, er, ah, well, maybe.
I kept doing my morning walks "WalkingFortBragg.com" and then I started walking around with my old Kelty backpack loaded with some books and other weighty items bringing the weight up to around 30~35 pounds. I visited a shoe store and bought some better shoes and socks. Then Pete told me we needed to take "bear canisters" along for our food. That news caused me grave concern because the bloody canisters weigh four pounds each with nothing in them!!!
Gradually the plan firmed up. Pete, his brother Dave and.... I .... would go. We would meet at the McGee trailhead early the 2nd of September and return on the 10th. I opted to go several days early so I could do day hikes and try to get acclimatized to the altitude.
I started my "conditioning" by soaking in the hot spring "Tub" north of Lake Crowley and gazing at the destination!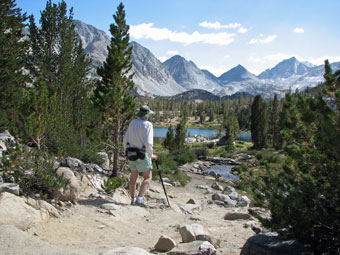 And then, for several days I did "day hikes" along Rock Creek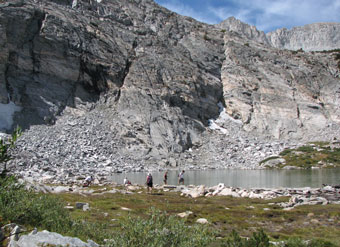 going as far as the Gem Lakes.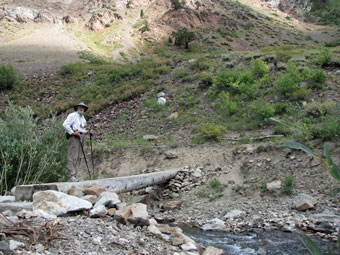 I decided I would hike up the McGee trail as far as Big McGee Lake. According to my map I should arrive in six or seven miles.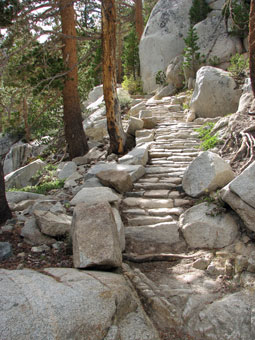 Well, by 3:30 in the afternoon I was thoroughly whipped with no Big McGee Lake in sight. Every time I climbed another steep section of the trail I expected to see the lake but no, just another steep section of trail would appear. When I reached these "stairs", well above the 10,000 foot elevation sign, I decided I had had enough (and this was without my backpack)!! It was time to head down ahead of the approaching darkness. Concern about being able to do this backpacking trip foremost in my mind. Talk about discouragement!!
Each evening I would return to my spot by a Juniper Tree, wash down some Ibuprofen and called it a day.
*******
But, as with all things, the time had arrived. In the morning I would drive to the Mammoth Ranger Station and pick up our "Back Country Permits".