February 28 - March 6
---
Okay, here are the 20 foot long 1-1/4" pipes for the deck railings. Fernando delivered a cut off saw for us to use to cut the pipe to length. Soon we had 48 pieces cut for the railings and 16 for the uprights. The uprights were then taken to North Coast Plumbing to have threads put on one end for their attachment to the deck.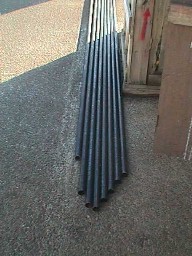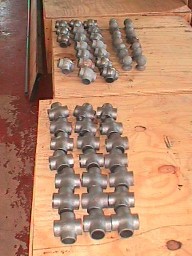 Here are some of the deck railing castings that will join at the pipe intersections. The original Lantern rail was just caulked and pinned at each joint but that allowed water to leak in, over time, and rust out the pipe. This time each joint will be completely welded around the pipe - 205 welds!
Also, we received the stanchion castings, primed them with zinc and installed them into the roof castings using Vulcem sealant. One inch nuts, with washers, were tightened up on the inside of the roof. Once they were in place we then laced in the one inch diameter solid steel rod that makes up the roof railing. These too will be completely welded at each stanchion - both sides.
Now that the roof railing nuts were in installed we could put the Architrave liner on. In this image one liner is in place on the right. We have little pieces of tape stuck on in various places to identify where each panel goes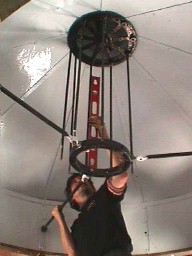 After the Architrave liner was installed we then applied the two coats of white finish paint to the ceiling and Architrave liner and finally installed the Rosette hanger in the chimney opening, the Rosette and the nine 1/2" rods that are the hangers for the Smoke Hood. Here we use the "spider" ring and three spider rods to make sure the rotation and alignment of the smoke hood rods are correct. We will have to remove the spider ring and rods again in order to slide the smoke hood up the Rosette rods and block temporally place. We will then assemble the spider ring and rods. After that is accomplished we will lower the smoke hood back down to rest on the rods. Sort of hard to explain but next week I will have pictures of the completed assembly and it will make more sense.
Friday afternoon found the temporary building surrounded by "construction zone" tape. This weekend is Whale Watching Weekend at Point Cabrillo and many folks will come out to see the whales. It is okay to watch the whales, which are going by, but no peeking inside the shed!