December 13 - 19
---
This week we mainly sandblasted, applied Belzona and sprayed the parts with zinc primer
The parts are "flash rusted" due to either rain or the prevailing coastal salt air. We sandblast them again, this time just addressing the areas of corrosion and deep pits in the castings. Belzona, a high tech bondo, was then used to fill in the corrosion and pits. A day later, after the Belzona had cured, the casting are finally completely sandblasted and immediately primed with a 90 percent zinc primer. Once the primer is on, our fight against rust is over.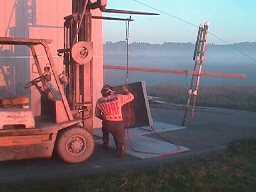 Here, Stefan applies the zinc primer to the inside of a Parapet. It is the end of another busy day.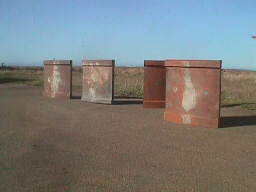 Sometimes Point Cabrillo starts to look like Stonehenge or Easter Island!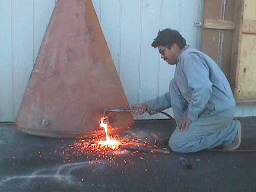 Fernando brought Ramiro Velcara up from Southern California to help sandblast, paint and, in this case, cut off a frozen roof stanchion with a cutting torch. He stayed four days and accomplished a lot.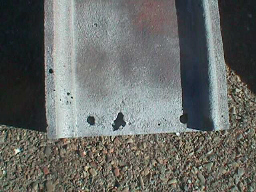 This shows some of the deep pits in an Architrave casting that appeared while sandblasting. Cast Iron from the 1890's had their problems.
This is the same casting after filling the pits with Belzona. It will now be sandblasted once again for the final coat of zinc primer. This last sandblasting will also texture the Belzona to make it appear more like the rest of the casting surface.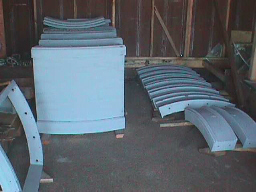 Incredibly, the repaired and primed parts finally start to add up. There may be light at the end of the tunnel after all! On the right are Architrave castings. In the center are Parapets with a door sill sitting on the top at the back. To the left is the upper door frame.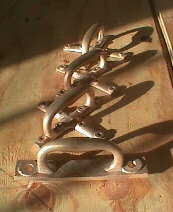 Here are some of the various handles from the Lantern after being glass beaded by Mike Stenburg of Fort Bragg. The handle in the foreground is the inside door pull. The others are a few of the many handles that go around the outside of the Lantern and are used as hand-holds when cleaning the windows.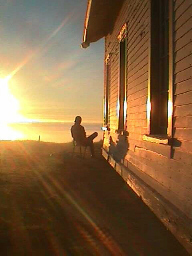 Here is Ginny Frundt, one of the NICA members, taking a break from stripping paint off the Fresnel lens. It must be 5:00 pm, wintertime sunset just minutes away.
Stefan and I worked Saturday, December 19th, because the weather, even though down to 40 degrees with a steady North wind at 15 mph, was sunny and we figured we better do as much as possible while the sun still shined. Rain will stop all sandblasting and painting which has to be done outdoors. By the end of the day the last of the 9 roof castings were coated with zinc primer. All that is left to sandblast, repair, and prime are the 8 floor panels!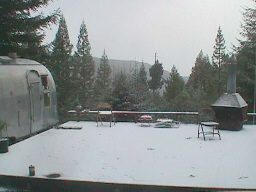 The next day, Sunday December 20th, snow arrived at my home, affectionately referred to as Dingy Hovel, a 1959 26 foot Airstream trailer, 1,100 feet above the Pacific Ocean.