January 17 - 23
---
This week has been, what I hope will turn out to be, the low point of this project and that from now on great progress will be made. I guess most all worthwhile project have their moments and we have definitely been having ours and, although they have currently slowed down the assembly of the Lantern, they have also given us some time to make sure we do things right.
There has been some difficulty in getting the right bolts for the window sash interconnects and even talk of it taking up to eight weeks to get them made if they can't be found! Decisions on who and how to trim the 44 pieces of Lantern glass are still up in the air. Talk about what kind of caulking works best between glass and bronze. Etc. Just some of the items that have interfered with clear sailing but we should be back on track soon. One thing for sure, the January 28th date for the Lantern to be back onto the roof of the Lighthouse has slid.
And then, early in this frustrating week, I set the chimney casting down on Stefan's foot! Well, actually, truth be told, I sort of accidently dropped it! The next day Stefan had it checked out by Dr. John Gallo and sure enough the bone in his large toe was broken.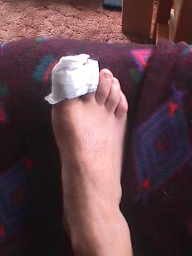 Stefan took the rest of the week off. I stopped by to apologize, again, and document the toe for our "cyber" friends. Yes, this ongoing saga is even being followed by Stefan's friends back in Switzerland.
By week's end Dr. John had given Stefan the okay to return to work Monday.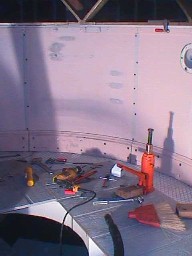 Meanwhile the fitting of the Parapet liners and mop boards continues.
I stopped by Woodie's Weld-All to see how the reconstruction of the ventilator ball was coming along.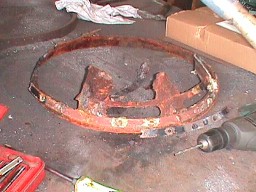 This image is of the remains of the lower third of the ventilator ball which had rusted and crumbled into pieces. They cut all the bad stuff off up to a point where sound structure of the ball still existed and then completely reconstructed what was no longer there!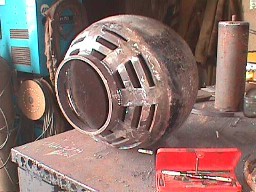 The round post, to the right of the ball, is what was made to place the remaining two thirds of the ball on. That post held the ball level and at the right height above the work bench. Then pieces were cut to size, bent and welded, bit by bit, into place on down to the new mounting ring which sat level on the table. Each set of ventilator slots will have a small metal frame made to go around the slots and then they will be drilled, tapped and screwed to the ball to hold in place the copper screens which will keep the birds and bugs out, just like the original ventilator ball.
January 23. The end of a strange week. A morning rainbow hovers over dingy hovel. I take it as a good sign.