Summer Vacation 1997
to the Southwest.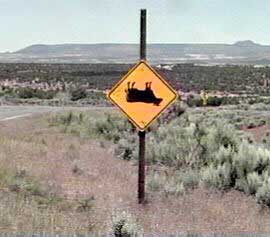 May 28th. I arrived at Lolli's cabin at 2:00 and by golly she arrived only ten minutes late! We packed up her stuff and headed out at 3:00 pm. Splendid! Except, she had to go to the post office to mail some boxes off to Elaine in Nicaragua and then to the College to take care of some business and then to Fort Bragg to leave her car with Katherine at the studio. After all of that we finally, officially, headed out on vacation at 4:30 PM, May 28th.
We went out hwy 20 and shopped a bit in Willits at the Safeway. Then headed down 101 and took the turn-off for Redwood Valley. Doug and Jan had invited us up to visit their new property on our way out of town.
We got there around 6:00 pm, Allison waving and jumping around upon our arrival. Jan gave us the grand tour while Dougie fired up the bread oven. After the tour of their acreage, water source, and view, we found a level spot to park and set up our bus for the night. They have a really nice piece of property and have done a lot with it. The new wood fired kiln is really something to see and we were able to walk inside of it and take a look around. Then, they cooked some really good store bought pizza in the bread oven that they had build. We sat around and talked and drank wine and finally, when it got dark, they loaded up and left for home, leaving us to enjoy the night. In the morning we packed up and headed out around eight o'clock. Back to hwy 101 and on down towards Ukiah and out hwy 20. We zipped over the coastal range, down through the central valley, up over the Sierras, and down through Reno. Evening found us at Spencer hot springs on the east side of Austin, Nevada.
Arriving, we found folks at the various spring sites and two ladies at one of the better sites and it looked like they were not prepared to spend the night. Lolli asked them if they were leaving shortly and they said that the were. We parked a bit off to the side and went for a walk. Soon they left and we moved our bus over to the spring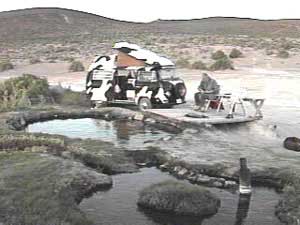 and took a dip. After a while I started the charcoal for the barbecue and took another dip. We then noticed a sign about not camping with in 600 feet of the spring because wildlife use the spring during the night. We moved the bus back to our original location and after an evening campfire, went to bed. As it turned out several folks drove in during the night and used the spring. It was a good thing that we were not camped on top of the spring after all and, we should have remembered "hot spring etiquette" from our previous experience at Travertine hot springs where we were hassled by the locals at night for camping at "their" hot spring.
I woke about five in the morning to the breaking dawn and took a dip. There were now two other cars parked in the vicinity with people sleeping in them. We had our coffee and a soak. I talked to a guy who was camping behind a low hill, out a ways, evidently pretty much living in his International Travelall. His name was Billy, a rather interesting guy who had been around the area quite a bit. I also talked to the other guy who was a social worker from Reno. He was a bicycle enthusiast and knew about various hot springs. I had good talks with both.
The day was fast warming up and we hit the road and headed south. We went up into the small town of Kingston, the lights of which we had seen at night, and looked around; stopping at the market to buy ice, milk and a post card which I sent to the Elk Store.
From Kingston we headed on south and did a lot of basin and range driving. Miles and miles. It is claimed that hwy 50 is the loneliest hwy in America but this drive was more remote.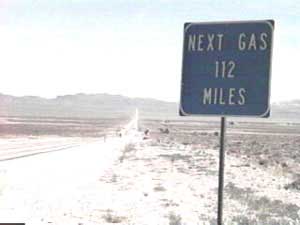 There were so few cars that I drove on the oncoming traffic side of the hwy for over a half an hour just to break up the boredom and to see if Lolli would notice; she had her nose in a book. She finally did. Later, upon clearing one pass and starting down the other side I could see our road ahead, straight as a string, one straight-line stretching down and across and then up into the range off in the distance. I checked my odometer and after finally arriving at the other end discovered that the straight road turned out to be over twenty miles long, further than the distance from my house in Elk to Lolli's house in Mendocino!
Eventually after a long drive in ninety four degree weather, we arrived at the intersection where Warm Springs is located. We stopped and I showed Lolli around that place. It had been a swimming pool and bath house one time but the pool is now almost filled with soda residue. Times past I have been there and even swam in the pool, when the soda was only about four inches deep on the bottom. Now the pool is almost full.
We hopped back into the bus and pressed on over more basin and range and I soon had to drive at a rather leisurely pace up the long grades to keep the engine temperature down. Finally, around four in the afternoon, we arrived at the intersection where Crystal Springs is located. We parked the bus and climbed through the fence and into the shade of the cottonwood trees but found three girls were already swimming in the main pool where the culvert shotguns water into a deep pool. Previous times I have swam in that pool and it is fun to swim in place against the current, but now it was occupied. We walked on around the upper pool and arrived at where the water comes out of the hill. This too is a large pool and we climbed in. We soaked in it for almost one hour and the dog got to do a lot of swimming. We were in the water with our clothes on because of the other folks around and when we finally left we just continued to wear them in the bus and they were dry within one half hour!! It was splendid.
Being late afternoon we headed on towards Caliente with an eye out for some place with shade to spend the night. Up over another pass and then, down the east side, we saw a gravel road leading off towards some Joshua Tree type rocks and soon found "Our Place". We parked and walked around to better check it out and soon found a even better spot to camp. I walked back to the bus and once again, it would not start.
This not starting problem has been randomly happening during our trip. The first time was when we stopped in Reno for gas. It would not start and Lolli and I push started it. Since then it has happened on occasion. It seems to be heat related. After a long hot drive it will not restart. The starter just does not do anything. No click, no spinning, nothing. Anyway, I tried to start it by shorting across the starter connections. The starter would spin but the Bendix would not engage. We got out our lawn chairs and read books for a while to let it cool down. Once it had cooled, it started right up!
Anyway, we then moved to the camp site, set up, and enjoyed a splendid evening. There was even a camp fire ring with a pile of wood waiting next to it! Rocks, Juniper trees, and a great view out across the valley. Just after dusk Nighthawks flew silently over our heads
Saturday. May 31.
The sun rose at 5:15 to a sky devoid of clouds; the first day of no clouds since we left Mendocino. It got up to 94 degrees yesterday but I bet it gets to 100 today. We have no destination for today. Just head east. See what happens.
We had a leisurely get up and when it started getting hot, around 9:00 am, we packed up and left. As we were going down the long down grade to the town of Caliente, there on the right, on the cliff face, some one had scratched out "Catholic Bazaar 1970" in big letters. I thought of stopping to take a picture but didn't. I wish I had so I would have a modern example of pictographs! I mentioned this to Lolli later and she too wished we had stopped. Next time. We resolved to stop whenever we see something we want to take a picture of. We have plenty of time so, what's the rush?
We gassed up in Caliente and pressed on for Cedar City, Utah. We were thinking that we should have bought wine in Nevada because maybe the Mormons don't allow alcohol sales on weekends, today being a Saturday. Anyway, arrived at Cedar City and found a large grocery store to stock up on food and ice. Lolli found that wine was available but only at the liquor store. After loading up the groceries we found the liquor store and bought some wine and then headed for Cedar Breaks on hwy 14. That turned out to be a long slow grind up and up in third and then second gear. Up over 9,000 feet! There was snow in the shady spots. We stopped and I threw snowballs for the dog. She was not interested. While on the way up there was a sudden loud "pop" in the back of the bus. My first thought was that something in the engine had let go but the bus continued to run normally. Then we could smell it. The Lays potato chip bag had burst! Due to the elevation change evidently!
Along the top of Cedar Breaks there are lava flows and some looked to be fairly recent. Aspen groves here and there. We reached hwy 89 and turned south for Page, Arizona. We were descending from this high cool elevation back down into the heat and, since it was 4:00 pm, we decided to find our spot for the evening. We took a side road and then a dirt road and finally a rut and found a nice meadow; Juniper trees, and a cool night sleep with the temperature down to 45 degrees.
Sunday, May 31st.
Down to Page and over the damn dam. On the south side we took a dirt road hoping to find a place to get down and go for a swim in Lake Powell but when we finally came out into the parking area, several hundred feet above the lake, there were a bunch of folks parked and already down on the rocks beside the lake swimming and fishing. Since there was hot direct sun and no shade we decided against going down to be refreshed by a swim only to be knocked out by the heat during the climb back up. We pressed on and went into Page to get gas and a few other items.
Leaving Page we headed for the Betatakin ruin at the Navaho Monument and passed the huge Navaho coal fired power station, the smoke stacks of which we had been seeing for miles. Alongside the hwy was the electric train that brought coal to the power station.
We finally arrived at the Navaho visitor center, parked, looked around and then took the hiking trail behind the visitor's center down to an overlook of the Betatakin ruins.
Quite spectacular. We then returned to the bus, hopped in, and headed off looking for our place for the night. Soon we found a turn off, a seldom used rut through the junipers and up onto slick rock. We drove up the slick rock and found a nice level place beside some shady junipers and out of view of the road. Perfect! Took showers and short hikes. It was rather windy and clouds came up but the evening settled down and we barbecued hamburgers and watched three ants drag a large bug across the sandstone and duff. We ended up tracking those ants for about forty five minutes. Never did figure out where they were heading but they sure were doing heroic work dragging that big bug along.
In the morning, after a leisurely get up, we were on the road again. As we were driving along we saw the electric coal train coming on the track and we pulled off so I could video tape it for Eddy. As luck would have it, just as it whizzed past and I had my camera ready, the "need battery charge" light came on and that was that. No video.
I plugged in the battery charger and decided to retrace our route and catch up with the coal train for another try. We discovered that the train was slowing down and swinging around to come into the coal filling towers. We found a dirt road that went over to these silos and drove down to the gate and video taped the whole operation. The coal silo was being filled by a long conveyor belt which came down from Black Mesa and so we decided to take that road up the hill to check it out. Arriving on top of the mesa we saw some of the mine operation off in the distance and a lot of the conveyor operation and then turned around and finally resumed our journey. An Indian couple was selling coffee and fry bread out of their pick-up alongside the road and we stopped and bought some.
South to Tuba City and then left to head for Canyon de Chelly. Along this drive we stopped at the "oldest continuously lived in town" in the United States, Old Oraibi, but there wasn't much to see without being too snoopy.
Drive, drive, drive. Stopped for lunch at an Indian museum, gift shop, and restaurant. Then on to the Hubbell Trading Post to have a look around. Then, drive, drive, drive to finally arrive in Chinle and then to the turn off for the South rim drive along Canyon de Chelly looking for a camp spot. It looked to be rather slim pickings, driving along the south edge of the canyon. Everything is in the National Park and you are supposed to only camp in the free campground down in Chinle but I thought I saw a wee rut heading towards the lip of the canyon. We stopped, backed up and drove down the rut and around and came out onto some slick rock and found a great place beside some junipers, out of sight of the road. There was a lot of broken beer bottles and glass laying around and we spend a half hour sweeping up the debris. (My payment for free camping.) Then we set up camp and walked over to the rim which was only a couple of hundred feet away. Imagine our surprise when, looking down and across the canyon,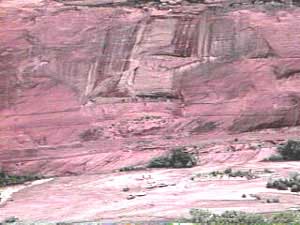 there was the "White House" ruins!!. Below, on the canyon floor, a group of Indians were playing volley ball! Also pick-up trucks driving up and down the canyon floor out joy riding! They looked like ants. We sat on the rim edge, drank wine and watched the sun go down. Perfect.
In the morning we had a leisurely get up and I once again tried to figure out why the starter will not start when hot. I crawled under the bus and wiggled the wires some more and finally hooked up an additional wire that I can short directly to the battery. Hopefully, I will be able to use this wire when the starter button will not work. I will find out soon enough. We are about to head back into Chinle for supplies.
Before driving back down into Chinle we went on up the South side rim drive to check out the other overlooks along the way. We discovered that we had not been camping across from "White House" ruins but rather, across from what is called "First Ruin". We discovered that White House was farther up the road.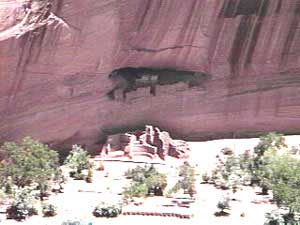 After driving on out to the last overlook we headed back down into Chinle and grocery shopped and then went to the Visitor center, checked out the free camp ground, rather pitiful, and visited with some folks who were driving a converted Mercedes truck/camper with German plates. We had seen that vehicle two days earlier at the Navaho Monument site. We talked to those interesting folks for a while. They had shipped their vehicle over from Germany three years ago and leave the vehicle in the states and come over every summer to do some touring. They are school teachers in Germany the rest of the time.
Then off to see about hiring a horse so Lolli could do a trail ride into the canyon. We stopped at the place at the mouth of the canyon and Lolli signed up for a ride but a guide would not be available for about 45 minutes. We took a walk across the canyon mouth to where a small stream was running and waded and washed the dog. Finally back to the horse rental and soon Lolli left with her guide, Moe.
They were gone for two hours and went as far as First Ruin. $32.00. Lolli had a good time while I sat in the shade and read Sherlock and fought ants.
Evening was well on it's way when Lolli got back and we headed up the North rim road looking for a camp site. Once again we found a good one on the road out to the Mummy ruin overlook. We set up the shower bag and took showers and enjoyed the evening.
Up in the morning and off to the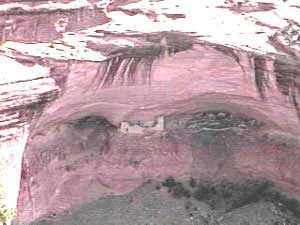 Mummy ruin overlook and then the Massacre overlook. Then hit the road for Chaco. Drive, drive, drive.
Up over a high mountain range and then down and out into New Mexico. High desert, around 6,000 feet. High eighties for the temperature. We have been unable to buy any beer or wine and we are out of wine and almost out of beer. Indian country. Indian country and yet, there are a lot of broken glass and beer cans at the various places we have camped. Booze must be available somewhere.
We came into Chaco from the south and it was a long rutted clay and washboard road through the sage brush. The radiator fan quit and the engine got hot. I stopped and discovered that the fuse had blown. Replaced it and we were once again on our way. Lots of flowers and one rattlesnake that had been run over.
We finally arrived at the valley of Chaco and went to the visitor center. They have an elaborate display and dioramas. We checked out their $10.00 a night camp site, decided against it (Absolutely no other camping allowed within twenty miles!) and drove the loop to look at the ruins. They are quite amazing and the self guided trail guide pamphlet takes you around and through the ruins.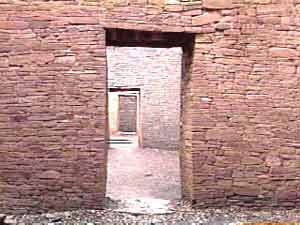 We were surprised that we could actually go inside them. Really quite amazing.
And then, as it was coming up on 6 pm in the evening we headed out the north road and drove for 20 miles before starting to look for a camp site. We finally came out on the main road between Farmington and Cuba, turned south towards Cuba and soon found a side road rut that looked promising. We drove down it and Lolli walked on ahead and found a nice little grassy spot behind a hill and out of site of the highway. Perfect. Lots of flowers.
Lolli told me that Chaco was the last item on her list of places to see, so now, here we are, one week into the trip and Lolli has done her list. Now what? We have three weeks ahead of us!!
I looked at the map. I know we want to go to Taos to see Irv and Jan but not for five more days until Jan will be back home from a conference. So! Now what. Just rattle around. We could stay for a few days at some primo spot and Lolli could catch up on her computer work. Just hang out for a while but first we must restock the wine cellar.
We arrived in Cuba and found the liquor store and bought some Carlo Rossi screw top and a box of Bud. Found the Post Office and sent off letters. Outta there and on down the road for San Ysidro and then the turn off towards Jemez Pueblo and Los Alamos. I had read in my hot springs book that there were hot springs up the canyon past Jemez Springs. We found their location but there were quite a few cars parked there already and so we pressed on. On up into the mountains and we started looking for a camp site. Rather difficult. All fenced in and private property. We took a secondary road that headed back over the mountain towards Cuba and found some BLM land and soon various dirt side roads heading off into aspen covered meadows. Perfect. We finally found our spot! Pulled in and set up camp. Perfect temperature, the elevation is almost 8,000 feet! In the late afternoon it clouded up with thunder and sprinkles of rain! The wind came up and it was rather threatening but soon passed and we had a nice evening and campfire. Lolli had slept most of the afternoon and later did some computer work. We went for a walk and found an even nicer camp spot just on up the meadow a way.
In the morning we packed up, basically just temporarily threw everything into the bus and I drove on over to our new spot while Lolli and the dog walked. Now we are in our new spot.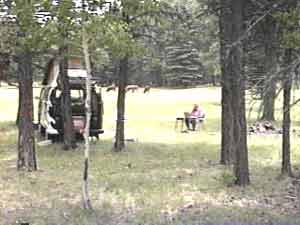 Birds, flowers, cows, perfect temperature and some clouds. Maybe every afternoon there are thunder clouds in these mountains. We have set up the fire pit and barbecue station, shower room, computer station and Sherlock reading room. We are very content. There are some mosquitoes but they go to bed early.
Well! The clouds did come back in the early afternoon with a few spits of rain but we went for a walk anyway. Got back to the bus and Lolli settled in to do some computer work and I settled down to some more Sherlock. I started to nod off and decided to crawl into the "wayback" with the dog and take a nap. Soon thunder started sounding and then the rain began. And rain it did. Lolli put everything that was left outside under the bus; lawn chairs, Coleman stove, folding table, etc. Rain and more rain. About two hours worth. Now it has stopped and who knows what will happen next. Perhaps sunshine? If not, we vow to move to a warmer, drier clime tomorrow.
Well, it rained during the night and the morning didn't look any better. Decided to pack it up and head down out of the mountains. Soon we arrived in Los Alamos. Drove around looking for a restaurant in order to have breakfast. The ones we found were either too fancy or they were closed. Stopped at a grocery and stocked up our supplies and pressed on, down, down out of the mountains. Went into Chimayo and Lolli looked through the weaving shops. Pretty country. Over to Espanola and north on 285. Arrived at a section of road construction and had to wait 20 minutes for the "follow me" truck. Followed it through mud for quite a ways. Shortly after clearing the road work we came across a turn off that looked promising. We had not driven far but decided to call it a day.
Drove up the rut and came out onto a plateau with a view out over the surrounding country. We had a couple of days to kill before we were to see Jan and Irv in Arroy Seco. We set up camp, set up the solar panel and settled in. There was a corral off in the distance and we saw a guy arrive with a pick-up and a horse trailer and soon ride off into the distance. The next day we took a hike and followed his tracks for something to do. Other than that we read books and Lolli did a lot of computer work.
Being up on a mesa of sorts we could see vast distances, north to Taos and south to Los Alamos and everything in between. The sun would shine and it would be hot. Then clouds would cover the sun and we would put on more clothes. Then the sun would return.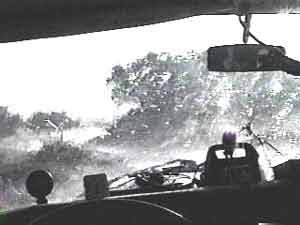 Then it would rain. Major black clouds in the mountains with lightening and over time, the arrival of the thunder. Then it rained. The next morning broke cloudless and was beautiful. By noon the clouds came in again and by three we were hammered by rain and hail! Very variable weather but beautiful to watch.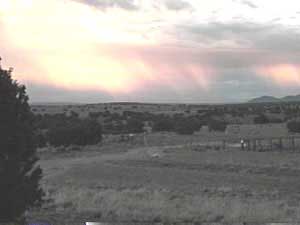 The next morning we had a leisurely get up and finally packed up and headed on into Taos. Oh yes. At the last camp Lolli discovered that I had a rear tire going flat. I put on the spare. Anyway, we arrived in Taos and I stopped at a tire repair shop and had it fixed. Also, since the bus has started popping out of fourth gear I finally decided that it was a broken motor mount. I stopped in Taos at a import auto store and by golly, they had one! I bought it. Then off to a super market for groceries and then to a Wally Mart for propane canisters and mosquito repellent.
We had been listening to a local radio station for the last couple of days and discovered that it was solar powered. I decided that I wanted to go see it. We asked directions a couple of times and finally found it. KTAO 101.5 FM. Talked to the manager and got a tour of the station and a bumper sticker. Turns out the station is on the grid but the transmitter, up on the mountain, is solar powered. 50,000 watts!!
Back into Taos to gas up and refill the water containers, the doggie water, the bus seven gallon water storage tank and the shower bag. Out of Taos and up to Questa and then out to the "Wild River" camping area, along the Rio Grande canyon. We drove into the campsite area and checked it out but there were people already there, plus they wanted $7.50 a night. We had noticed a rut leading off to the edge of the canyon just before the park and returned to that and checked it out. We drove out amongst the sage brush and eventually came to the lip of the canyon, the Rio Grande, and found a perfect campsite beside the edge.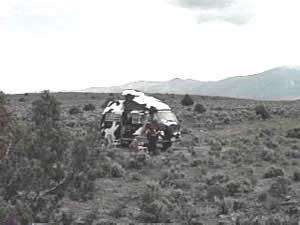 No bugs, no people, out of sight of the road. Baby cacti in bloom, juniper bushes and flowers. Perfect.
It clouded up in the evening and there was a slow rain all night. It continued until about seven in the morning and then quit and in another hour the sky cleared and the sun came out. Still a bit breezy though. Today we will call Jan and Irv and see if they are ready to receive some travelers. If not, well we could easily spend another day here.
Went for a walk and then the clouds moved back in and the rain began again. Lots of lightning and thunder and some wind. It rained pretty good but finally let up and started clearing again. We decided to pack up and go call Jan and Irv but first went for a walk to check out our road. Discovered it to be slick adobe. Impossible to drive on, almost impossible to walk on; the mud building up on our shoes and the doggie feet!
Oh well, back to the bus to read books and hope that the sunshine and wind would dry things out. In a couple of hours and after several checks I thought that maybe we could make it. We packed up, fired up the bus and headed out. We slipped and slid and in one area almost got stuck but finally made it back out onto the blacktop. The mud slung off our tires for almost a mile down the blacktop. No trouble figuring out where we had come from!
Into Questa and found three different phone booths that were already occupied! Finally found a vacant one and Lolli made the call to Jan and Irv. She came back to say that she had directions now and that both Jan and Irv were off to meetings in the evening but they would be back around 9:00 pm. Irv mentioned that there was a laundry mat in Questa when Lolli had mentioned that we were past due on our laundry. We drove around and found the laundry, "Wash-O-Mat, but they had just closed. Well now, now what?
We decided to camp out another night and do the clothes in the morning. We drove up the hwy a short ways, towards the Carson National forest, and found a turn off to a microwave relay tower. Drove up to the tower and a little bit beyond and parked. Barbecued Shiskibob and had a nice evening looking out over the desert and far mountain ranges.
Up in the morning to not a cloud in the sky!! Packed up and headed back to the "Wash-O-Mat".
Did the laundry and had lunch in Questa and then headed off find Jan and Irv's. Arrived at their house, did the grin and grip and had a tour of their new adobe house which is really nice. In the evening, after dinner they took us to the local movie house and we saw "When we were Kings" a.k.a. "Rumble in the Jungle". The Mohammed Ali / George Fraser boxing match in Zaire. A better movie than I had expected.
The next day Jan and Lolli went shopping and checking out the galleries in Taos. I checked out my broken motor mount and discovered it was only cracked, weak, but not torn in half. I tried to jack up the engine and remove the motor mount but I could not get enough clearance to remove it so, forget that. Then I pulled up the floor mat and readjusted the shift throw to see if that would effect the popping out of fourth gear situation. I adjusted the shift and then went for a drive to see if it would pop out of gear. It didn't. Maybe it is fixed. We will find out as we resume our trip.
In the evening some other friends came over for dinner and conversation.
Friday. We are talking about going to the corn dance at the Pueblo.
Well, we went to the corn dance. Lots of gringos but not as near as many as for the Christmas dance or the dance of the deer according to Irv. The dance started at 3:00 first at one pueblo and then they moved across the stream to the pueblo on the other side and repeated the same dance. A group of old men beat the drums and chanted and a group of about thirty women and four men danced. Great and varied costumes. The group moved on to do a third dance and we decided to leave for dinner at Fred's restaurant in Taos, first stopping at the Taos library where Lolli found some interesting magazines about basket weaving. Then on to the restaurant. A broken water main caused them to open a half hour late but the dinner was good when it finally came. Then off for a drive around Hondo and back to Jan and Irv's for a walk. A neighbor dog by the name of Elmo joined Sarah and us for the walk. Finally, back to the house, a spot of brandy, and to bed.
In the morning we packed up, had a short breakfast, said our farewells and headed south for Santa Fe. Arrived in Santa Fe so Lolli could check out a gallery and two museums. Out of Santa Fe and back north past Taos and on north via hwy 84 almost to Ghost Ranch. We found a turn off into the Carson Forest again, red dirt, beautiful striated hills and a corral close by. It started spitting rain with lightening and thunder. We settled into the bus, reading our books, and soon three cowboys on horse back came driving a group of cattle up to the corral. They got the cattle into the corral and then one guy rode over and told us that we were on the wrong side of the fence and would have to move. "The BLM land is on the other side." We packed up and moved but I was worried about the rain and a possible muddy uphill road we would have to drive in the morning to get back out.
Turned out that the evening was dry and the morning clear, sunny and warm. Clicking crickets on the juniper bushes and cicadas buzzing away. Pack up and on the road again through some beautiful country, green valleys, and red bluff hills. We came into Chama and discovered that there is a famous narrow gauge railroad there. We heard a train whistle blow, took off in the bus and hunted it down and I got some video for Eddy of a coal burner steam engine.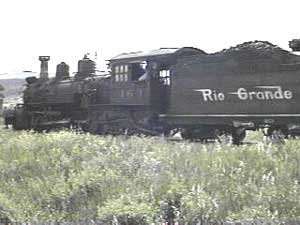 Chama is quite a train town. Lots of rolling stock and a snow blower engine, coaling station and water tower. Lots of train related stores. Eddy would love it. Very nice town.
Heading west out of Chama we stopped after 20 or so miles beside a beautiful big valley and fried up some Jimmy Dean Sage sausage and eggs. Then on to Pagosa Springs where we spotted a rodeo in progress, stopped, turned around and went down and watch the rodeo for a couple of hours. It was mostly kids events but quite entertaining.
Out of there and on to Durango, up and up into the mountains. Over 8,000 feet. Another 20 miles and we found a forest service road, pulled off and drove it a mile or two and found a campsite with wood already stacked beside a fire ring. We soon started a fire; the temperature was on the cool side because of the elevation and some clouds that looked like rain. We barbecued hamburgers and then went for a walk on around the mountain edge. Saw white thistle, wild roses and some other flowers which we had never seen before. Back to camp, some wine and then to bed. The dog slept outside until it started to sprinkle sometime during the night and then she crawled back inside and slept on the floor. The sprinkles didn't amount to much and we slept with the sliding door open. Up to a leisurely get up in the morning, coffee and sweets and pack up and then off for Mesa Verde. Yesterday Lolli said, "We have 12 days left". The way I figure it we still have ten days to fart around and two to get back to Mendocino!
Now we are on top of Mesa Verde. Lolli is in the museum. Quite a drive to get to the top of the mesa and a spectacular view all round. Today will probably be the last of our cool days for a while. Back down to Four Corners and lower elevations and heat. The bus still pops out of fourth gear on occasion but I now think that it happens when I do a "lazy shift" and don't get it solidly into fourth gear. I put a rubber band around the gear shift knob to help remind me to "really" get it into fourth gear. The leak in the radiator coolant seems to have fixed itself! I rarely have to add water and the bus has started every time during the past week. Either it fixed itself or it hasn't been hot enough to cause the problem. Will find out soon enough.
We both need a shower but it has been too windy or too cool the past couple of days to inspire us to use the shower bag. Maybe this evening.
Lolli has been marking the map with a felt marker of places she wants to see on our return trip and I am going to add mine. Then we will see where all the dots lie and figure out the best route to take in order to take them all in.
Well, we stopped for ice, beer, and wine in Cortez and sure enough, the starter wouldn't start. I shorted the wire against the battery a couple of times until it clicked, crawled back into the bus and it started right up. Off we go to Hovenweep. Flat sage brush driving and 4,000 feet lower than where we had been. Much warmer. Arrived at Hovenweep and looked at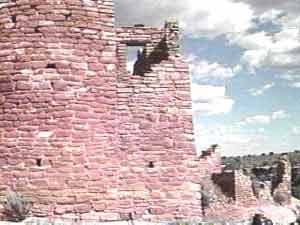 "Square Tower" ruins that were right there at the Ranger station but decided to move on. It is getting so that, "When you have seen one ruin.", in the words of Ronald Reagan, "You have seen them all"!
We got out the DeLorme map and picked a cross country route towards Blanding. In and out of canyons and along canyon streams with cotton wood trees; Lolli keeping track on the DeLorme. We finally came to a stream ford and tried various ruts along both sides of the stream before finally finding our place for the night underneath a big cotton wood tree. We walked to the stream to wash the dog and Lolli got stuck in the mud. It sucked her shoes off and she was quite a mess. I took her shoes and washed the adobe off in the stream and gave them back to her; she couldn't walk back to the bus barefooted because of the stickers. Got back to the bus and took those much needed showers and Lolli got her feet clean. Lots of annoying flies in the late afternoon and as evening came on, mosquitoes. We sprayed ourselves, the dog, and the bus and it helped. We still got some bites. I found a chrome "beauty ring", off of some car wheel, laying in the weeds, and used it to hold up the barbecue grill since there were no rocks around. It worked so well that we have added it to our camping equipment.
Finally went to bed and listened to a strange bump, bump, bump noise off in the distance. It was persistent but erratic. By morning I had figured out that it was a "hit and miss" engine, probably driving a water pump. I took a hike to try and locate it but it was farther off than I had thought. Never did find it.
Packed up and off to Blanding to the Edge of the Cedars museum so Lolli could see the native sandal exhibit. The hwy into Blanding was torn up for miles. It looks like they are going to widen it.
Next we are going to head for Muley Point overlooking the Goosenecks of the San Juan. To get there I plan to drive down the west side of Comb Ridge.
We did find the turn off for the Comb ridge and drove it. The road followed along the base of the strange rock formation. A beautiful drive but quite warm. There were various turn offs to Indian ruins but we didn't take any and therefore didn't see any. Back out onto the hwy at the south end after about 30 miles of second gear driving and on to the town of Mexican Hat. We stopped at the store for ice, post cards, and in Lolli's case, ice cream!.
A tall, shave headed, guy was also in the store and he was covered with open wounds. I got to talking to him and it turns out that the day before he had been zooming along on his motorcycle when his sleeping bag slipped and got caught in his rear tire. Down he went at about 60 miles per hour. Serious road rash!! Fortunately he had his helmet on. He was holed up in the motel across the street and had just bought a half rack of beer for medicine. He was on vacation from the east coast.
Out of Mexican Hat and on towards Muley Point. We had John's canyon in mind. We had been to John's Canyon once before and remembered it as worth the effort. We missed the turn off and after backtracking, finally took the Goosenecks Park turn-off and with-in a mile of travel on that road took the turn off to John's Canyon. It was farther to the canyon than I remembered but still quite a spectacular drive, especially where it meanders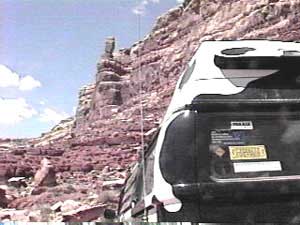 below Muley Point and beside the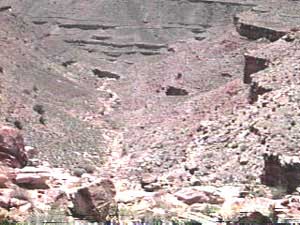 drop off into the Goosenecks. Finally the road turned into John's Canyon and we arrived at the stream crossing where we had been before. There was not as much water flowing and here all the time we had thought there would be quite a lot of water because of the spring rains. The last time we had been here it was August. Evidently they get more rain during the summer storms. Anyway.
We drove on past the stream crossing and up alongside the stream towards some huge cottonwood trees. We parked and took a look around and soon Lolli picked out our camp site,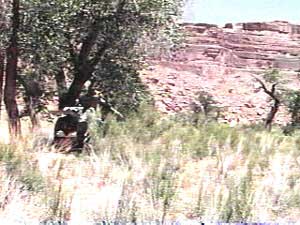 underneath a grouping of cottonwoods and with-in 30 feet of the stream. Perfect.
We set up camp and then waded up and down the stream. Right by our camp was a pool and the remains of a small dam someone had previously built out of stones and rocks. We set to and improved upon it and made the pool about six inches deeper, enough so that we could float in the pool. The depth now up to the knee.
We soaked and threw the dog ball and marveled at the surroundings. Red sandstone canyon walls three quarters around us and, in the evening, the almost full moon rising over the wall to the east. Perfect.
There were biting flies but our chemical spray seems to hold them off. Few mosquitoes. Speaking of wildlife. Lolli went to hang up our garbage bag on the cottonwood beside the bus, and came eye to eye with a lizard! Startled her. Brownish tan and including tail, about eight inches long, maybe more. Turned out there were about three of them living on the side of the cottonwood where they seemed content to just hang around and on occasion, bob up and down.
In the late afternoon we heard a car, much to our surprise, and soon a Toyota pick-up with a young couple showed up. They drove on past us and checked out the cottonwood grove just upstream and we were hoping that they would not decide to stay. Soon they drove back and I walked over and talked to them. They were from Flagstaff and had been on a kayaking trip on the San Juan. They had one more day of vacation left and were looking for a campsite but didn't want to crowd us. They decided to drive on up the canyon and, so far, that was the last we saw or heard of them.
In the evening we went for a walk. Up on some higher ground behind the bus and about a half mile on up the canyon we thought we could see their vehicle. Maybe, maybe not.
We had tacos for dinner and settled into our lawn chairs to have a glass of wine and enjoy the evening and moon rise when we heard a rustle in the bushes by our feet. Then more rustling and the dog perking up her ears. It turned out to be frogs, almost toads. Three or more of them. One hopped over and landed beside my foot. Lolli started fending them off with the camp shovel! Meanwhile, down at the creek, various frogs and crickets droned away. Perfect temperature and perfect evening. We slept with the bus side door and rear door open. No bugs.
Morning dawned clear and at seven the sun was over the canyon wall to the east and very warm. I cooked coffee and moved my chair and book down to the cliff edge on the east side of the stream. Perfect shade until probably around noon. The water in the pool had cooled off to where it wasn't inviting but I am sure it will warm up soon. Sitting there, reading my book, suddenly a jet flew over. It was a B1 bomber, very low and very loud. They evidently play war games out in this neck of the woods. Lolli got up and moved down beside the stream with her book. She stripped and thought she was going to take a soak until she got into the water and up to her knees. She decided to wait a while and let the water warm up.
There are seeps coming out of the sandstone and dribbling water into the creek. Musical. I bet it is good water and we could collect it and use it if we had too. As it is, we have enough water and food to last us another day. We will spend a second night here and head out tomorrow.
We decided to add another course to our dam and after dragging rocks and shoveling more gravel we raised it another four inches. Now the pond is over our knees. Still cool though. This afternoon we will float.
Cooked up brunch and we heard our upstream neighbors leave. They are now outta here and we are, once again, on our own. Perfect. After lunch some more dam improvements and then some floating. We noticed that if we toss the biting flies we swat into the water, the water skimmers would eventually grab them and go off to evidently eat them. Cool! A good and fitting end to biting flies.
We shaded up during the heat of the day but even so became quite red from the sun. In the evening, after the sun had slipped behind the canyon wall, we went for an hour walk, on up the road to see if we could find where our neighbors had camped. After a half mile or so we came to another stream crossing that had a falls and a very nice pool. A sandstone ledge hung out over the pool. Very beautiful but no large shade trees available. Lolli swears that we had been here before but I swear that we had not.
We walked on up the road and finally came across a small corral that was wrapped with cable as fencing. Also an adobe foundation and a wood and dirt covered cellar. Obviously the former John's ranch. Just a bit beyond was another corral and the spring that was the start of our stream. We walked back with the almost full moon coming over the ridge top. Puffy clouds that were as pink as cotton candy against a dark blue sky. Beautiful. We arrived back in camp and cooked dinner, a hash of left overs that hit the spot. The frogs/toads once again came out and one hopped under the bus. Another almost made it over to where Sarah was lying. I was anxious to see what would happen if it happened to hop onto her but at last moment, it hopped away.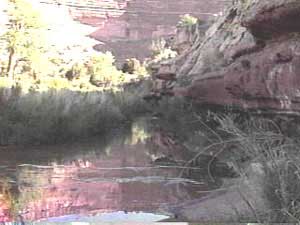 Another lazy day in John's Canyon. In the afternoon we got out the computer and worked on Lolli's homepage, up-dating it. Some contention on our part. Lolli knows what the revisions should say but doesn't know html coding. I know the coding but not what it should say. A bit of back and forth until we settled into the task.
Our ice has all melted, we are out of breakfast things after this mornings breakfast, the wine is almost gone and so is the dog food. We plan to hang out until early afternoon and then pack up and head for Mexican Hat to re-supply and then spend the evening up on Muley Point.
It is hot but windy today. The pool water was sixty eight this morning and the air temperature is around eighty. I left the thermometer out in the sun for a bit and it soon showed one hundred and twelve! Lolli is going to cook up some scrambled eggs for brunch, as soon as she finishes another chapter of Sherlock. Then another dip in the pool and then the packing up. About eight days left, I think.
We rolled out of John's canyon and back to Mexican Hat. The drive out to the Goosenecks Park road took an hour and five minutes. Probably a bit over twenty miles. Into Mexican Hat for ice and some groceries.
Next over to the Dugway and the spectacular drive to the top of the mesa and at the top the turn off to Muley Point. The turn off to Muley Point is almost immediately at the top of the grade, both Lolli and I thought it was further than that. Anyway out to Muley Point and then off to the right to the second point. We found a camp spot out on the slick rock, not far from the edge and set up. No shade but late afternoon was coming on. Two guys with a tent below and off to our left. In the early evening three ford vans showed up with a bunch of young adults and they spread out like ants and set up their sleeping bags. It kind of irritated us at first, we were use to camping all by our lonesome. Still in all, they were far enough away that we could not hear them.
In the morning, from the rock edge, we could look down on the Goosenecks and the road we had taken into John's Canyon. We just happened to time it right and saw four rafts going down the San Juan.
After a leisurely morning we packed up. I wanted to go to Horseshoe Canyon.
Back out of there and off to Lake Powell and Hite.
When we got to Hite it was almost 100 degrees. The folks at the store said it was 108 yesterday. We bought ice and groceries and topped off the water tanks. On the drive out we looked at the possible swimming spots down along the shore but it was too hot, windy and the water was brown. Not appealing. Outta there and on to Hanksville.
We stopped in Hanksville for some last minute items, no wine for Lolli anywhere, and I asked the lady at the counter about the turnoff to Horseshoe Canyon. She said it was up the road about four miles and marked. We drove the four miles and more and more, seeing dirt ruts leading off to the right now and then, but no sign. We must have driven twenty five miles. According to the DeLorme, it looked like they all connected in one way or another. We turned around and drove back to the one sign we had seen which said something about a ranger station, Flint Ridge, the maze, and Robbers something.
Also HWY 95 - 100 miles. Off we go into the sage brush.
Nothing looked familiar to me from my previous visit to Horseshoe Canyon but we kept looking at the map and trying to figure out where we were. The road went between two mesas and we found Little Top and Big Top on the map and the road going between. We figured we now knew where we were but it was quite a bit north of Horseshoe Canyon. We finally came to a sign that pointed out Horseshoe Canyon, 7 miles to the northwest, Han Flat Ranger station to the south, 21 miles. We didn't know how that could be but off we went. Soon we were at the Horseshoe Canyon trail head and campground. Nobody else around.
We pulled out on a promontory and set up camp. It was about three in the afternoon. The trail head sign said the hike down into the canon would take about four hours, round trip. We decided to take advantage of the cooling evening rather than do the hike in the morning. Lolli really doesn't start functioning until 10 in the morning and by then it would start being hot again.
We filled up my canteen, grabbed the video camera and binoculars, put the dog in the bus (No dogs on trail.) with all the windows open and the back window covered with a bath towel to keep the sun off her. Over to the trail head and down into the canyon we go. It is still quite warm out and soon Lolli is huffing and puffing. The trail head sign said it was an elevation drop of 831 feet down into the canyon and by the end of the first couple of switch backs Lolli was really starting to get red in the face. Our sitting on our butts in the bus for three weeks had not really prepared us for such a strenuous hike, but Lolli insisted that we go on and we did, stopping now and then to catch our breath, and this is on the way DOWN!
We had met some folks, during our drive in. They were driving a pick-up with a big camper on it, towing a horse trailer. Now we could see the horse tracks where they had ridden down into the canyon. Lolli was longing for a horse. Down past the abandoned water tank and on down. We came out onto a point where we could see the canyon floor. It was still so far below us that it was almost too much to think about. I suggested we give it up but Lolli was determined to continue. I'm thinking about the long haul back up. The way Lolli was turning red I decided we had made a big mistake. After all, our combined age is 107! But no, she wants to continue.
We finally come out onto the canyon floor and start hiking through the loose gravel. Still not easy going plus, the sun is still shining on various parts of the trail and it is still quite hot in the sun. We stop and sit down on rocks and logs every now and then. Finally we come to the first set of petroglyphs.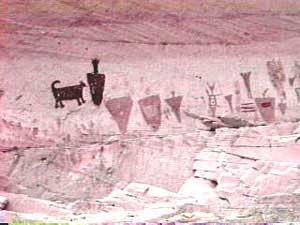 They are okay but small. Onward. We come to another set on the opposite wall and they are also small. I want Lolli to see the big ones in the "Grand Gallery". We press on. Soon we have to hike through a brushy area and the mosquitoes are fierce. We continue on to a large gallery area but still no sign of the Grand Gallery. Lolli takes a break and I walk on ahead, looking for it. The canyon narrows and I don't recognize anything from my previous trip. I figure we must have walked past them. We decide to go back and keep a closer eye out. Back through the brush and bugs and this time they really keep us swatting. The wind is with us this time and we can't out run them. Bad.
When we get to where the trail goes back up I decide to go on ahead and get more water from the bus. Our canteen is getting empty, I figure Lolli is going to need all the water she can get. I head for the top while Lolli takes a break.
Up I go and boy, is it a workout. Soon I am huffing and puffing and my mouth is so dry I can't swallow. Soon I am taking a breath for every step and picking out some bush or rock up ahead to stop at and rest. I'm out of shape. Press on. I need to get more water to take back to Lolli.
Finally I am over three quarters of the way and can see our bus but I also see someone walking by it. That causes me to pick up the pace and that extra effort just about does me in. I finally get to the bus, totally wrecked and weak kneed and unable to spit. I can't even drink water, just take a sip and let it moisten my mouth. The guy I saw turned out to be some more campers parked beyond the bus. Everything is fine, except me. I sit in the bus doorway to catch my breath. Finally I put together a care package for Lolli. Two bottles of ice water, a damp towel, a Snickers bar and my flashlight. Evening has come on and it might take a while to get back out of the canyon.
I put everything into a hand bag and set off for the canyon once again. This time I take the dog, even though we are not supposed to. I know she would be a help in finding our way back if it got dark.
Down I go, wondering how far Lolli has made it up. I get down past the dry water tank and by golly there she is coming up the trail. She had made it a lot farther than I thought she would. I join her and we sit down for a cold towel and ice water. She has surprised herself and has found the going up to not be as bad as she had thought it would be. She had been taking standing and sitting rest stops. She thought it would take her 100 rest stops to reach the top but as it turned out, when she finally reached the bus, the bus was her thirty third rest stop. I got out the calculator and figured out that each of her stops was the equivalent of climbing 2 and a half stories in a building. Thirty three times!! Yeah Lolli!!
When we finally reached the bus we kind of sat around in a stupor. The full moon of Solstice was just rising in the east. Lolli seemed to recover quicker than I and soon was thinking of something to eat. We had basically eaten nothing all day except for some bananas that Lolli had bought in Hite. That and coffee and some beer. Not too smart to take off on a hike on an empty stomach.
Lolli went over to our neighboring campers to see if she could get three slices of bread. We had decided on bacon and tomato sandwiches. Turns out that of the two adjacent campers; one had tacos and the other pita bread. Lolli then remembered we had tacos and so that is what we had. Taco bacon and tomato sandwiches. We both agreed that a can of sliced peaches would have hit the spot.
I saw a comet go diagonally down from the cloud cover to the horizon soon after the moon rose. Quite spectacular. I intend to listen to the radio and see if there is any mention of it. There wasn't.
We finished our meal and fell into bed. What a day.
Up to a beautiful morning. One set of campers have already set off for the canyon and then a guy 78 years old showed up. He headed down. He said he had been down two days ago! He asked how the mosquitoes were! The ranger is supposed to show up at 9:00 to lead a group and one other set of campers are waiting for him.
Meanwhile, here I sit, writing this and Lolli laying in the bus reading Sherlock. The shower bag is heating up. We plan to take showers when everyone is gone.
The ranger showed up, a young blond guy. Turned out he has a trailer just up the hill where Lolli had noticed some lights the night before. He said it would take four hours to get to the grand gallery. Our whole experience had lasted four hours and fifteen minutes, down and back up! The ranger said the mosquitoes were the worst he had ever seen and that it would be over one hundred degrees in the canyon today. He is quite talk-ee and it would be informative to hear his rap during the walk but, we ain't going!
The ranger and his group headed out and then some more folks showed up and hiked down. By then the shower bag was ready and we had great showers. Packed up and headed out. Our trip of exploration pretty much over, start heading west. It is going to be another hot day.
Back out to the highway, about 53 miles. We stopped at the pass between the big and little mesas and had lunch. On to the highway and back down to Hanksville for more ice and groceries. Out of there and west. Tory, Bicknell, Lyman, Loa and Fremont, through the Capitol Reef and Waterpocket Fold area. Amazing country, red rocks, green trees, and the Fremont river.
It was over 90 degrees and we wanted to get higher into the mountains to find a cooler place to camp for the evening. We took hwy 72 north out of Freemont and soon found a dirt road leading up into the mountains. Soon we were driving up a small canyon lined with Aspen. The road became so steep that it was a first gear pull for about a half an hour. The bus temperature became quite hot. We finally came out into a camp area and looking around found a seldom used rut across the road from the camp and drove up that a ways and found an old fire ring surrounded by Aspen. Perfect. The wind was quite strong but it felt good. We barbecued chicken and had a nice evening. The wind blew all night and morning too. In the morning it was 58 degrees and uncomfortable. We packed up and headed out of there and back down into the heat.
On north on hwy 72 for a beautiful high meadow drive and eventually we intercepted Interstate 70. A highway sign said to tune in to 1610 AM for information and soon we were listening to information about Interstate 70 and the surrounding traveler features, kinda interesting. If I remember right this was the Santa Fe trail. Down out of the mountains and into Salina, Utah where Mom's café is located. At the junction of I-70 we stopped at a gas station and there was a AAA service there which had some big tow trucks. I video taped them for Bob. We had French Dip sandwiches at Mom's. Tried to find an open grocery store but they were all closed. Mormon country and Sunday besides.
Onto highway 50 and west we go.
Out into the hot country with a head wind so strong that I could only do 50 mph against it. After a while the bus started popping out of fourth gear again. It would not stay in gear. I figure the rubber in the motor mounts was so warm that they were sloppy. I finally rigged up a bungie cord to hold it in fourth gear. It worked.
We took the turn off to Garrison. I wanted to check out the new National Forest in Eastern Nevada.
Also possibly the Leman caves.
Pulled into Garrison and there was nothing much, no stores, no gas. North out of there up to Baker.
As we approached Baker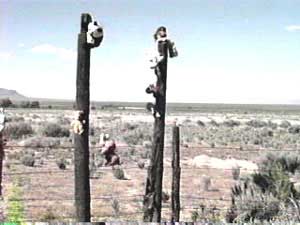 there was a bunch of dolls, teddy bears and such nailed onto some fence posts. I stopped to take a video. Went to leave and the bus would not start, even with my jumper wire. We waited a while and let it cool off. While waiting I decided to add the cupie doll I had found several months ago to the doll collection. I screwed it onto a post. A bit more time and then the jumper wire worked. Away we go into Baker. We found more odd stuff nailed to fence posts along the way.
Turned off at Baker to go up to the National Park and the Leman caves. About 12 miles. Decided against the caves, it was about 4:30 in the afternoon and took a side road to a camp ground. Got to the camp ground and it was filled up with motor homes. $5.00. Out of there and back down and around to hwy 50. We figure we can do better than that.
We drove up 50 to the top of the pass and found a rut to the south. Drove up it a way and found a nice spot amongst the juniper. Cooler, no wind and no mosquitoes. Perfect. On to Ely in the morning for gas. The bus is almost on empty.
Another leisurely get-up, pack up and we drove back down to the hwy and on across to go up another rut we saw that went into a large clear-cut. For some reason they had bulldozed and cut down every single tree and bush in a large area on the mountain side. All the dead debris was still lying there. Maybe there had been a few larger trees that had been chain sawed and hauled out but not much. Forest Service area, but why?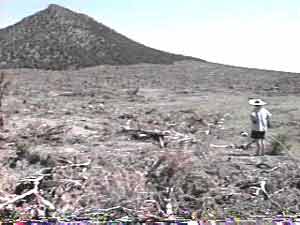 We video taped the view and then returned to the hwy. Off to Ely.
Huge basin and range driving again with the road laid out before us for miles and miles. We finally arrive in Ely with one gallon left in the tank. Filled both tanks for $40.00. Bought some ice and groceries and turned off hwy 50 and onto hwy 6, headed for Tonopah. Drive, drive, drive. Not as hot as I had expected it to be although I had to jump start the starter a couple of times and use the bungie cord to hold the transmission in fourth gear. Passed through Warm Springs again and on to Tonopah and then on to Benton, passing back into California once again. Up through Old Benton and on up and then we took the Benton Crossing road to head for the hot springs at Lake Crawley.
Finally came out into full view of the Sierras and the meadow with all the hot springs. We drove around and each one we came to already had someone there. After about an hour of driving around we finally just pulled off into an area that obviously had been used for camping before; fire ring, and started the charcoal for Shiskibob. We could see a hot spring, off in the distance, where some folks were and we figured we would move over there when they left. We finished dinner and they had left but some other folks had showed up in their place. To heck with it. We crawled in the bus and read our respective novels and drank wine. Perfect temperature and no bugs.
Up in the morning and the spring was unoccupied. I grabbed a towel and walked over to check it out. I discovered that there was a very nice warm spring with a lot of flow just at the base of the bluff where we were camping. I stripped and got in. It was only a few feet deep and big enough for only one person but surrounded by flowers and fast flowing warm water.
Quite nice.
I got out of that and went on down to the other spring. It was about half full and cool but I discovered where the valves were to drain it and to fill it. The water was rather dirty so I drained and cleaned it some and then turned on the inlet. HOT! It didn't take much to bring the remaining water in the pool up to temperature. I took a soak and then went back to the bus to tell Lolli. We decided to throw our stuff in the bus and drive to the spring immediately.
Arriving at the spring I parked on a nice grassy level spot beside a campfire ring and set up camp. Spread everything around to really make the place look occupied. Then to the pool to add more water and take another soak.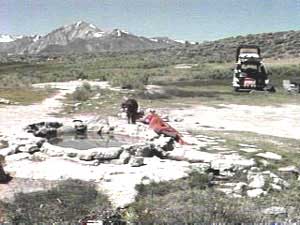 I how have the pool almost full and the temperature is one hundred and six. The water that comes into the pool, controlled by the valve, is one hundred and thirty degrees! I have been adding water and bringing the temperature up to around 108 and then shutting it off and in an hour it will drop about four degrees. Fiddling with it and cleaning up around the area. An absolutely clear morning and although it is hot in the sun the breeze is cool in the shade. Perfect. We may hang out here all day and maybe even the night. We'll, see.
We did stay all day, reading and Lolli working on her homepage. At times various people would show up and either just look around or stop and take a dip. One character showed up on a small motor bike. He said he had been on the road for 21 years, lived in a Dodge van. Used to be a school teacher. Now he claimed he plays the stock market, that he had a satellite dish and got "real time" quotes and called his broker on a cell phone. Claimed to make $800.00 in twenty minutes. Anyway, we had a beer together.
Later a young man showed up to take a soak. He knew about the "Stock Market" man and said that there were a lot of kooks around, "Living in a van seems to do something to their mind". It turned out that the young guy used to live in Comptche and also lived for a while on Navarro ridge on the "Lords Land" about ten miles from where I currently live! He said he was moving to Boulder, CO. and that, "There were around 10 men to every woman around this area. Women had their pick". He was tired of it.
In the late afternoon the pool cooled off and I couldn't get the hot water to flow enough to warm it up. Fiddled around with it but no go. About 92 degrees was the best I could do. We barbecued chops for dinner and read our books and went to bed.
In the morning I checked the pool and it was around 90 degrees. Hot water was going in but very slowly. I finally realized that the hot water source and the pool, when filled to the top, were about the same elevation. By draining water out of the pool I could get more hot water to come in. Soon I had the pool back up to 106! Perfect.
Well, Lolli and I have decided to head back for Mendocino. I said I wouldn't mind getting home a day early. She said it would give her time to get caught up on her mail and get ready for class. So. She is washing the dishes and I am wrapping up my thoughts. I reckon we will head for Reno and go west on hwy 20. Maybe spend the night around Williams. Get home Thursday morning. The bus is going to need some attention. Probably a tune up, it is starting to run a bit rough, also look into the starter and transmission problems.
We arrived back in the Ukiah area by early evening and decided to go back to Doug and Jan's property in Redwood Valley to spend the night. Pulled up to their place and there was Doug, showing a friend around the place. He welcomed us back and we set up camp. Soon Doug and friend left and we cooked dinner. After dinner I turned on the radio to see if we were in range of our favorite Local Public Radio station. We were and discovered our friends Jamie and Eduardo were on the air. It sounded like Jamie's regular Wednesday evening show but wait. Isn't today Thursday? We listened some more and soon realized it was in fact Wednesday evening, not Thursday evening!! Duh. Not only had we come back a day early. We had come back two days early!!
I guess that is what happens when you are REALLY on vacation.
So, up Thursday morning and off to home. We were back in Mendocino by noon. I dropped off Lolli and her stuff and then headed on down to my dingy hovel in Elk. 31 e-mail messages waiting for me.
So, that's it. Another great trip in the bag. We are tanned and rested, ready to face regular life once again. 4,432 miles round trip. The bus is just short of one quarter of a million miles on the odometer.