1994 Alaska Trip.
---
Lolli and I are planning to herd ROADCOW up the AlCan highway this June. We plan to go up the middle of Oregon and Washington, then on to the first mile-post marker at Dawson Creek, in Canada, the beginning of the famous highway. I'd like to go to Fairbanks and if possible, what I'd really like to do is go all the way to Prudhoe Bay, watch the sun not set, and be able to say I drove all the way to the end of the road. That sort of thing.
I have been asking around if anybody has done this trip recently, being curious to know if I need to fabricate a rock screen for the windshield and headlights? I was talking to one woman who made the trip fifteen years ago in a 1968 VW bus and she said she went through three windshields and six headlights!, but I now understand that most of the highway has been paved. I have also been asking, "What is the latest remedy for mosquitoes?"
Asking these questions has brought remarkable responses.
Lolli and I met some folks who spent three months rattling around up there last year in their 1985 VW bus. They have about seven hours of videos to show us and we plan to get together for a viewing before our departure date. Maybe, if their videos are really good, I could just get a copy and save ourselves from doing the trip. That way we won't have to worry about mosquitoes at all! Not!
Several folks have given me mosquito remedies. One woman suggested "Skin So Soft", an Avon product that mosquitoes don't care for. A neighbor to the north, Perry, suggested any mosquito repellent that contained the chemical "Deet". The one suggestion I liked best and was guaranteed came from Dave Neilsen who told me about an old friend of his who used to live in San Francisco way back in the days of the Alaska Gold Rush. The friend told Dave about folks selling the gold prospectors a little cardboard box that contained a sure fire mosquito killer that was guaranteed. "Instructions inside", one dollar. They sold these boxes like hotcakes and the miners would pack the box in with the rest of their belongings. When they finally got to Alaska and the mosquitoes got real bad the miners would remember the little box that was packed away, rummage through their belongings, dig it out and open it up. Inside was the instructions along with two small pieces of wood. The instructions said; "Put the mosquito on one stick and hit it with the other.
Guaranteed every time"!
Thanks Dave. I'm going to make up a box for Lolli. Give her something to do besides reading books.
Other folks have recommended bug candles, drinking fish oil, eating vitamin B-12, head nets, good mosquito netting and stinky cigars. I may have to pull a small utility trailer to haul all the equipment we need to do battle against the Alaskan mosquito.
• May 26th.
I've decided to take my kayak along on our trip to Alaska. I was talking to Roger Collins (he did the trip last year), and he told me about how great it was to get out on some of the lakes along the way and throw in a line. "The fishing is great". Sounds wonderful.
So I mounted the kayak rack on the roof of the bus and figured out how to offset the kayak so it would miss the radiator shroud. Once I had the kayak up there I noticed my white kayak looked rather strange sitting on top of the black and white ROADCOW. I soon realized the kayak needed "Cow-moo-flage"! After a quick trip to Steve's spray booth, presto... COW-ACK! is born! It looks very nice sitting on top of ROADCOW now. Well , at least I think so and maybe even two percent of the local population.
Charlie loaned me one and a half fishing poles. That is, two rods and one reel. I happened to have one reel left over from somewhere. Bill loaned me a small Weber barbecue, so now we're all set. Now if I can convince Lolli to take only two pair of shoes I should have enough room for five quarts of oil, a spare oil filter and an extra air filter.
Finally, we're on the verge of heading for Alaska in ROADCOW with COW-ACK! on top and the dog in the back. We had dinner with Sonya and Paul last week and they convinced us that a new set of front tires would be a good idea. When they told us that last year it was possible to get within ten miles of Prudhoe Bay, past the Brooks Range and almost to the Arctic Ocean, well, I was re-inspired to make a run for it. They also loaned us some headlight shields and showed us about three hours of video they took on their trip. Looks inviting.
We have five different "books on tapes" packed away plus about thirty novels. I now have a spare fuel pump, fan belt, oil filter, and since the starter just started sounding funny and the transmission developed a leak on the right side, I'm hauling along a spare starter and a quart of 90 weight gear lube. Seems like there is always something to worry about when we get ready to leave on a trip.
I had Lotten in Fort Bragg replace the ball joints and do a wheel alignment. Two years ago I took the bus in to him and although the dust boots on the ball joints were ripped, Lotten said the joints were still tight, "Might as well drive 'em and wear them out". Now, after miles of Baja mud, Death Valley dust, and Colorado gravel, they were shot. Replacing the steering box with a new one completed the front end and now ROADCOW goes where I aim it!
A shovel, "come-a-long", tow strap, tire pump, hydraulic jack, Swedish Buck-saw, ax, seven gallons of drinking water, thirty gallons of gas, fiberglass repair kit, tool kit, Coleman stove, catalytic heater, warm and cold clothes, food, dog food, ice box, bedding, video camera, computer and printer, and two fishing poles...Well, I think we are ready. Trouble is the ROADCOW can't moove! Just kidding.
---
• 2602 miles north of Greenwood/Elk.
Lolli, the dog and I are west of Watson Lake, heading for Whitehorse, Yukon Territory. We pulled off the highway and up on a hillside overlooking a large valley with mountains off in the distance with snow on them. It is a bit breezy up here. We parked up here in the wind on purpose to foil the mosquitoes although I see a few hovering around inside the VW bus, where I am now writing this article. I sprayed myself with "Off" containing the chemical "DEET" (thanks Perry) and, by golly, it works. Lolli and the dog are out for a walk.
We have been trying to average five hundred miles a day which means ten to twelve hours of driving per day. It is a shame to set such a routine because I am sure we are missing a lot along the way. The idea is to get "up there" quick and then take our time heading back home. "Up there" hopefully will be the Brooks Range, north of the Arctic Circle. Right now we are above latitude 60.
Last Tuesday morning Lolli and I headed out of town, as planned. By evening we were camped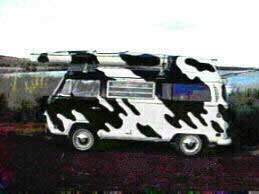 beside a small lake just short of the Oregon border on Highway 97. Mount Shasta glorious in the distance, ducks, loons and red wing blackbirds in our "front yard". Wednesday we were buzzing along north of Bend, Oregon when I noticed the oil pressure gauge was on zero and the water and oil temperature gauges maxed out! Oh Oh! End of trip!
I shut off the engine and coasted to the side of the road. Visions of blown radiator hoses and cooked engine danced in my head. Everything seemed fine and cool in the engine compartment. After more searching I come to find out that the "ground" connection for the gauges had broken loose, making all the gauges read wrong. I fixed the faulty wire,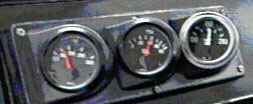 everything went back to normal and we were on our way again with only a few more gray hairs on my head! Wednesday evening we camped at our friend Mason's place up Badger Mountain, by Waterville, above the Rocky Reach dam on the Columbia River.
Thursday morning we crossed the border into Canada, 1073 miles from Greenwood/Elk. In the evening we found an old logging landing just past Cache Creek,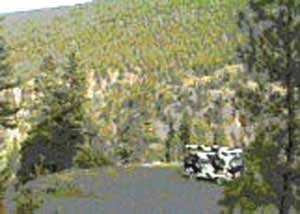 set up camp and got out the solar shower bag and had hot showers. One unexpected bonus of having a water-cooled engine in the ROADCOW is that I now stow the shower bag behind the radiator while traveling and when we are ready to call it a day and set up camp, the bag is full of ready to use hot water!
North of Chetwynd, by Hudson's Hope, we found a nice lake for Friday evening's camp. Saturday evening we arrived at Liard Hot Springs. The campground was full so we went back down the road a mile or so and camped by the Liard River. In the morning we returned to the Hot Springs and took a soak. The water comes out of the ground at 124 degrees and a cold spring is diverted into it to make
it tolerable. The pool area is rather large and by moving about you can pick out any temperature you like. It is a popular stopping place on the "highway". Swim suits are required. Everyone is friendly and there is no charge to use the pool.
So far, along the way, we have seen black bears twice, and in one area a mother moose and her baby. We stopped and watched the moose for a while, watched them eat and marveled at the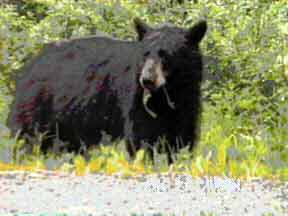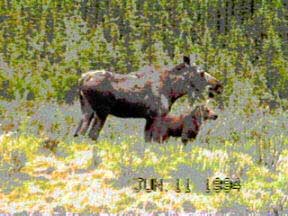 seemingly ungainly way they walk. They paid no attention to us until another car came along and started to stop. That was enough and they disappeared into the trees.
In the northern reaches of Canada, we have been shocked at the way they clear the forest for road widening or development. They just mow the forest down and grind it up. One town has the largest "tree crusher" in the world on display. It was used to crush the trees in a dam reservoir area before completion of the dam. But the trees this far north are small, the cost to cut them down and haul them out, even for chips, wouldn't be worth the cost in fuel. So they are just mowed down! In the old days, when they first built the road, at least they used them for road bed.
Up until the last five hundred miles the highway hasn't been any rougher going than the average street in Mendocino but now we are running into sections that are being "improved" and they consist
mostly of dirt and rocks. We have been having some rain and that dirt is now mud.
It has been cloudy the last couple of evenings so I can't tell when the sun actually sets. That and the fact I usually hit the sack around ten o'clock means that I don't know when it gets dark. It is light out when I go to bed at ten and it is light out when I wake up around five-thirty in the morning. Gas prices have gotten progressively higher the further north we go. 49.9 per liter down at the American border, 64.9 per liter up in the Yukon. We stopped at a store earlier today to buy some cookies and they wanted five dollars for just your basic cello-wrapped generic cookies! That's five dollars Canadian but still!
Well, we have about one thousand miles to go, two more days before we reach our destination, slow down, and start to smell the roses.
ROADCOW is running great and causing quite a stir every place we go. Lolli has now read five books. I have a stiff neck from driving but no matter. We're on vacation, dammit! Tomorrow morning we will reach Whitehorse, Yukon Territory.
• June 23rd.
Okay kids, where were we. Oh yes, Whitehorse. Well we arrived in Whitehorse, took a look around,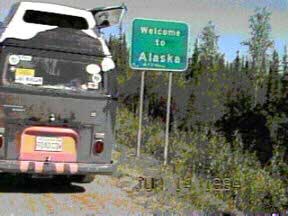 sent off some postcards and beat feet for Alaska. When we arrived at Tok, Alaska I inquired at the state tourist information booth, on the edge of town, about the current policy concerning driving the haul road (the Dalton Highway), up to Prudhoe bay. They weren't sure but they thought they were letting folks up it. We finally arrived in Fairbanks but I didn't slow down, just stayed on highway 2 that headed north to Livengood and the start of the Dalton Highway. I figured we would purchase our last supplies in Livengood, top off the gas tanks, and be on our way but once we passed the outskirts of Fairbanks..., that was it. We were in the bush. Soon a road sign said the haul road was closed to those without a permit. We then passed a sign that said,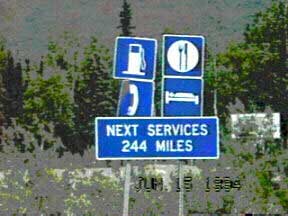 next services 244 miles and off to the left was "Hilltop", a truck stop service station and restaurant. We pulled in to see if we could top off our gas and water tanks and get some ice. I asked the buxom waitress if the haul road was open to tourists. She said she thought so. Outside I saw a local-looking character in a beat-up sedan and asked if he thought the haul road was open to tourists. He said no, they stopped you at Coldfoot but he had a hover-craft that could take me up there only the skirt was busted on it right now. He said he knew all the nooks and crannies. He drove the haul road in the winter and "boot-legged" during the summer. I returned to Lolli and said, "What the heck. Let's give it a try".
We left the blacktop and entered the beginning of an 828 mile round-trip journey of dust, mud, and gravel and headed for the next services, Coldfoot, 244 miles north. Evening approached, at least my clock said it was evening, and we found a nice spot beside the Takalina River and called it a day. A few mosquitoes; 82 degrees at eight in the evening! During the night it rained and in the morning we woke to sunshine, 72 degrees, and lots of mosquitoes. The bug spray worked but they still hovered only six inches away in a cloud. We packed up and headed on towards Coldfoot. We crossed the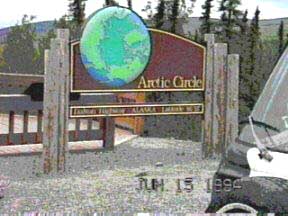 Yukon River and soon after, the Arctic Circle (picnic stop and big sign). Finally we arrived at Coldfoot, "Where the gold miners got cold feet" it is said "and turned back". I gassed up, we had a beer in the "Most northern saloon in the world" and was told by the barman, "Why sure, you can drive all the way into Prudhoe Bay, if you care to".
Yippee, we're out of there and heading north. We finally stopped for the night just south of the start of the Brooks Range alongside a river. We get back up and on the road by seven in the morning and start up the approach to the Brooks Range. The sky was overcast and soon we were in the clouds and it started to snow. Higher and higher, up to 4800 feet and finally, the top of the pass.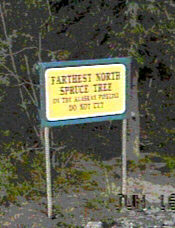 Along the way we saw a sign beside a tree: "Farthest North Spruce Tree. Do not cut!" We continue on over the top and start down and eventually out onto the North Slope. Just 150 miles of gravel road left to go. Soon there were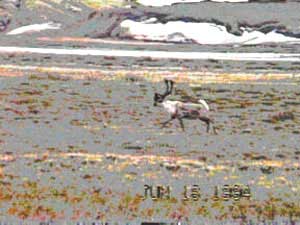 caribou grazing alongside the road in twos and threes and then herds. Ice heaves and permafrost, small lakes, some frozen and then finally, off in the distance over that flat treeless plain, we saw the buildings of Prudhoe Bay.
We pulled into town which is like pulling into the industrial park of any large city. Big buildings, few windows, small signs. It was hard to tell what was what. We found the hotel/restaurant/gift shop;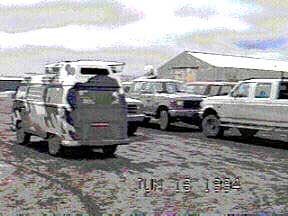 idling diesel pickups parked outside. Went in through the double air-lock doors, bought some post cards, bumper stickers and had two turkey sandwiches ($10.00! each!), and then turned south for the first time in nine days, 3872 miles from Greenwood/Elk. It was 38 degrees outside with a wind-chill factor of 22 degrees. We decided we wanted to get south of the Brooks Range before nightfall, (well, forget nightfall, it doesn't get dark), but we wanted to camp in a warmer place.
South we go. Back past the ice heaves, the frozen lakes, the caribou and treeless plain. The sky was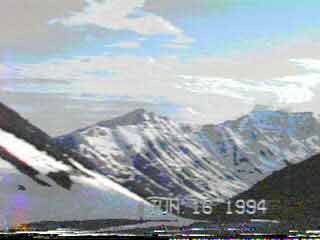 clearing and the Brooks were out in all their glory. Up we go and bang,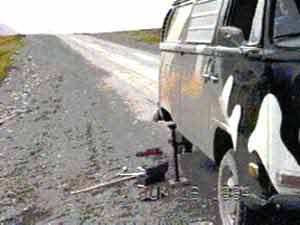 the right rear tire blows out, even bent the rim in three places. While I'm putting on my spare a pipeline crewman comes rattling along in his pick-up and stops and asks me if I'm okay. I tell him I am and then, as he leaves, he tells me to be sure and, "Watch out for grizzly, they are around here you know". I get the spare on and once again we are on the road but only after a few miles the voltage regulator suddenly goes out. I get out and, looking around for grizzlys again, open the engine compartment and discover a shorted wire. I fix that by inserting a bit of plastic between the voltage regulator points. Now the generator either works at full charge, 17 volts or, with the plastic out, no charge. I alternate by charging and discharging the battery as we go along, inserting or removing the plastic every hour or so. I don't want to cook the battery. Next we throw a fan-belt. I discover that a stone had lodged in the v-belt pulley. I remove the stone and put on my spare belt. A half hour later, it too is thrown. By now we are south of the Brooks Range and decide to call it a day and camp beside a river. It is midnight; we have put in seventeen hours of driving. I am beat. Lolli reads in bed for a while by the bright daylight coming in through the window. In the morning I replace the broken belt with the old torn one I had saved, fortunately. We head for Coldfoot.
Finally, we arrive, gas up and discover they have no V-belts on hand that will fit. We decide to head on for Arctic Circle and try to get to Fairbanks. One mile out of town my last torn up v-belt lets go. We limp back into Coldfoot. The garage mechanic says they can have one flown out for $35.00 or have one sent up on a "through haul truck" either this evening or the next morning. We decide to have them send it by the truck.
So here we are, camped by a lake in Coldfoot. A mom moose and her young-en are dipping their heads in the lake just up the shoreline. The bar opens at 5:30. Meanwhile, I think I'll take a nap. We hope to get to Fairbanks by the weekend.
• Saturday, June 18th.
The v-belt is in "Hilltop". They will send it on the next truck heading north, if they can flag a truck: "It is the weekend, you know". Once it is on the truck it will take six hours to get here. So here we are, sixty miles north of the Arctic circle. Light rain is falling, the mosquitoes are not too bad. Lolli is
reading a book. The dog is taking a nap.
• Monday, June 20th.
The v-belt never arrived but some guys working for Alascom (Alaska Communications) overheard us talking about our troubles during breakfast at the restaurant and said they would go look in their truck and, can you believe it, they found a v-belt made for a Chevy that, by golly, also fits my Toyota. I offered to pay for it and they said, "You can have it. Glad to help". Wow! Off we go, once again.
We arrive in Fairbanks and visit the University Museum and the large animal preserve where they have musk ox and reindeer. Then head on for Anchorage, 375 miles or so south. Rain and fog. The voltage regulator suddenly gives up and we continue to drive on with what's left in the battery. Although it is cold and raining and quite foggy I elect to leave the headlights, windshield wipers, heater and radio off in order to try and make the battery last longer. After several hundred miles of hair raising travel, squinting through a fogged and rain streaked windshield, we finally run out of voltage just short of Talkeetna and coast into a roadside gas station. There they have a battery charger, hot showers, a Laundromat, a good restaurant and the typical bulldozer and airplane parked out back. While the battery takes a charge, we clean our selves, our clothes, enjoy a bowl of hot soup, and restore our peace of mind. Once again. Onward.
• June 30th.
We left off this gripping tale on the outskirts of Talkeetna, Alaska. Battery charged up, voltage regulator dead, bus running on battery, heading for Anchorage. We see an auto parts house in a place called Big Lake and buy a voltage regulator. I install it and it doesn't help. We head on to Palmer, Alaska in search of another parts house. We find one and buy an alternator. I install that. Didn't help. The parts house couldn't test my old alternator or the one they sold me but they recommended a place in Anchorage ,fifty miles south. We arrive in Anchorage and find a NAPA store. They test the alternator and find it to be bad. They test a second one they have in stock and it too is bad. They order another one from the warehouse and will have it in the morning. What can we do? We camped by the parts house, beside the Sterling Highway, airplanes flying overhead. In the morning the third alternator arrives and I install it. Doesn't work. We then go to a Toyota Dealership to see if they can figure it out. "A Toyota engine in a VW bus?" Suddenly they are booked up until Friday (it's Monday). But they do charge up my battery, draw us a map, and send us off to an auto electrician. We drive around Anchorage, still running on battery, and finally find the industrial park where the auto electrician has his shop. The auto electrician, Ernie, grumbles at first because I have a Toyota engine in a VW van. He is leery of the whole project but gradually becomes intrigued. I jerk the alternator and voltage regulator out of the bus for him and he tests them and find them to be okay! Then we go through the wiring per his book diagrams. We discover the new alternator is wired different than the way my original one was. We rewire the voltage regulator plug to match it correctly and it works!! I install everything back in the bus and finally get a smile on my face for the first time in three days. Yippee, we're outta here!
Now what? Lolli has been looking at the map and says "How 'bout Valdez"? Why not? And away we go. Out the Glenn Highway to Glennallen and then down through the Chugach Mountains. We visit the old town site of Valdez that was wiped out by an earthquake, see the new town and the pipeline terminal across the bay. Back out of there and off to Tok and the Alaska Highway headed back for the Yukon.
Before we left Greenwood/Elk for Alaska, I was concerned about the possibility of being able to just pull off the road and find our camp for the evening. All the literature I had read before the trip only mentioned the "official" campgrounds, of course. Because there are so few side roads I thought we might have a hard time finding "our place". But no. Every evening when we have had about enough driving for one day we start to keep an eye out for our spot. We discovered that places that are called "borrow pits", places where road crews have extracted gravel, work quite well. Borrow pits are usually rather large and enable us to park off the highway, away from most road noise, and out of sight. Also there are usually fewer mosquitoes in clearings like that. Sometimes we tried parking by a lake amongst the trees but the bugs are usually worse. On our way back to Tok we were thinking about our spot for the night. We wanted sunshine, few bugs, water for the dog to play in, and firewood for the hamburgers. Soon we saw a side road, obviously seldom used, and gave it a try. Sure enough, it had all the requirements. After showers and hamburgers, Lolli was reading the literature she had picked up along the way and discovered that if we go down to Haines, we would be able to take the ferry over to Skagway and back up to Carcross, over to Watson Lake and then south on the Cassiar Highway to Prince George.
Well why not!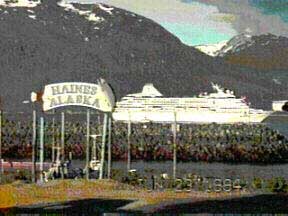 So here we are now in Haines. Lolli is off visiting the museum and Native galleries. I'm sitting in the bus, looking out over the Lynn Canal, hammering out this story on my laptop. The Ferry leaves at 4:00 this afternoon; $50.00. We'll be in Skagway this evening and then go off to find our spot for the night. Last night, about ten miles before arriving in Haines, we saw Bald Eagles. It turns out that in the fall over 3,000 of them gather along that stretch of the river. We saw four but it is still too early in the season.
The drive over Haines Pass, coming into Haines, was one of the more beautiful places we have seen. 3,800 feet, which put us above the tree line, snow-capped mountains all around us. We now have 5,915 miles under our belt. The money and vacation time is starting to run out. We plan to be in Seattle by the 2nd of July.
• June 27th.
We have completed the drive down the Cassiar Highway. Miles of miles with gas stations far and few between. We arrived in the small logging community of Kitwanga, gassed up. So now I'm sitting out in a field, surrounded by daisies, the dog licking her mosquito bites, and Lolli off looking for the post office. Our bus troubles seem to be over and though the day is overcast, it is quite warm out. We are surrounded by mountains with snow on the peaks. Next, Seattle. We now have 6,705 miles under our belt.
• July 2, Elger Bay, Camano Island.
I'm sitting by the beach in front of Lolli's mom's cabin. Waiting for my brother and his wife, Alice to arrive in their cabin cruiser. My kids and Lolli's brother and sister will arrive tomorrow. The gathering of the clan for the Fourth of July weekend. Lolli and I and the dog are winding down from our trip to Alaska. We arrived in Vancouver, BC. two days ago and drifted into the Seattle area. South of the U.S. border we wanted to stop and visit Connie, a former student of Lolli's, who is now living in this area but Lolli didn't have her phone number and it wasn't listed in the phone book. We decided to stay at a state campground but first pulled into a restaurant in hopes of a good seafood dinner. We were standing there looking at the menu on the door and up comes Connie. She works at that restaurant! What a coincidence. We had dinner with her and stayed the night in her driveway and now, here we are at Camano Island, 7,715 miles on the odometer since leaving Greenwood/Elk the seventh of June.
Our great trip to Alaska and Prudhoe Bay pretty much over. Time to reflect.
The biggest problem with the whole trip was too much driving. We put in ten to twelve hours a day on the road. We didn't slow down enough to smell the roses, but, with only three weeks to do it in, we looked at it as an overview, kind of a table of contents to British Columbia, the Yukon and Alaska. The area I thought to be the most interesting was Coldfoot, probably because we were broke down there for a day and a half and had the time to get to know the people and the area a little bit. Coldfoot has the most northern truck stop and bar in the world. 87 degrees below zero in the winter and up to 87 degrees in the summer. If I could do what I want, I would love to drive back up there and stay for one season. Find out what it is really like to experience the extremes of Alaska. The next most interesting area to Lolli and I was the Haines/Skagway area. Really beautiful mountains and coastline and a lot of history. Skagway looks like it never had major fire problems so there are a lot of old buildings still standing and they have a railroad out of there that goes to Whitehorse. It looked very interesting. It is one of the last narrow gauge railways still operating. The highway mountain pass through the mountains into Haines and the pass out of Skagway were awesome. Some of you may have seen the picture of the miners lined up, one behind the other, heading up Chilkoot pass in the snow in the winter of 1898-1899. Lolli picked up a lot of information about indigenous art at the museums in Fairbanks, Anchorage and Vancouver, BC.
We noticed on our trip that most of the travelers we saw were retired folks in motor-homes and also a lot of German visitors. Other than that, there were a few folks on bicycles; students that had the summer off. Most folks, with only a two week vacation just haven't the time to drive to Alaska. Gas was quite expensive through the Yukon area. 64.9 per liter about average. Surprisingly, one of the cheapest fill-ups we had was at Hilltop at the start of the haul road to Prudhoe bay, $1.13.9 a gallon. Prudhoe bay was over two dollars a gallon! but I had enough to get there and back to Coldfoot where gas was $1.34.9.
DEET, the chemical in Cutters, worked well enough to keep the mosquitoes at bay but they still hovered in your face and ears all the time. Having daylight at all hours of the day was quite unusual. To be able to read a book quite comfortably at midnight was quite novel. One time I woke up, thought it was seven and time to get up, only to discover it was two thirty in the morning!
The VW bus-Toyota engine combo worked very well but I did discover a problem. I need to build a rock shield of some sort to keep stones from flying up into the engine compartment (rear engine). Twice we lost fan belts because of stones lodging in the v-belt pulley. Over the course of a thousand miles of driving on loose gravel roads, it was bound to happen, and it did. Tourists are not encouraged to drive out the haul road (Dalton Highway) though they can if they want to. Actually, it is an environmental question and a lot of folks wish the road and the pipeline had never intruded into that pristine area. In time, when the oil runs out, the oil companies are required to remove the pipeline and some folks say the road should go too. If it were returned to its original state there would still be those folks that can afford an airplane to be dropped off up there and explore. The existence of the current haul road allows in us riff-raff. Like one guy pointed out; that one road to the Brooks Range and North Slope is like the State of California having only one road through it. Not really a lot of impact over-all. I don't know how it will all end up but I am glad I had the opportunity to visit
• July 14, 1994
We're back! 9025 miles as I rolled back into Greenwood/Elk. Thirty two days on the road. I started out on the trip keeping track of mileage, gas purchases, gallons consumed, where we camped each night, what time the sun set, when it rose, etc., but finally ran out of steam. My notebook gradually dwindled off into a series of illegible scribbles. Life on the road finally became all a blur of passing trees and mountains with occasional knocks on the head to wake me from my "Zen of the road" state. The sight of a black bear, a glacier, a mother moose with her baby, bald eagles.
After the Fourth of July weekend with family in the Seattle area we headed south. Lolli had a class scheduled for the upcoming Saturday and wanted to get home in time to set up for that. We stopped in Centralia, Washington and Lolli called the Mendocino Art Center and found the class had been cancelled. Great! No need to hurry home. Now what? We looked at the map and noticed that the turnoff to Spirit Lake, up on the East side of Mount Saint Helens, was coming up.
Off I-5 we go on another adventure. In a few hours we entered the blast area. The trees are still laying on the ground radiating out from the missing side of the mountain clearly showing the direction and size of the blast. Spirit Lake is still lined with rafts of floating trees. Some of the area has been salvage logged and replanted but there is no shortage of evidence of what happened when the mountain blew up. We spent the night out on a ridge amongst the fallen trees, Saint Helens in the background. Beautiful but eerie. Next day we had lunch at the Carson Hot Springs on the Columbia River, another beautiful area and an excellent restaurant. On into Oregon and California on back roads, eventually passing through Happy Camp in Trinity County. Camping by the Trinity River being one of the nicest places on the whole trip. Hot weather, cool water, no mosquitoes! Out onto 101 at Arcata and down to Leggett, over the hill to Mendocino, the fog, and home. Happy to be back.
One more thing.
Lolli and I, with the dog, spent thirty-two days in a 1971 VW bus, not especially spacious accommodations and yet, in all that time we did not have one disagreement about anything. If we set any records I think that one is the most significant; Up in Fairbanks some guy came up to the bus and asked us where all we had been. I told him we had just got back from Prudhoe Bay. He said, "Your wife let you take her up there? Where can I find a woman like that!"