Bisbee, Arizona 1994
---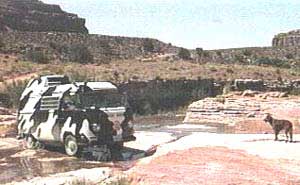 • January 13, 1994
Home again, home again, jiggity jig. 3984.5 miles traveled since leaving Mendocino December 18th. Lolli, the dog and I were on vacation. We headed straight for the hot springs of
Canyon Guadalupe in Baja.
The first evening on the road found us camped overlooking the town of Mojave. The second evening on the east side of the Salton Sea. The third day we were soaking in the hot springs and stayed for three days. Christmas eve found us camped just south of Why, Arizona. By then Lolli had read five books! She was working her way through A is for Alibi, B is for Bandit, C is for Corpse, D is for Deadbeat, etc., written by Sue Grafton, while I headed for Bisbee.
Bisbee, Arizona is an interesting place, a former mining town that almost died when Phelps-Dodge Mining closed down. Many stately buildings and miner shacks. The hippies and the artists discovered it in the 70's and eventually, the tourists. Sort of the Mendocino story all over again.
While there, I bought a book called "Going back to Bisbee" by Richard Shelton and read it various evenings as we traveled along. By the time we got to Demming, New Mexico, I decided I wanted to return and take another look at Bisbee.
Southern New Mexico prices were quite depressed. Gas at 87.9 cents a gallon (a gas war was going on). Land for $150.00 per acre. Breakfast for $3.50. Hard times in that area and the prices
reflected that fact.
We swung back through Arizona and visited Skeleton Canyon where Geronimo finally surrendered. The Apaches had fought off the Spanish and then the Americans settlers for over two hundred years. This little canyon marked the end of that long battle. Then back to Bisbee.
This time I visited with Walter Swan, owner of the "One Book Bookstore". Walter wrote a book called "me 'n Henry" but couldn't get anyone to publish it, so he published it himself. Then he ended up with all these books that the book stores didn't want. He decided to open up his own book store and sell his book. That's it. One book. "me 'n Henry." There he was in downtown Bisbee in his one book book-store, sitting there in his coveralls and black cowboy hat, visiting with whoever came in and selling his book. He is on his twelfth reprinting now and has sold over 35,000 copies at $20.00 a pop! I had to buy one, of course.
We headed off towards Tucson, then Phoenix, Baghdad and Needles. We zipped through Nothing, Arizona. It didn't take long!
Every evening towards sundown we would start looking for some dirt side road heading over the hill. We always found a great spot to spend the night. Far enough off the highway to get rid of the traffic noise and be surrounded by cactus and coyote calls. We hit Tecopa hot springs at the south end of Death Valley, had a soak, and the next day tried out a road we had discovered last spring called Crankshaft Crossing, at the north end of Death Valley. At first it didn't look like it would work. Pretty rough and confusing with side roads leading off here and there to abandoned mines, but in time, with stopping and consulting our DeLorme map, we sort of figured it out and finally ended up on route 166 in Nevada.
Then back into California, up to Reno and over the hill through snow at Truckee, to home.
Lolli read fourteen books, the dog wore her toenails down chasing the ball, and ROADCOW never missed a beat. Of course I wanted to keep going. But Greenwood/Elk isn't a bad place to come home to.