Winter Break 1996 / 1997
---
I realize it takes a while to download this page because of all the images
but there is plenty to read while the images are loading.
Enjoy, as they say here in Californie.
---
• Hi Kids,
• Here we go again.
Well, let's see. We left December 22, 1996 from Ukiah, California but first...
December 20, Friday evening with Ed and Suzanne in Fort Bragg for pre Christmas Christmas party. Ed and Suzanne travel with us during Spring Break and some times Thanksgiving but not at Christmas time, that's their family time. Lolli and my families mostly live in the Frozen Wastes of the Pacific Northwest. We chose to celebrate Christmas with them on July 4th.
December 21, Saturday morning up and some loading of Lolli's stuff into the bus. I'm ready, more than ready to hit the road but first there are a few items Lolli wants to take care of:
Restocking the firewood in her log cabin.

Wash the dishes and some general house cleaning.

Move a loom from out by Little River airport into Fort Bragg.
Oh boy.
We drive to Little River and load the loom into Gail's pickup then head down Little River Airport Road and then north on Hwy. 1. My right front brake is sticking and smoking and stinking. I am in ill humor. I want to be on vacation. I don't want to be going to pre-Christmas parties. I don't want to be schlepping looms around. I don't want VW troubles. I want trouble free motoring and vacation in the wilderness. But no. Here we are heading north with a loom and my brake giving me fits.
Suddenly I notice Gail is not following us anymore. We pull off to the side of the highway and wait. No Gail. I decide to turn around and go back. We are almost to Mendocino before we see her truck off to the side of the road. She is picking up loom parts. The 80 year old loom blew out of the truck and met it's end on Highway 1. Hee hee. My spirits rise! One less loom to schlep around! :-)
Finally, back to Lolli's and the finishing of the load-up. It is getting dark as we finally make it out of her driveway, turn left onto the Comptche / Ukiah hwy. and head off into the light rain, fog and me wondering if my brakes are going to burst into flame and kill us on the long downgrade into Ukiah.
As we drive along I discover I can kind of stomp hard on the brake pedal several times and get it to sort of release. Also, I have to pull the brake peddle back up with the toe of my shoe. Damn. Seems like no matter how much I try to get everything ready with the bus before vacation; new tires, new brake pads, welding up the muffler, new spark plugs, oil and filter change, there is always something to worry about.
Anyway, we arrive in Ukiah without mishap at our friends Holly and Roger and have a nice dinner and evening visit. We spend the night in their guest room and listen to the rain hammering down outside.
Up Sunday morning for a leisurely breakfast and finally all of us off to our friends Doug and Jan's for another pre-Christmas get together with another group of friends and another round of festivities and eating of food and opening of gifts and drinking of wine.
In the early afternoon we have finally unwrapped the last gift and eaten more than we can eat. We can now, finally, hit the road. We load up the bus with our new gifts and fruitcake and head out into a cold gray day. Yippee! Vacation is officially underway.
In the late afternoon we come out onto the flats west of Williams where we take the Stoneyford/Leesburg road and head up into the hills a ways, pull off onto a side road and park beside a stream where we and Ed and Suzanne parked once before. It is cool and gray out. We hole up in the bus and I fire up the Coleman catalytic heater. This time I finally figure out a way to adjust it's temperature. The heater only comes with two settings and in the past it has always been either too hot or really too hot. With my new improvement the temperature is just right and we are warm and cozy, eating snacks and drinking wine and reading our books. The dog sleeping in the "way-back".
December 23.
Up and off to the town of Williams and the Grandzella restaurant for breakfast and then, onto I-5 for the gonzo run to Bakersfield. The weather has cleared and for the first time our annual winter trip down the Central Valley is quite pleasant.
We finally reach the turn off onto hwy. 58 and as we arrive in Bakersfield I keep an eye out for an Auto Part house. I want to talk about my brakes which are still sticking. All the way down I-5 I hardly used the brakes but the stop and go traffic in the Bakersfield area is a real trial. I'm wondering how I will ever be able to drive on the steep gravel roads in the wilderness!!
We stop at one auto parts house but they don't do VW stuff. They recommend a place called Bart's Parts on 550 Oak street. We carefully drive on over to there. I go in and described my problem to the guy at the counter. He says it sounds to him like the flex hose had swollen shut. It seems to me I have heard of that happening too. He has the flex hose in stock and I buy two, one for each side plus a container of brake fluid.
We're outta there and off and over Tehachapi Pass and into Mojave in time for dinner. Dinner over and way past dark we are back on the road heading east towards Barstow. After a half hour or so of driving I see a dirt road leading off towards some star lit hills. We stop, back up and take it. I drive a way off from the highway noise and we call it a day.
The temperature is down around freezing during the night but we are toasty in the bus. In the morning the sun comes out and soon warms things up quite nicely. I decide to replace the brake flex hose on the right front "sticking" side; jack up the bus with Lolli sleeping inside and pull the wheel. The flex hose is right there. I take off the old one and install the new.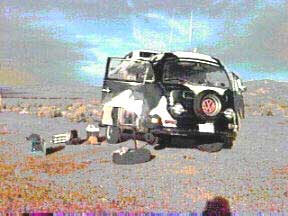 I bleed the brake and put things back together. I take the old hose and try to blow through it. Not possible. I then take my pocket knife and cut open one end of the old flex hose. The inside diameter is about a sixteenth of an inch. I cut open the other end and it is closed solid! Hard to believe that a hose would do that but, there it is.
We pack up and hit the road. The brakes are perfect and the pedal even returns by itself.
On to Barstow.
In Barstow we find a huge Von's grocery store and do our final grocery shopping. Ice and beer and meat and milk and sweet rolls and so on. $114.00 worth but we are heading for the wilderness and we won't be able to spend a dime out there. We figure we have enough groceries to last us five days, a week if necessary. I top off the gas tanks and we are on our way to Baker, roaring along with all the traffic heading for Las Vegas.
At Baker we leave that mad crowd and leisurely head north, all by ourselves,
for the Tecopa hot springs.
We arrive at the springs around two in the afternoon and head for our respective bath house for a soak. The pools are great as usual and now, relaxed and refreshed, we head off into the wilderness. We take the Wade Route, a gravel, washboard road and rattle along for about five miles and then pull off on a former old road track by some low hills. In the morning the Christmas moon is settling down behind the hills as the sun comes up.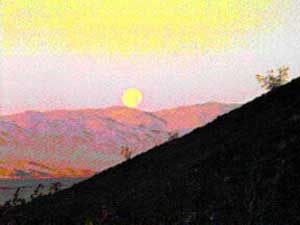 Over the course of two days four cars rattle by. Too much traffic for my tastes but...
We walk around and up onto the low hills and over along the Amargosa River inspecting the rocks and shrubbery. The next day I walk across the valley floor to some low hills that are visible off in the distance. Doing steady, in a straight line, walking towards the hills it takes a half hour to get to them. I figure the distance is one and a half miles. During my walk Lolli did computer work and read books.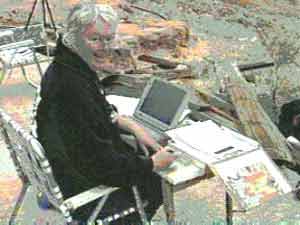 A new item we had with this trip was a solar panel I borrowed from a friend. I experimented with it and found it easily kept up the charge on our bus battery as we used the computer, recharged the video camera battery now and then, listened to the radio on occasion for weather reports, ground coffee beans with my electric grinder in the morning and used the twelve volt lights at night for cooking and reading. Never did have to start the bus engine to catch up the battery charge unless the dog was blocking the sun!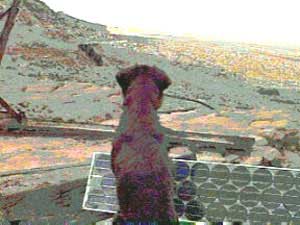 Our second two day camp site is up in the foot hills towards Tecopa on the Saratoga Springs road. Only one car came by. Things are getting better!
Our view is down and out towards the southwest. Above and behind us I find a former open pit talc mine that is about a twenty minute walk up a wash. In the other direction, down and out across the valley floor, beyond some sand-dunes, we can see a wooden structure, obviously mine related. I walked over to that. It too was a talc mine, I think. It took one hour to walk there so I figure it must be three miles away and, according to the DeLorme map, it is.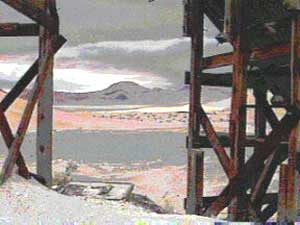 Later today we are going to head for Tecopa by continuing on up the road we are on. According to the map it should work. Yesterday some folks came by in a Ford Ranger and they said they were heading for Tecopa. They never returned, so it must be do-able.
Around noon we head out and on up the road towards Tecopa and past the "DEEP SAND" warning sign. Sure enough, in a few miles we come to a place where the road cut has filled with soft sand. We can see the tire tracks of the folks who had gone before and I decide to go for it. I get a run at it in second gear. We start getting bogged down and I am on the verge of shifting into first gear when we finally arrive back on a rocky surface. Close! Shifting into first gear in soft sand is usually the kiss of death! There are a lot of rocks around to work with if we did in fact get stuck but no, we make it and eventually come out onto the Baker - Tecopa Hwy.
On into Tecopa and over to the hot springs for a refreshing dip and in my case, even a shave!
Next off to Shoshone and the market to restock our ice, water and supplies. Then, back into the wilderness.
We head on up the highway a few miles and then take the turn off for Death Valley via Jubilee Pass. Up over and down, down, down and finally we arrive at the turn off onto the West Side Road. We take that gravel, washboard road for a while and then stop to document the coloring of the mountains on the east side in the light of the setting sun.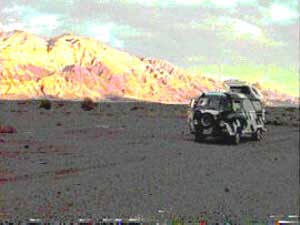 I wasn't sure where we were along the West Side road and we saw several side roads leading further into the wilderness.
I got the DeLorme map out and lined it up with the visible features around us and pinpointed our location. East of us, on the other side of the Valley we could see what we think is Mormon Point. To the northwest of us Telescope Peak is very obvious. Now knowing approximately where we are I decided to take an old road up an alluvial fan.
I am sitting in my lawn chair, lap top before me, looking out and down across Death Valley. The road up here was very rocky and rough in spots but do-able. Just rocks and boulders up a non stop alluvial fan. The five miles took one and a half hours to drive.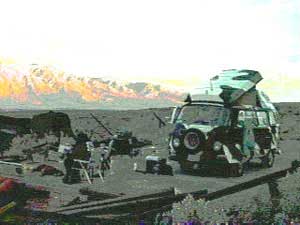 There is evidence of former vehicle tracks but who knows how long ago. We have the place to ourselves surrounded by all kinds of mine stuff. Old stoves, former buildings, mine shafts, wood chutes, pipes, tanks, car parts, even a late thirties - early forties Buick Eight sedan!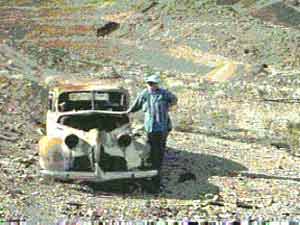 Gobbs of stuff to look at and speculate on. I have been out snooping around and found six mine shafts. One of them looks like someone lived in it for a while. The others are too scary; partially collapsed and crisscrossed with timbers, old timbers. Looks like the whole thing would give way just by saying "boo".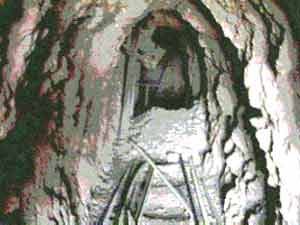 December 30, Monday I think.
Anyway. We wake to the light patter of rain on the roof! It is seven in the morning. I get up and put some things away that we had left outside overnight. Actually, the rain hasn't amounted to much so far. A totally gray day but the clouds have some variation to them and maybe they will break up and allow some sun through. I found a radio station this morning out of Las Vegas. They predict a forty percent chance of rain today but didn't say anything about tomorrow. They didn't seem concerned about weather. Meanwhile, any of the other stations I have listened to, KGO out of San Francisco or KFI out of Los Angeles, all they are talking about is the winter storms in Washington, Oregon and in Northern California. Seventeen counties declared disaster counties in Washington, flooding in Oregon and northern California, rain and high winds in the bay area, etc. etc. Here it is 65 degrees and overcast. We really can't complain. Mostly blue skies with the sun just starting to break through some clouds to the south. 8:00 in the morning. Nice to have the sun back.
The dog and I hike to the top of the hill behind us, four switch-backs. There is a rough road that continues even higher into the mountains but we will save that for another time. We are going to stay here through New Years and then rattle back down to the West Side road and then go around to Furnace Creek. We are running out of coffee, wine and ice. Four days at this camp and not one car has come by. Perfect!
New Years over we leave camp, re-supply at Furnace Creek and have lunch. While there a friend of ours, driving through Death Valley, spots ROADCOW and tracks us down. He winds up camping with us for the next two days.
Finally, running out of vacation time, we return to Tecopa for a last dip in the hot springs and then begin heading for home, spending the night parked on a side road north of Baker.
We plan to be home the evening of Sunday, January 5
Wrong.
In the morning we head for Mojave and then Bakersfield. We arrive in time for an early Basque dinner at the Wool Growers and have a great dinner. I elect to continue driving a while and we go out through Buttonwillow and onto I-5 and north for a hour or so. Finally around 10:00 p.m. we take an off ramp and find a reasonably quiet place to spent the night. During the night it rains but we wake to a sunny morning and the singing of Meadowlarks.
Back onto I-5. North of Tracy we take the Livermore turn off heading for San Francisco. We zip through Walnut Creek, Benicia and Vallejo and take the turn off at Sears Point for Petaluma.
I down shift down around the corner and wham, the clutch petal hits the floor making a grindy noise. I coast to the side of the road thinking the clutch cable broke. We sit there with the traffic roaring past and I think about our situation and then remember that I can drive without a clutch. Just start in first gear, match speeds and shift. I try it and it works just fine. We continue on to Petaluma.
Arriving in Petaluma and just before the 101 freeway I have to pee bad and so we stop at a gas station. I step on the clutch out of habit and we get a grindy sound. Oh Oh.
I take my leak and returned to the bus. I start off in first gear and head out of the gas station. All of a sudden there is a wham and really bad grindy noise. I coast to the side of the road and crawl under the bus. The clutch cable is not broken. Oh, oh! The problem has to be internal; the throw-out bearing or the pressure plate fingers that it moves, or worse.
We realize we are within a few miles, twenty or so, of our friends Doug and Joy and give them a call. They are home and they are on their way. While we wait I walk across the street and rent a transmission jack from Big 4 rents!
Doug and Joy arrive in their Ford Ranger and after loading up the tranny jack, they hook up to my nylon tow strap and we have a twenty mile hair raising ride to Doug and Joy's home. I am too frazzled to face bus repair after that trip and call it a day. In the morning I will attack the bus.
January 6. I remove the bumper, remove the sheet metal, unhook the fuel line, wires, radiator hoses and all that stuff. Finally I pull the engine away from the transaxle and take a peek into the bell housing.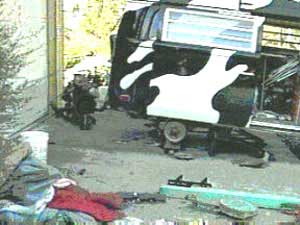 My God!! There lie the remains of my pressure plate and the throw-out bearing. The throw-out bearing fork fingers are smashed flat. Shrapnel everywhere. I decide to go ahead and pull the transmission and Doug and I take it to a VW shop in Sebastapol. They check it over and don't see any cracks in the bell housing so will replace the throw-out bearing fork and tranny grease seal for me and call when it is done.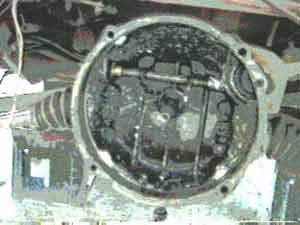 The small white looking spots in the bell housing are dings in the aluminum from the debris flying around when the pressure plate blew up.
At four in the afternoon the VW shop calls and we return to get the tranny and also buy a new pressure plate, clutch and throw out bearing.
Back to the bus to assemble everything and by night fall Doug and I have the transmission and engine back in place.
January 7. By the light of a sunny Tuesday morning I finish hooking up all the wires and hoses and replace the sheet metal and bumper, add the radiator coolant and fire up the bus. Everything works and shifts and is happy.
We say goodbye to our friends once again marveling at ROADCOW's continuing fortunate choice of places to break down.
When we get to the freeway I "open 'er up", the engine at full throttle. When I ease off the throttle the engine will not slow down!!
Did I forget to mention that the ignition switch had quit working during our trip?
( I had been stopping the engine by coming to a complete stop, putting it back into first gear and then popping the clutch. That would kill the engine.)
Now, with the accelerator wide open AND the ignition switch not responding, my first I thought is that we will have to continue on up 101 until we run out of gas!! With more reflection on the problem, as we roar along at seventy miles per hour, I realize that the cause of the problem is that I had not reconnected the "return" spring on the carburetor. My second thought is that the best way to get out of this situation would be to pull off the freeway and, while still in fourth gear (I can't shift into neutral without the engine over-revving), just continue to apply the brakes in fourth gear until we come to a stop and kill the engine.
I talk to Lolli about my plan. She knows of an upcoming off ramp that has no stop sign at the bottom of it, few cross roads or children running around; basically just a long industrial park access.
Soon, too soon, the off ramp appears and we decide we better go for it. We get off the freeway and onto the side road with a clear area coming up and I hit the brakes. We slow down and slow down and the engine starts trying to resist. I press on the brake harder and finally with a couple of jerks and a backfire, I kill the beast!
We sit there and let the smoke and our nerves settle and then I get out, walk around to the back and re attach the throttle spring. The rest of the trip is uneventful.
We are home by three in the afternoon only two days late.
PS. I finally discovered that I had two wires swapped on the alternator and that was what was causing the ignition switch to not shut off. I connected them back up the right way and all my problems were finely over, but then, so was our vacation!
Click here to continue on to the next story.