Spring Break 2002
What a strange Spring Break this turned out to be.
It contained the worst of times and the best of times.
Let me start off with the week leading up to Spring Break
April 1 ~ 5
Usually I am the one with the washed, waxed, and packed Vanagon, raring to go but this year? No! I am sick. I'm flat on my back in bed for several days before "lift off". Ed, on the other hand, has spent the whole week getting ready. He has installed a new cabinet in his Vanagon. He has washed, waxed, and compiled Geocaching data (more about this later). He and Suzanne are the ones raring to go but I'm sick. I have come down with a virus or something and I am whacked. Plus there is the ongoing concern about what to do about my dog Sarah.
Sarah is over seventeen years old now. She is deaf. Her rear end is shot. She can't scratch herself with her hind leg without falling down. She has a very hard time laying down and getting up. She leaks. For months I have known that the time is getting close to put her down but I just can't do it.
The week before Spring Break I have a discussion with my partner Lolli and Ed and Suzanne about Sarah's condition. We decide to take her with us rather than put her down. Yes, she is a pain in the butt and yes, she has to be lifted in and out of the Vanagon but hey! We will give Sarah her last Spring Break! She has been on every Spring Break vacation and she has always loved going. We will take her on this trip and like always I will throw the ball, but this time,
Ed will go fetch and Sarah can sit back and enjoy the show!!
Since Sarah has recently become incontinent most of the time I put a yellow tarp over our bed in the Vanagon so she can ride on that while we are driving along. Before we leave I go to Safeway and buy a bag of Depends. The evening before "Blast Off" there is a dinner party at Lolli's apartment. I cut a hole for the doggie tail in one of the Depends and put it on Sarah. By golly… it might work. She seems to be a bit indignant about her new bloomers but she
doesn't try to rub them off.
After dinner we load the last of Lolli's clothing and food stuff into the Vanagon, toss in the dog, and head for Ed and Suzanne's in Fort Bragg. We are going to spend the night camped in their back yard and be ready for blast off in the morning. I'm still feeling rather sick, the dog is wearing bloomer, but by god we are finally on the verge of
Spring Break 2002!!
April 6
With the crack of dawn Spring Break 2002 has officially arrived! A quick pot of coffee, Ed has already bought sweet rolls for us, we climb into our Vanagons, fire up our matching Subaru engines, and head out of Fort Bragg at 7:45 am. We turn east on HWY 20 into the gray overcast. By the time we reach Willits it is starting to get sunny. We turn onto HWY 101, head south, and by the time we reach the turnoff onto highway 20 again near Ukiah the Red Bud are showing up. I still feel crappy but so what! Spring Break is under way and the sun has come out! E-ha!
Geocaching
During the past six months Ed and I have become intrigued with an Internet game called Geocaching. Suzanne is into it and Lolli sort of tolerates it. Geocaching is a game of hide and seek using handheld GPS units. Folks hide cache, post the latitude and longitude on the Geocaching.com website, and then other folks log onto the website, download the details of the cache they find interesting, or near by, and try to go find them. Ed and I have each spent several evenings checking the website and downloading a bunch of cache coordinates and their "detail" pages for cache sites along the route of our Spring Break trip. I have concentrated on the possible cache between Williams and Death Valley; basically down the I-5 corridor and then East to Death Valley. Ed has collected the ones from Death Valley back to HWY 395 and then up to Reno and home.
Update: I have "hyperlinked" the names of the cache we found or placed during our trip so you can now check out the details page for each one, if you wish, and see what it was all about and what our comments were.
Back to the story.
We are approaching a cache we already know about. It is one that Ed placed several months ago. He has decided to move it because it is in a location where parking is rather tricky because of traffic.
Ed named it "Konocti (G5)" and it is part of his geology series.
We stop to check it out and as I go to hop up on the rock the cache is hidden behind Suzanne hollers at me! She has spotted a rattlesnake right at the base of where I was going to jump!!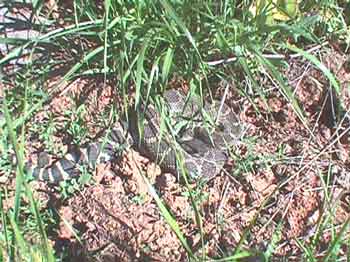 Big sucker! We gather around and take a look. It seems to be rather docile because the air temperature is still on the cool side. The snake lays there watching us and keeps testing the air with it's tongue! I take its picture. Then Ed goes around the snake, around the rock, and removes the cache.
We hop back into the Vanagons and hit the road. Soon Suzanne comes up on the CB and reads to us from her snake book. Because of the banding on the tail Suzanne has identified the snake as a Northern Pacific Rattlesnake. It is a member of the pit viper family. Highly poisonous and very aggressive. Whoo Eee!! It sure could have ruined our day!
We press on but after a few miles I have to call a halt to our progress because I needed a bathroom real bad. My stomach is still unsettled. The attendant at the gas station points out the restroom. I rush into it.
Once I am back out of the restroom our "traveling nurse" Suzanne prescribed Imodium A-D and a coke. I buy those items and start taking them and soon, by golly, I start to feel better. I just might live after all.
Next event is Ed's "Lake Colusa (G4)" cache and we stop to see what the NC Flyers put in place after Ed's cache got ripped off. The NC Flyers are Geocaching fools that live north of us and they have been swooping down and tagging Ed's and my cache left and right but they also provided the service of placing a new cache at this spot for Ed when his original cache was ripped off.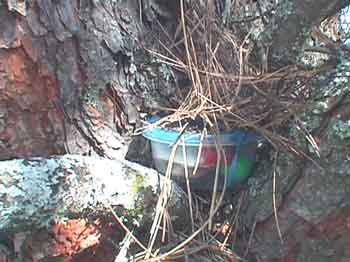 We find the cache and log into the log book. We will claim this one as the first cache hit of our vacation since it is a brand new container located in a slightly different location from where Ed first placed it.
We continue our stunning drive out highway 20 and down into the Central Valley. Beautiful spring pastel colors of green changing to brown with Lupine and California poppies blooming here and there and all over the place!
We stop at Granzella's in Williams, like always, and buy some last minute munchies for the road and then pull onto I-5 for the long grind south.
I have my cache folder with me containing all the "detail" pages I have printed out for various cache sites along the way. Ed and I have set our GPS's to the waypoint for the next possible cache; "Cache For Kids". Since Ed and Suzanne have DeLorme maps with them plus Ed has maps loaded into his Garmin e-Map GPS. I follow them.
After an hour and a half of driving we are south of Sacramento and nearing the cache location. Ed takes a freeway exit, I follow, and we end up driving county roads towards the cache site. Soon a sign appears that says the bridge ahead is out!! We press on and just before we reach the bridge we enter a bird refuge area and see lots of bird watchers out in their regalia with their binoculars and spotting scopes and goofy hats but, as for the cache? It apparently is on the other side of the bridge. It looks like we will have to go back to the freeway, drive around, and approach from the south. On the way back to the freeway I see my first "No Birding" sign. I point it out to Suzanne; our resident bird watcher. I mention that "evidently the local farmer has had enough of environmentalists tramping through his field gawking at birds". Cool!
I always give Suzanne a hard time about birds. She always replies,
"They are watching you!"
Back onto the freeway and south we go to the next exit. This time I take the lead and drive right to it.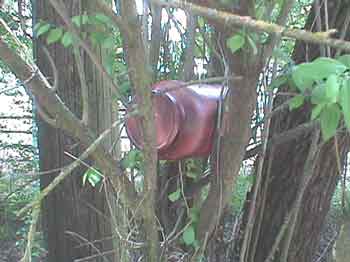 It is a big mayonnaise type jar painted brown, located about eye level in some branches! It is full of stuff for kids because it was put together by a group of school children in Arizona. Evidently some grandparents live nearby. It originally contained a bunch of self stamped and addressed post cards that finders could fill out
and sent to the school children but by the time we find it all the post cards are gone. We log in.
I take a toy spaceship and leave a McDonald's musical flip-phone toy.
We punch in the coordinates for the next cache site; "I Hate I-5 II", and head back to the freeway.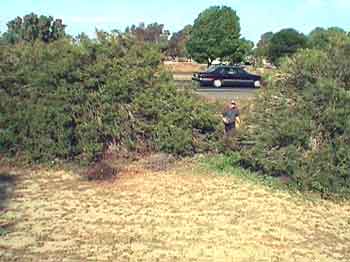 After an hour or so of driving we arrive at the rest stop where "I Hate I-5 II" is hidden. We poke around following the coordinates and finally Ed finds it. We log in and hit the road again.
As boring as reading this might be, hunting cache has vastly improved what in previous years has always been a totally boring first day drive to Bakersfield and beyond. Time and distance has zipped by. Of course the beautiful weather helped our spirits a lot too. This has been one of our prettier Spring Break drives down I-5.
Soon we reach the Buttonwillow turnoff for Bakersfield. There is a cache hidden between Buttonwillow and Bakersfield. We have the coordinates punched in. We start looking for "Kern River Bed".
We look and look for the Kern River Bed cache but we keep coming up against either a canal full of water, barbed wire fences, or "Keep Out" signs. Soon it is after five in the evening, the sun is going down, and we are getting hungry. Time to forget cache hunting and head for Bakersfield to enjoy our "Last Dinner in Civilization" at a Basque Restaurant!
After a fine family style dinner I take the dog for a walk in the parking lot. One whole side of her is wet from laying in dog piss on the yellow tarp. I should have put a Depend on her sooner. I walk her around the parking lot looking for some grass for her to piddle on but it is all blacktop and perimeter fencing. She can't see in the dark very well and basically gets lost wandering around the parking lot. I have to go grab her and steer her back to the bus and then lift her back in. My hands stink of dog piss and I wash them. Oh boy, I hope the yellow tarp has kept it off our blankets.
We drive back onto HWY 58 and head East up the hill towards Tehachapi Pass. We can tell that the orange groves are in full bloom; the fragrance is wonderful.
Up over the top of the pass and down into the Mojave Desert. No moon. We zip through the town of Mojave and then head east on HWY 58. After about five miles I start looking for what I call "Two Hills" and our usual turn off for our first night. Soon I spot the hills backlit by the light glow from the city of Lancaster. I slow down and find a dirt road heading off into the desert. We drive far enough away from the highway to get away from the road noise. We circle the busses and call it a night. Perfect. The wind is blowing but it is not cold. It is around 11:00 pm. It has been a long day.
We let out the dog, I pull the wet tarp off our bed and put it out to dry. Our bedding is dry. I undress and crawl in. Sarah is out drinking water, eating her dog food, and rolling around in the dirt. I have given her special "doggie accelerator" leftovers from the Basque dinner. Bits of lamb meat and gravy.
As I arrange my pillow I see Sarah standing just outside the sliding door looking in. I think about getting up to lift her back into the bus but don't. During our drive through Bakersfield I had to come to a quick stop a couple of times on short notice because of changing traffic lights and both times Sarah had slid off the bed onto the bus floor with her head ending up in the book bag. Both times she was able to get sorted out and hop back up onto the bed. I figure she can hop into the Vanagon when she wants to so I remain in bed and try to ignore my upset stomach.
No joy. Soon I have to get up and rush out into the night around and behind the Vanagon. When I finally come back to the Vanagon I don't see Sarah but I don't care. I'm sick.
I lay back down but soon I have to get up and again race around behind the bus.
That taken care of I head back to bed. Still no dog. Still lots of wind. I should get up and go look for her but I just can't bring myself to do it.
Out on the highway I hear a car horn honk. I think of Sarah.
I try to get to sleep. I keep thinking about Sarah. Has she wandered off? Can she find her way back? Should I go look for her? I still feel awful.
Finally I ask Lolli if she is still awake. She is. I mention my concern about Sarah.
Lolli says she will get up and go look for her.
I give Lolli the brightest flashlight and she heads out into the desert wearing her nightgown The wind is still blowing. Several times, while Lolli is gone, I think I hear Sarah outside the door but... she isn't there.
I'm still thinking about that car honk.
Lolli comes back after about fifteen minutes of looking around in the cool wind. No dog.
She says she is going to go check out by the highway.
I feel a bit better and decide to get up and drive around and look for Sarah too. I get up, get dressed, knock on Ed and Suzanne's Vanagon and tell them that we are out looking for Sarah.
As I drive along I see Lolli's light and turn towards her. She is walking back from the highway still looking around for the dog. I stop and Lolli hops in. No Dog.
I plug in my halogen light and hand it to Lolli. She uses it to spotlight out her side window as I drive around. We circle back out to the highway, take a right, and drive along the shoulder of the highway on up to the next dirt road and then take it and circle back towards camp. Nothing.
I decide to drive on past our camp and continue further West towards Mojave and then turn back out to the highway. No sign of her. It would be hard to see her because the sage brush is about three feet high and Sarah is about two feet tall. Once again we arrive at the highway.
I pull up onto the highway, turn East towards the turn-off to our camp and drive slowly along the shoulder of the busy highway. Lolli is spotlighting the sage brush out her passenger window looking for reflected eyes or that old familiar white face and then… I see her. She is in the slow lane of the four lane divided freeway and she is dead. She has been slammed by a car. I roll past her and after a few moments tell Lolli "She's gone".
Lolli says, "What?"
I say. "She's gone. Sarah is dead" and then I tell her what I have just seen.
I coast to a stop by the side of the road. "Oh shit, oh shit. Oh shit".
Lolli says, "We must go back. We must get her".
I shift into reverse and slowly back up along the edge of the highway until Sarah comes back into view.
I stop, tell Lolli not to look, and get out to get her.
It is Sarah.
"Oh shit."
I drag her around in front of the bus and off of the road. We decide to wrap her in the plastic mattress pad cover that Lolli had brought along for doggie to lay on. Lolli spreads out the pad and holds it down in the wind. I lift Sarah onto the pad, wrap her up, and put her in the Vanagon.
We drive slowly back to our camp. Ed and Suzanne are waiting. I tell Ed and Ed tells Suzanne.
It is just unbelievable! Sarah is dead.
We decide to bury her now instead of waiting for morning. I have a shovel. Ed has his army folding shovel. We find a place beside some sage brush that looks like folks won't likely drive near and we dig the hole. I lay her in. We gather round and drop handfuls of dirt over her and then Ed and I fill in the hole. All of us are crying.
I move her dog dish and doggie water dispenser over and place them on her grave as a marker.
We wander off in different direction to be by ourselves and to cry and morn our loss.
Finally Suzanne gathers us back together for a round of port and a toast to Sarah, "Our good ol' desert dog".
We sob some more and finally head for bed. It is the wee wee hours of morning.
It is a rough night. The wind has finally stopped.
April 7
Up to a sad morning.
I go for a walk in the beautiful rising sun.
Thankfully, Ed thinks to record a waypoint for Sarah while I am gone.
"Waypoint" has a whole new meaning to me.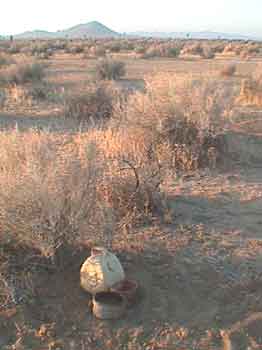 Rest in peace good ol' dog.
Sarah at Two Hills.
N 36° 01.*** W118° 05.***
(I'm keeping the actual coordinates to myself.)
We reluctantly pack up, sadly start our Vanagons, and move on.
Ed and I decide to punch in the coordinates for the next cache. What else can we do.
Sarah's passing was tragic and also a blessing. She is at peace and somehow we must regain peace too.
Life goes on. Vacation is now.
We soon have a virtual cache to log near Boron. It is called: "The Jug Factory". We get close to the coordinates and pull off and stop beside the freeway. On the westbound side of the freeway there is a solitary sign. It is all that remains of a former restaurant location. Since it is a virtual cache the person who posted it is asking the question,
"What does it say on the sign"?
From our side of the freeway it looks like it says CAFÉ. Ed and I cross over to it and discover that
up close it says something else!!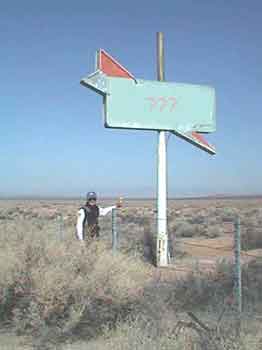 Here is a picture of the sign with Ed and his Garmin e-Map measuring the coordinates. I have modified the sign using PhotoShop incase you are a Geocacher and trying to get a quick hit! Nope! You are going to have to
drive out east of Mojave to log this one!!
Ed and I record the answer which we will e-mail to the person later. We return to the Vanagons and head for Barstow to load up on groceries, ice, and last minute supplies. We take the old 58 highway turn-off into Barstow rather than stay on the new freeway which wraps way around Barstow. The old highway is much more interesting and peaceful.
Once in Barstow we pull into Von's and do our shopping.
Groceries onboard and new coordinates loaded into the GPSs we head out.
next up "Tortoise Confluence". According to our GPSs it should be somewhere around
10 miles north of Barstow. Off we go.
Tortoise Confluence is our first "confluence" cache. Confluence cache are rare and unusual in that they are determined by zeros rather than a particular location feature. The coordinates for Tortoise Confluence are:
N 39° 00.000 W 117° 00.000
We look at our DeLorme maps to get an idea of the general location and then find the right road heading in the right direction. Soon we see some power lines that have maintenance roads that may help get us closer to the cache but the question is.., which power line road should we follow? After some trial and error we find one that looks good.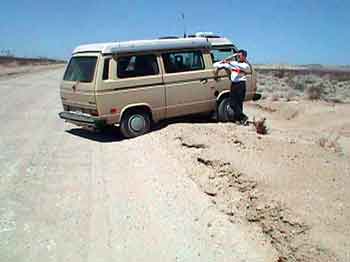 Yup! Let's try this one!
Off we go. Confidence is high. When my waypoint arrow swings perpendicular to our direction of travel, with about a third of a mile left to go, we park. Ed and I get out our "Geek Bags" (more about them later) and we all start walking.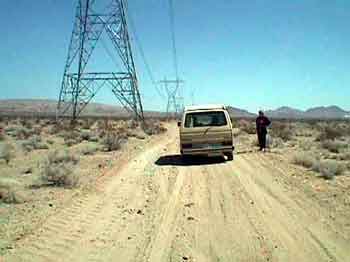 It turns out that we are approaching the cache site on a diagonal and so we can see our
numbers decrease in both Latitude and Longitude as we go.
35° 00.030 / 117° 00.030
35° 00.025 / 117° 00.025
35° 00.017 / 117° 00.017
35° 00.008 / 117° 00.008

and so on down to all zeros. Finally I spot it. It is a good thing a bit of the white garbage bag it is
wrapped in still shows because both Ed's and my GPS have us off to the southeast by about 13 feet!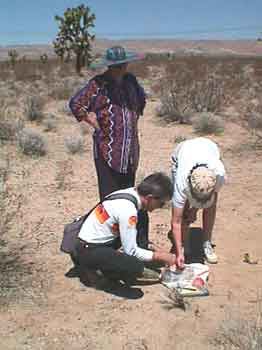 We unbury the cache, picked through the contents, read previous logs, and entered our log. Perfect!
Back to the Vanagons. We look at our notes. The next cache will be "Coon Canyon Cache". Over that way!
We retrace our route along the power line road and then drive over to a correct dirt road heading
in the right direction. "Coon Canyon Cache" is less than 10 miles away!
We follow the directions on the detail page for this new cache rather loosely in that we do drive past the entrance and exit of Rainbow Basin as mentioned but too soon we turn up a dirt rut because our GPS units are pointing that way. According to them the cache is "over there". Only about a mile away!
Up the dirt rut we go worrying about the soft sand and getting stuck. Suzanne points out that we are not driving up a canyon like the detail page says we should but soon the rut enters a wash and confidence becomes high.
Higher we go and the wash becomes a canyon and the canyon starts to get narrow. Finally Ed stops just short of two large rocks in the middle of the wash. End of the drive! I turn my Vanagon around, put up the sunshade, and we gather up to consider the situation.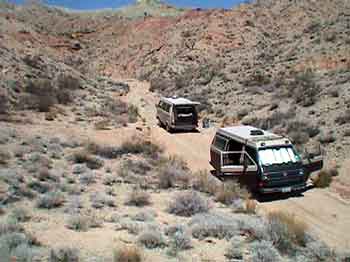 According to our GPS units we are now within .62 miles of the cache.
Discussion ensues about whether this is the right canyon or not.
Ed enters the waypoint for the canyon turn-off as stated on the details page into his GPS and we discover that we have not driven far enough on the main dirt road to encounter the correct turn-off for Coon Canyon!
We have jumped the gun and are now in the wrong canyon.
Ed wants to hike up and over to the correct canyon. Lolli, Suzanne, and I think this is a dumb idea and want us all to turn around, drive back out of this canyon, and continue on around to the correct canyon.
Finally a compromise emerges. The ladies and I will drive back down, around, and up the correct canyon in my Vanagon. Ed will hike over the top and meet us and then we will all look for the cache together. If and when we find it Ed will then hike back over the top to his Vanagon, drive out, and meet us on the main dirt road. It sounds like a plan. We divide up the two way radios and split up. Ed with his Geek Bag hiking up the hill. Lolli, Suzanne, and I motor back down the canyon.
Watching my GPS we discover it is .7 miles back down the wash to the main dirt road and then just over a mile on to the waypoint that we should have taken. We drive to that waypoint and sure enough there is the road up Coon Canyon. Ed comes up on the radio and says he can see us. We scan the ridge tops and soon spot him. We finally park the Vanagon at a point where I feel the sand is getting too iffy for further driving. We have .8 miles to go. I want to get the Vanagon turned around before we head off up the wash and in the process back into a rock with my oil pan! Damn! Fortunately it doesn't seem to be ripped and leaking.
We slather on sun screen, grab the water bottles, and up the canyon we go.
When we get to the side canyon mentioned in the detail page Ed comes out of it! We gather up in the shade and take a break. After our rest stop we start searching for the cache. We are very close.
Soon I find it in an alcove behind a suspicious pile of rocks!
I bring the ammo can down to where everyone can see and open it up.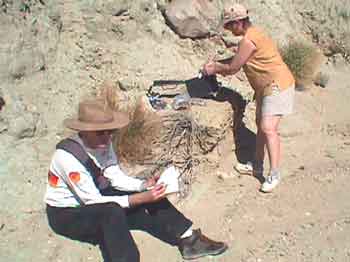 It contains various goodies but what I really like is the BLM Junior Ranger badge!! I take it. Perfect! I leave a carbineer and log in. Sagefox does likewise. I put the cache back in its alcove. Ed hikes back the way he came.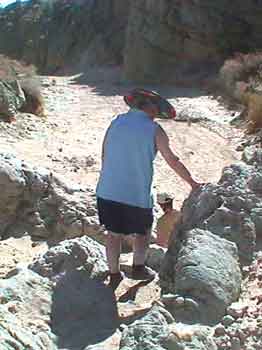 We walk back down the canyon to the Vanagon.
We will all meet back at the base of the false canyon.
By the time we get there Ed is already parked, sitting in his lawn chair, reading a book,
and listening to classical music. Smart ass!
We decide to drive to a petroglyph area called "Inscription Canyon" to spend the night. We have camped there before on a previous trip. Ed and Suzanne have the maps and so we follow them and away we go. It turns out to be a much longer drive than I remember and by the time we get there it is getting late in the day and I am upset. I had wanted it to be a easy day, I had wanted to take a nap, and I had wanted to get the solar shower bag heated up but no, here we have been driving for hours and hours and I am getting weirder and weirder. It's probably because I am still sick and it's probably because of the shock of losing Sarah. Anyway. I'm just getting nuts and becoming a basket case!
We finally arrive at the petroglyph site and everyone can tell that I am in a "state"! Everyone gets low!!
Lolli takes off to go look at the petroglyphs. Ed and Suzanne drive off to find a place to camp. I sit in my Vanagon totally steamed!! Finally I get out, catch up with Lolli and join her on a walk through the petroglyph canyon. We talk and I finally explain why I am so upset. Lolli, as always, talks me down from my pinnacle of pissyness and I begin to settle down. We continue on walking through the petroglyphs. Interesting stuff.
After a while we drive over to Ed and Suzanne's camp site, get out the wine, and soon the nook mom
chicken goes on the barbeque.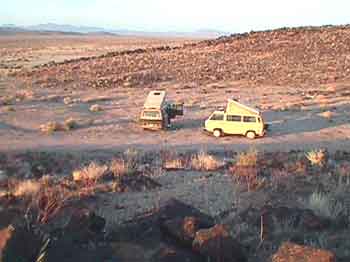 Life is pretty good. The wind comes up and cancels the evening fire so we move into my Vanagon for dinner. Left over chicken bits brings Sarah the dog back to mind and sadness returns.
Dinner over we fall into bed. Everyone is whipped, emotionally and physically. It has been a big day
of caching adventures and emotional ups and downs.
April 8
We wake to another beautiful day.
Suzanne goes off with her watercolor painting kit to the petroglyphs while Lolli and I do the lazy get up. I heat up some water to top off the solar shower and take showers. Finally we pack up and drive over to the petroglyphs to see what Suzanne has painted.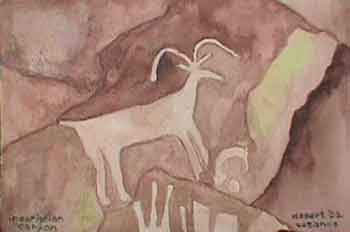 She has done a wonderful watercolor copy of a petroglyph of a big horn sheep .
We look around some more in Inscription Canyon and I take a picture of Lolli by one of her favorites.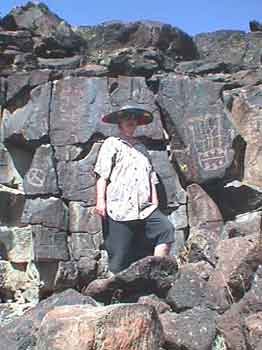 To her left is a image of a headdress.
Soon we load up and move on. I borrow the Delorme from Ed and Suzanne so I will know where we are and where we are going. Yesterday afternoon drove me nuts following Ed and Suzanne and not knowing how much further we had to go.
We headed for the Black Canyon petroglyphs. First we have open desert driving and then enter narrow canyon washes. Soft sand in places. Rather hairy at times. We find a well that is marked on the Delorme and soon
arrive at the Black Canyon petroglyphs.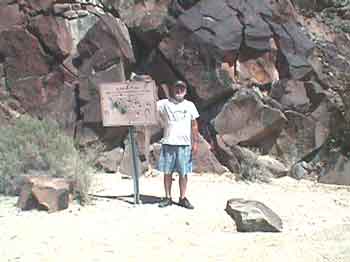 Here is Grumpy the "Old Fart" proudly wearing his new BLM Junior Ranger badge and wondering who shot up the Black Canyon sign and also wondering if he should duck and cover!
An un-named road takes us straight as a string down the alluvial outflow, out across a playa,
and up to a pile of rocks on the other side.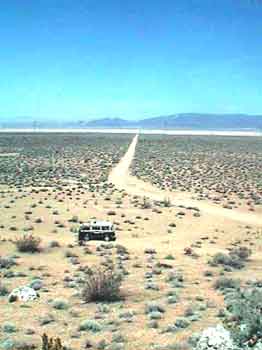 I take this photo looking back at where we have been, somewhere up in those mountains off in the yonder
distance! It was miles of driving from there to here!
Unbelievably, up on the pile of rocks, out here in the vast desert, there are some flowers.
More incredibly, on the flowers, are tiny butterflies about the size of my thumb nail!
I take a picture and then we hit the road back to old highway 58 and zoom back into Barstow.
Back to Von's for more ice and odds and ends. We fill up the gas tanks and hop onto I-15 heading for Las Vegas. In only eight miles or so there is the turn off to the Calico Ghost Town and our first cache of the day. We drive along and soon park with-in 400 feet of it. Following the arrow on my GPS I basically trip on a pile of rocks when I reach the coordinates of the "Calico Ghost Town Cache"!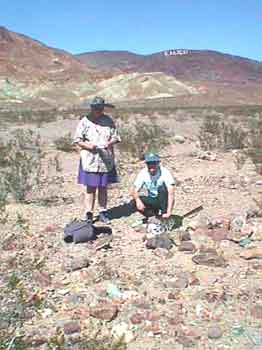 "Thar she be"! I take a Heavy Metal Rock cassette and a Barstow pin and leave a carabineer.
Lolli reads through the log book.
When we get back to our vehicles and are about ready to leave a white SUV pulls off on the opposite side of the road. The driver gets out with a GPS in his hand. His wife hops out the other side. Ed hollers across the road and asks, "Are you guys Geocaching"?
"Yep"!
We gather round and talk for a bit. Turns out they are on their way back from Las Vegas to their home in Ventura. They go by the nick names; "BBQ-Stain" and "Bullseye Ron"! It was fun to meet them!
Onward. We know there is another cache close by called, "Oregon Mine Cache".
Soon we find a canyon road turn-off that heads in the right direction and up a canyon. The canyon narrows and then it dwindles down to a narrow sandstone slot. Our vehicles could just possibly fit through but Suzanne walks on ahead up the canyon and soon returns saying that rocks are blocking the way. We find a place to pull off to the side and park the Vanagons. Time to start hiking.
Suzanne elects to stay with the vehicles. Ed and I put on our Geek bags and "do rags" for sun block.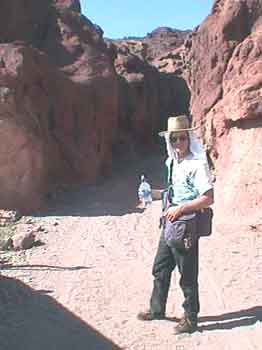 Here is Ed in full regalia!
Geek Bags.
Okay. I guess it is time to talk about our Geocaching "Geek" Bags. Several months ago I happened to find a shoulder bag made by JanSport that I thought quite neat. It has more room than a fanny pack and it is easier to access than a back pack. It has pouches for the GPS, the FM two way radio, the water bottle, Geocaching toys, and a pocket for the record book and detail pages. In other words. Perfect! Soon Ed gets one too.
Ed and I have taken to attaching key chain goodies and carabineers to the various zipper pulls so we now clank and jingle as we walk! We think they are way cool. The ladies, for some reason, call them Geek Bags!
Okay. Onward up the canyon.
Lolli slathers on some sun screen, puts on her sun hat, and away we go. And go. It is a beautiful, much varied, meandering canyon. Quite amazing. Also amazing are the marks and groves in the rocks where folks have tried to get vehicles up. And then we come to an area of remnant blacktop!
Unbelievably this route was once blacktopped!! !
We finally arrive at a point where our GPSs show we are getting very close. The trouble is… the cache is just off to the left about forty feet but straight up! We have been seeing evidence of mining activity above us here and there and the Oregon Mine Cache must be up there but how to get to it?
I walk on ahead a ways but the canyon turns away in the wrong direction. Finally Ed and Lolli decide to continue on up the canyon. I decide to stay. After a while I decide to see if I can scramble up some tailings to the upper level. It is a tough scramble and the higher I go the hairier it gets. Finally I have to give up. I can't safely go higher and I can just barely get back down. My muscles are shaking. By the time I am almost back down I hear Lolli holler at me. I look up and they are up on the higher level! I tell her that I am going back to camp. It is 5:00pm and it is a 20 minute walk back down.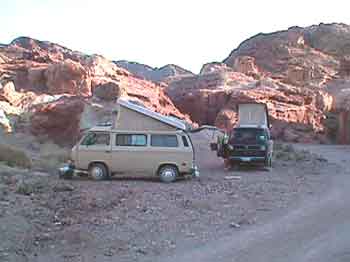 I arrive back at the Vanagons and Suzanne and I move the busses to a flat spot and set up camp.
Soon Ed and Lolli come walking out of the canyon. They could not find the cache. Either it got ripped off, unlikely, or, it was well hidden. We did not have the details page for this cache which makes finding it even harder.
Ed said there were mine shafts all over on three different levels and it was very hard to tell which level the GPS was indicating. We were "Bagel-ed", as Ed says. Oh well. Ya can't win them all.
Time to kick back, take our showers, play a bit of Petanque, cook dinner, and have a campfire. Perfect!
Click here to continue reading Spring Break 2002