I picked up Lolli at the Las Vegas airport, what a zoo! With the new homeland security safeguards the arriving passengers can only be met in the baggage claim area. There are four escalators dumping out arriving passengers. The question becomes, which escalator will Lolli appear on?
In spite of their best efforts to keep us from meeting Lolli's luck held and soon we were escaping the bonds of civilization and heading for Red Rock Canyon to meet Ed and Suzanne. We arrived just past noon and by golly, they were waiting for us.
Dr. Webe, a Las Vegas geocaching friend, met us with the honeymoon travel bug which honors our wedding from a few years back.
Lolli and I are holding the statue of the honeymoon couple with Ed and Suzanne in attendance.
Click here for information about the Honeymooners travel bug.
Thanks, Dr. Webe. But now it is time to get out of Dodge and enjoy some peace and quiet.
I suggest a place I call "Smith's Spring" and away we go.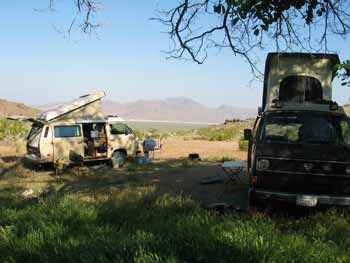 Smith's Spring is just the ticket and soon we have flowers, bird song, and Ed slathering nook mon sauce on the chicken in the barbie. Perfect!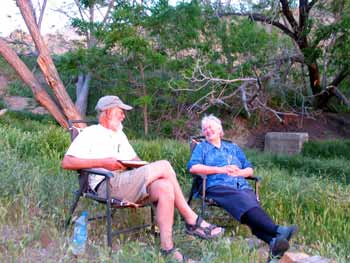 It is great to see my Lolli. She is happy to see me! Even more perfect!
In the morning we head for our first adventure. Everyone wants to see the Indian Cave. We spent all day driving to the trailhead and I show the usual suspects the Geolyth, the grinding slick, and Patton's tank tracks. We arrive at the trailhead and spent the night hoping we will not have too hot of weather for our up-coming ten mile hike. Amazingly, it rains during the night and we wake to snow on the higher elevations. It is a cool, semi-cloudy morning, perfect for hiking.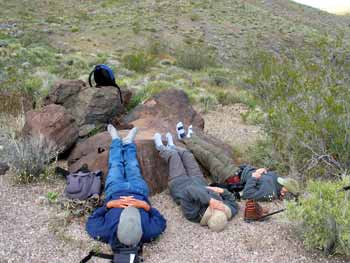 At various times during the hike we take a break. Nothing like pulling off the boots and getting the legs up for a wonderful respite.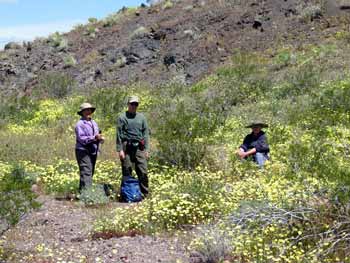 The flowers are even more developed than when I last visited the area.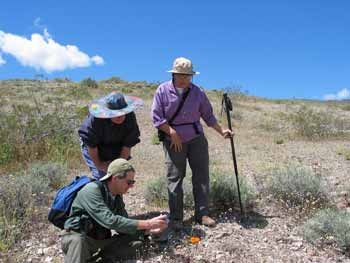 And then we find a real surprise. A Mariposa Lilly! They are out and they are gorgeous!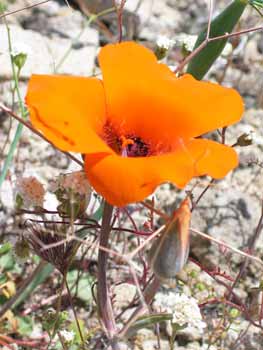 An amazing Day-Glow orange!
I am able to find the way to the Indian Cave with out too much backtracking and then step aside and wait for what I know is coming next....
Suzanne goes around the corner and then I hear...,
"Oh My God!"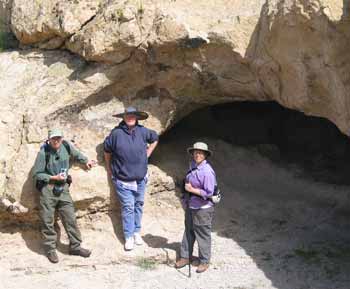 We have a wonderful visit, inspect the Pictographs, take photos and just enjoy being here. We sit quietly and have lunch while a Say's Phoebe attends her nest in a small recess in the ceiling of the cave. But soon, too soon, it is time to head back to the Vanagons.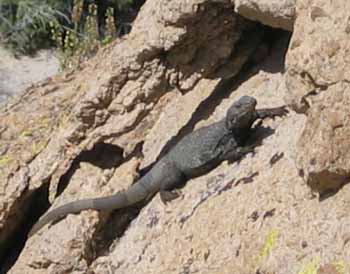 Along the way a large lizard (Chuckwalla?) puts on a show. Check out the subtle bands on its tail!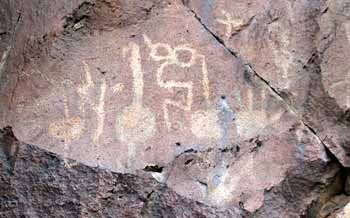 At one place Lolli spots some Petroglyphs I had not noticed. The atlatls and the hand are particularly swell.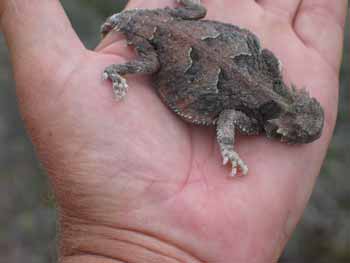 And then, a horned lizard.
We arrive at the Vanagons around 6:30 PM, have a quick dinner, and fall into bed by 7:30 PM completely tuckered out!
Morning breaks to a bright sunny day and we elect to visit Dante's View. Ed and Suzanne have never been there before. Highway 190 is still under repair from last August's flash flood so we have the place to ourselves. The way we came involved 30 miles of gravel road. One way!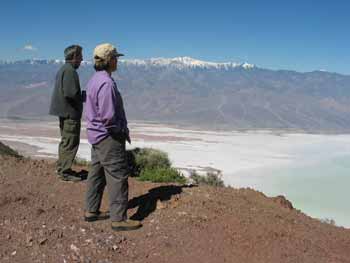 Badwater below and Telescope Peak in the distance.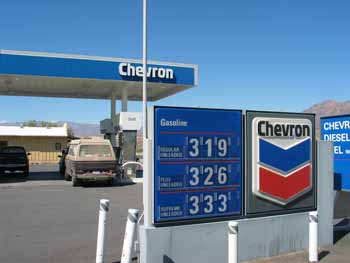 Then the long drive around Jubilee Pass and down into Death Valley with a stop at Furnace Creek for some gas.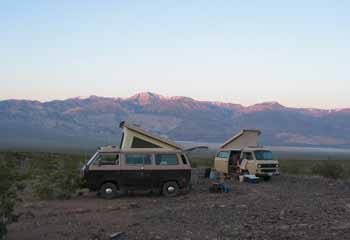 By nightfall we are in the Panamint Valley with Telescope Peak now to the East of us!!
In the morning Ed finds the geocache I hid for him at the Panamint Crater and then it is time to hit the road.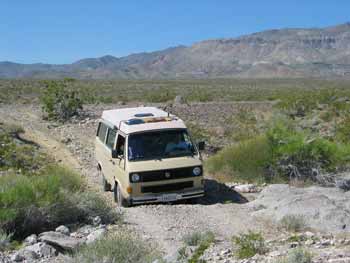 And the road is a bit of a challenge in one spot.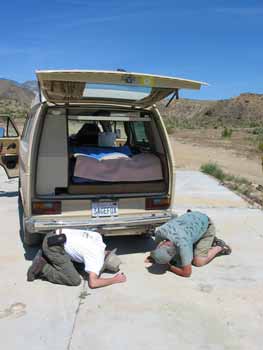 Ed and I doing our guy thing..., inspecting for possible damage.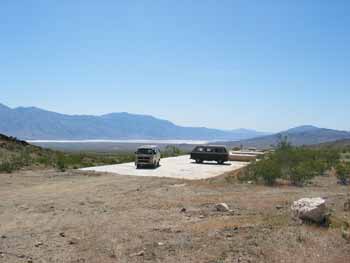 Suzanne discovers an Onyx mine on her map and soon we are parked on the concrete slab of a former building.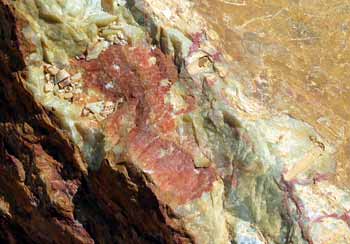 An amazing vein of Onyx in the hill near by.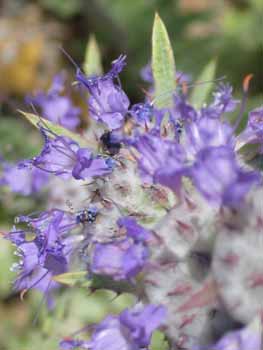 And another flower! This time, the Desert Thistle.
Click here for Suzanne's list of flowers.
And that is it! Hard to believe but it is time for Ed and Suzanne to head for Fort Bragg and me to take Lolli to the Las Vegas airport so she can be home in time to teach her Saturday class.
We say our goodbyes to Ed and Suzanne. Lolli and I camp our last night together south of Las Vegas near Halloran Springs. I drop her off at the airport and ....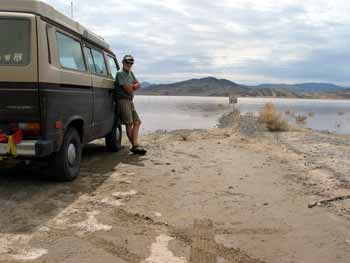 Not much left for me to do but start heading home. It has been a very interesting couple of months.
~~~~~~~~~
April 24. Home again, home again. Sixty eight days on the road, 4,342 miles traveled!
I want to thank Plum, Jeff and Marti, Jake and Old Tom, Bonny, Arlen, and the other Tom.
Hi to Jon, James and Ellie, Zach and Luke.
Thanks to Fred for inspiring me to wade in Lake Manley!
And thanks to you readers of my travelogue for your kind words.