The usual suspects hit the road once again. Ed and Suzanne, Lolli and I in our Subaru powered Vanagons.
Seeking the sun.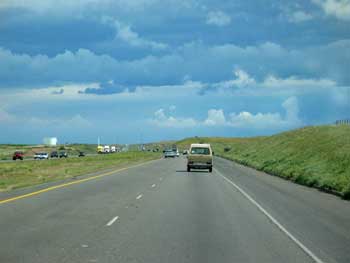 As usual, we hammer down Interstate 5 for hours and hours through sun breaks and showers.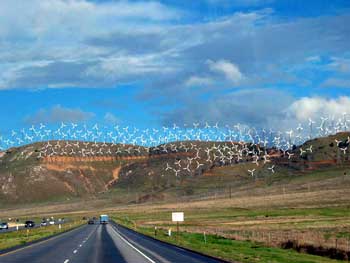 Since we got an early start this time we are heading up over Tehachapi pass towards Mojave while it is still light out!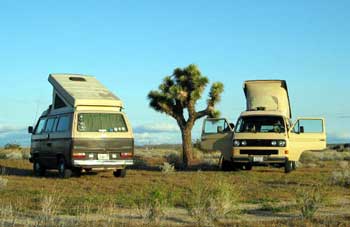 Saturday morning we wake in the desert with mostly clear skies but unfortunately quite breezy.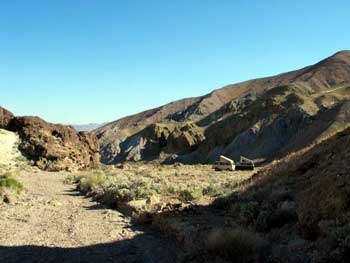 A quick stop in Barstow for gas and groceries and soon we are holed up out of the wind in
Sunrise Canyon northeast of Barstow.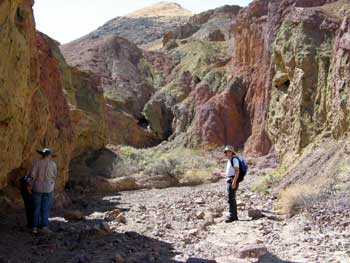 Ed is quite involved in Geocaching and has loaded a bunch of waypoints into his GPS. This canyon contains four cache sites and soon we are hiking up the canyon in search of them. The various colors and unusual shapes of the rocks kept us entertained. Lolli, Suzanne and I keep up while Ed locates the first three cache but we wimp out and headed back to the Vanagons when Ed presses on for the fourth and final cache on top of the peak!
We spent the night and after a leisurely morning head for our next event..., a visit to the recently restored Kelso Depot.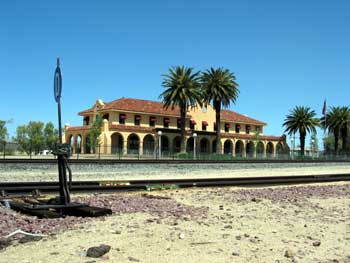 This railroad depot is located out in the "Middle of nothing", as they say, and was falling into disrepair. During previous Spring Breaks when we have passed by it has been under restoration. But now it finally had it's Grand Reopening two weeks ago and is all shiny and new. I understand 5 million dollars was spent in renovation. It is spectacular. There are still a lot of original railroad stuff including the original ticket booth with a teletype and a Bakelite phone set. There is the restored restaurant with the original counter and stools which will soon be serving food again and, since the depot is located within the Mojave National Preserve, it will also serve as park headquarters therefore there are a lot of information displays about what can be found and enjoyed with-in the Mojave preserve. Very well done!!!
Next up. The lave tube.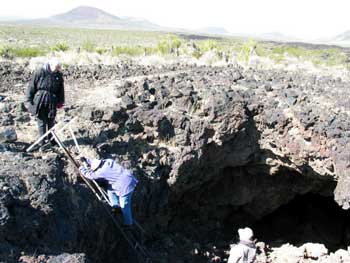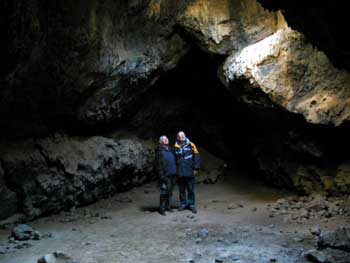 In the photo on the left Ed is down, Suzanne on her way down the ladder and Lolli waiting her turn. The photo on the right, Lolli and I looking up at the light coming in through one of the holes in the ceiling. We have been here before but it is always interesting.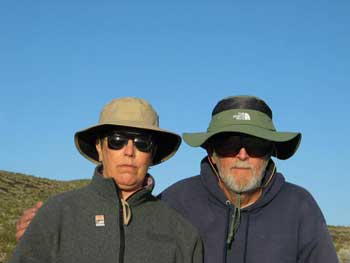 Suzanne and I decide to practice our Blues Brother's look. Close, but not quite.
We spend the night but it is rather cool and windy.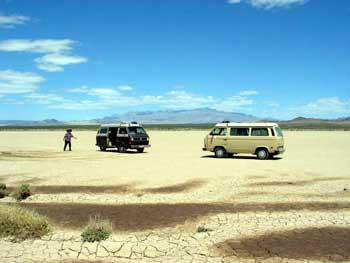 Pack up in the morning and on to Baker and the turn-off to Death Valley. We stop at Silurian Dry Lake and I get in a bit of model airplane flying.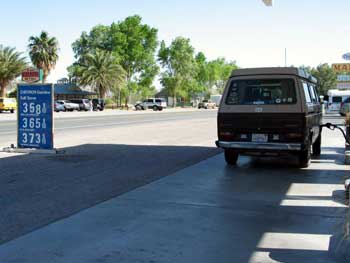 Next, a dip at the Tecopa Hot Springs and then a fill-up of pricy gas in Shoshone. The way things are going I suppose it will not be long before $3.58.9 will seem cheap!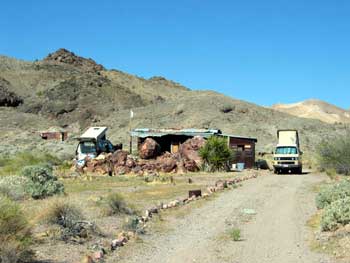 Finally, warmth and no wind at Rhoades Cabin.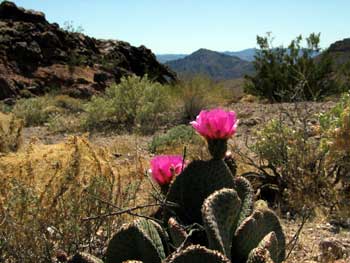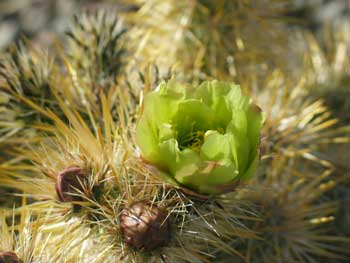 We stay two days and nights and enjoy the flowers, birds and read our books....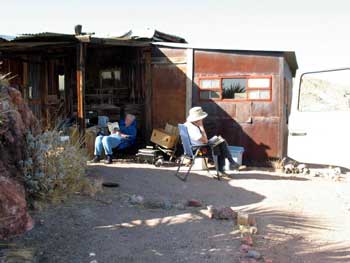 Soon we are ready to move on for our next adventure. Ed knows of some cache located in Afton Canyon.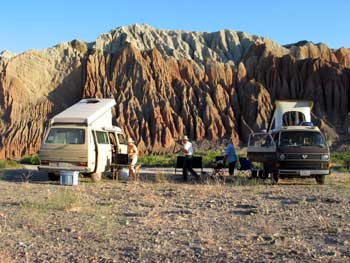 We experience a false start by trying a road that turns out to be too sandy but soon find another way into Afton Canyon that ends up perfect!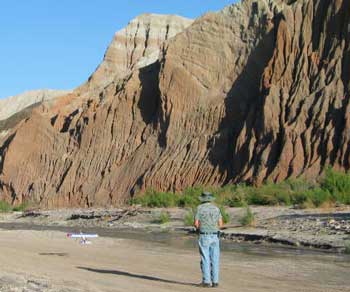 I am even able to fly my Mini Ultra Stick off the sands of the Mojave river bed!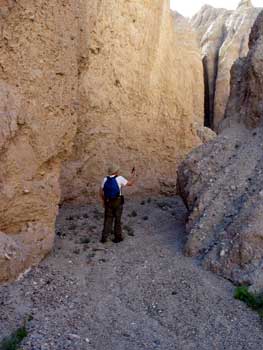 In the morning we are hot on the trail of a cache up "Spooky Canyon.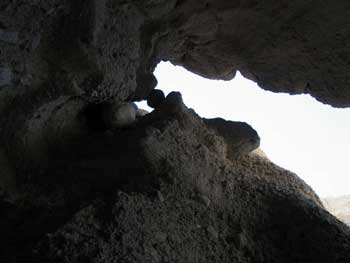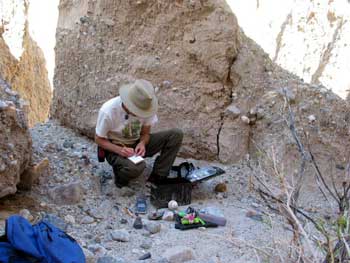 Spooky Canyon chokes down to a narrow slot with boulders waiting to fall but Ed finds the cache anyway!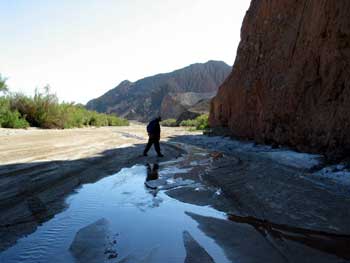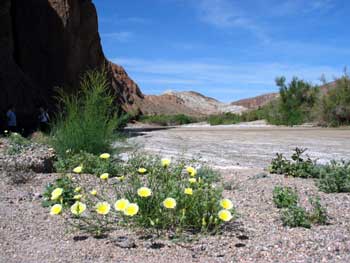 Our next event is a walk up-river in search of a cave. It is a beautiful walk meandering along the Mojave meanders.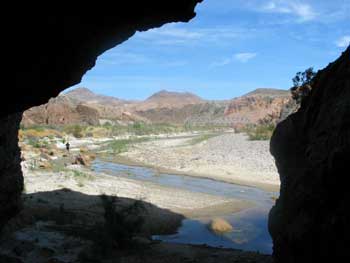 Looking out from the cave. Not much of a cave but big enough and deep enough to camp in if you wanted to get out of the heat.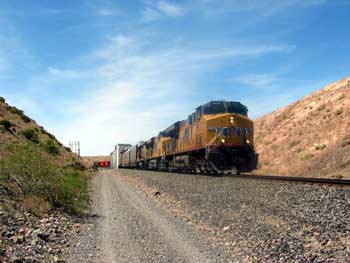 Afton Canyon contains the Mojave River but it also contains the mainline for the Union Pacific. Ed, being a train nut, enjoys pointing out the features of the various engines and stack trains. During our two day stay there are thirty three trains! Most of them gave us a toot, surprised at seeing our VW campers in such a remote location.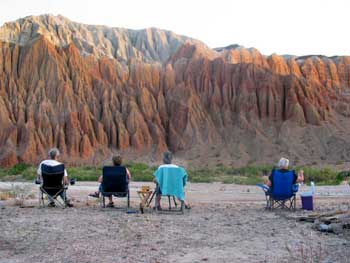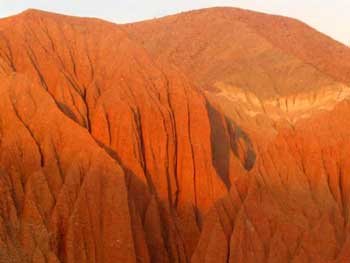 But the main feature of Afton Canyon is the interesting terrain.
In the left photo we are enjoying the evening's entertainment; color change as the sun sets.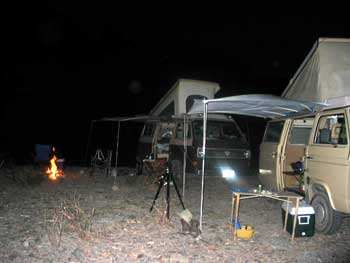 Our ShadyBoy awnings deployed for the day and a campfire for the evening. And...,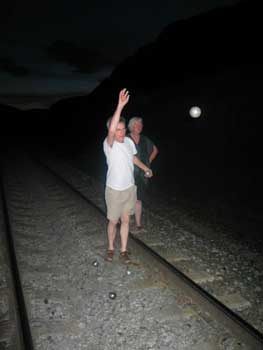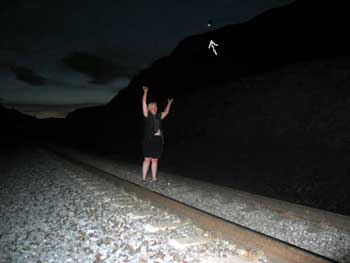 in the evening Petanque on the mainline!! In the right photo Lolli tosses a high Boule (note arrow)!
Friday afternoon and time to go our various ways. Ed and Suzanne want to be home by Saturday evening. Lolli and I don't have to be home until Monday. We stop for the firing of a rocket I have been hauling around the whole trip, waiting for a calm day. The calm day has finally arrived. Confidence is not high though as I am unsure about my home-made electrical ignition system but on the second attempt, by golly, away she goes, never to be seen again!! YES!! It went straight up but it didn't come down! At least we never saw it come down and we looked and looked!
Ed is convinced it went into orbit! It was an Aurora Rocket with a F20-7W motor. Quite peppy!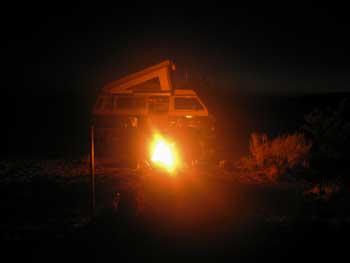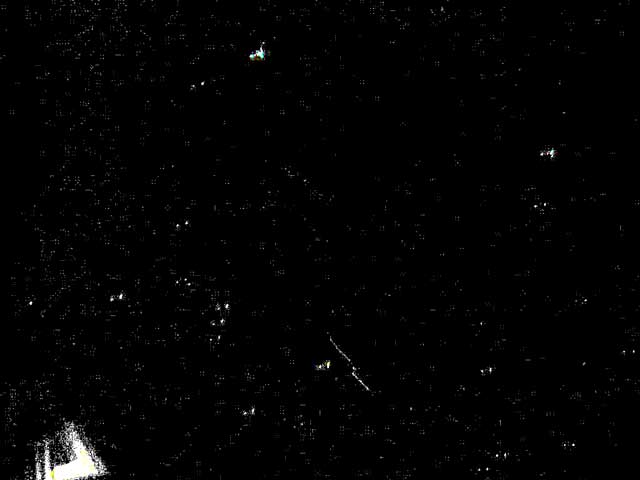 Friday afternoon Lolli and I return to the camp spot by the lava tube. We have a great evening fire and then I set up my camera and try to photograph the International Space Station rising in the southwestern sky. The photo on the right is what I ended up with. I think the streak in the lower middle is the space station but I bumped the tripod. It was a lot more impressive in real time.
I would like to point out that you have to be real careful in the desert when you want to kiss your bride!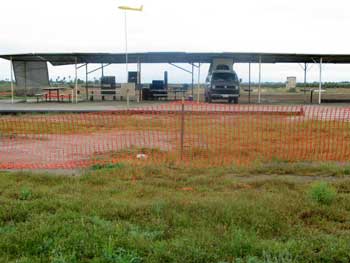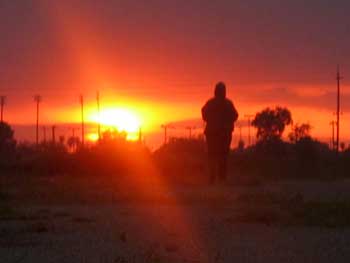 Saturday evening found us at the Greenfield flying field southeast of Bakersfield. I got in some flying and Lolli watched the sunset.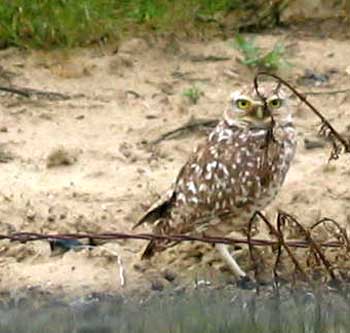 Leaving in the morning we spot a Burrowing Owl. Cool!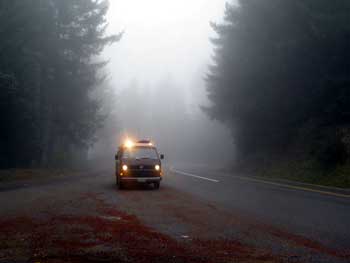 Monday afternoon, Spring Break over, we enter the fog of the Northern California coast. Unbelievable!
All in all a great trip and we hope not our last with Ed and Suzanne. They are moving to Olympia, Washington.
Stay tuned.
Click here for more info about the Kelso Depot
Click here for the times to spot the International Space Station