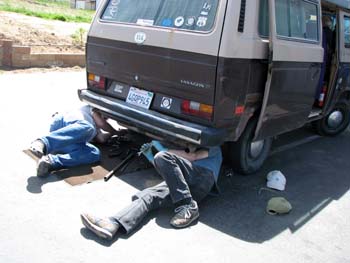 Since this could be the last year we "Usual Suspects" do our "Annual Spring Break" thing we wanted to be sure to include all our favorite things from previous trips.
Of course we included some quality time under my Vanagon! For some reason, by the time we reached the top of the Tehachapi Grade, two of the three exhaust manifold nuts and studs had come loose and disappeared along with most of the exhaust gasket!
We limped into Tehachapi and found the NAPA store only to discovered no 1992 Subaru 2.2 Legacy exhaust gaskets were in stock. But they did have exhaust manifold studs and nuts. I bought a set and Ed and I installed them. I didn't like bolting the exhaust manifold straight to the engine head, metal to metal, but it did give me something to think about during the rest of our trip; would the studs snap off due to stress? (They didn't.)
The engine was quiet and running smooth, again.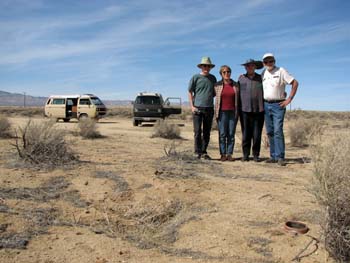 Next stop, a gathering at the "Doggie Dish" for a moment of memories for our dear departed desert dog, Sarah. Her dog dish was still there, in the (right) foreground but the red tennis ball has gone missing.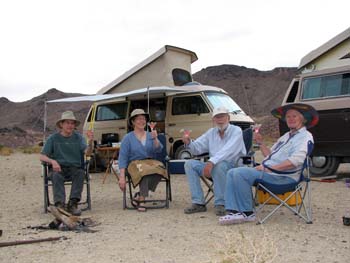 We gassed and groceried in Barstow. Ed announced there was a geocache to find about fifty miles east of Barstow out Highway 40 and about seven miles south on a dirt road. Perfect! Away we go. This is how we discovered Ragtown and the Chase/Bagdad mining area. We set up camp, toasted Spring Break #18 (or is it #17) and spent two days and nights camping and exploring the area.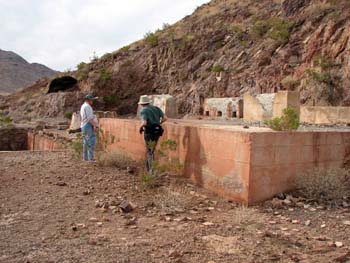 This was the biggest gold producer in San Bernardino County. Not a lot left now but foundations and mine shafts.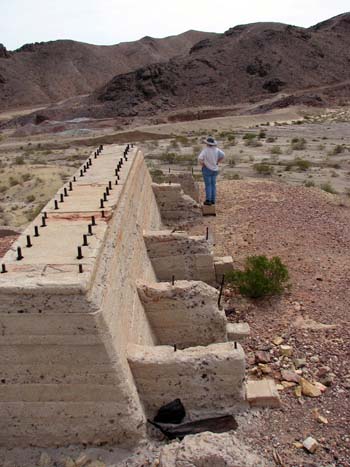 The second night the wind came up. In the morning we decided to move on.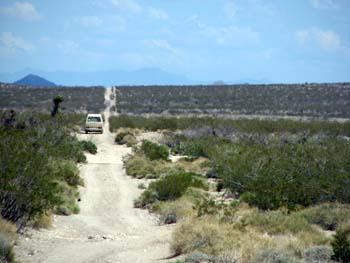 Continuing east almost to Nevada, then north through Goffs, we arrived at a crossroad with the Old Mojave Road. We have driven most of The Old Mojave Road from near Baker to here but this last section we had not tried. It goes east to the ruins of Fort Piute. Perfect!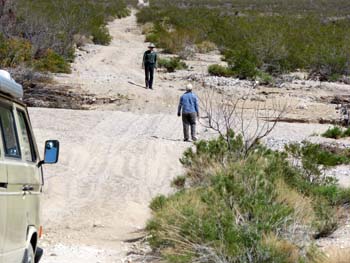 Except, after about 10 miles, we came to a sandy wash that had the "wrong type" of sand in it! Instead of good old crushed granite this was the rounded stuff "blow sand" that doesn't compact well. Also, there was a rather sharp rise at the far end to consider. We could probably get a run at it but if we went too fast the far side "bump" could damage the front axel. Too slow and we wouldn't make it at all!
Over the years we have become experts at judging this type of thing. Also, over the years, we have become older. Shoveling sand just isn't as much fun as it used to be. So, we gave up our goal of reaching Fort Piute, turned around, found a nice place to camp and played Petanque! Yes, we be older and wiser now!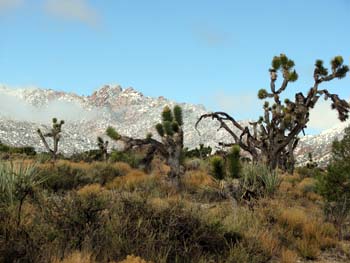 In the evening weird weather arrived with Mammatus Clouds, wind and sprinkles. In the morning there was snow on the New York Mountains to the northwest of us!! We decided to head for the lower desert.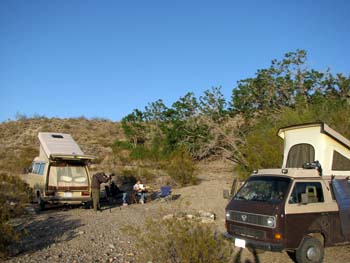 We arrived at Tecopa for a soak in the hot springs. I zipped up to Shoshone to say hi to my friends, Jeff and Bonny. Next, we visited China Ranch which Ed and Suzanne had never seen before. Then beat feet for Crystal Springs, our favorite kick-back birding spot. Perfect except the second evening the wind came up and blew all night.
And that was it for Lolli and I. We had to get back to Mendocino County in time for Lolli to teach her Thursday class. Unfortunately this was only a seven day trip for us. Ed and Suzanne still had another weekend before they had to head home.
We celebrated the end of our 18th, or is it the 17th? Annual Spring Break with a sit-down breakfast at the Mad Greek's in Baker, then went our separate ways. Ed and Suzanne had some more birds and geocache to check out.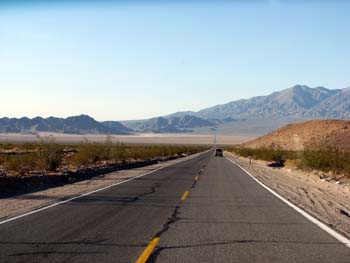 Fifteen hours of driving with an overnight stop at my Sis and Brother-in law' in Dublin and we arrived in Ukiah in time for Lolli's class! Whew!
It was way too short but I do believe we did it all!!.