Spring "Break"! 1994
March 31st.
I am packing up ROADCOW and getting ready to leave town for our Annual Spring Break. Lolli is figuring out the traveling menu,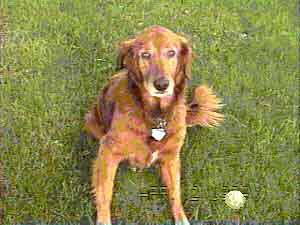 the dog is waiting beside the VW bus with her tennis ball.
We are on the verge. The plan is to camp overnight in Ed and Suzanne's back yard, this Friday night, and hope they have their bus packed and ready to go so we can hit the road Saturday morning at a reasonable hour. We are going to do the usual high speed, low level run to Bakersfield, enjoy our "Last Supper" in civilization at one of the local Basque Restaurants, and then hop over Tehachapi Pass for the first night out amongst the Joshua Trees.
Our destination this year is the hot springs of Tecoupa.
We plan to operate out of there, checking out various points of interest; bad roads, abandoned mining sites, birds and flowers. Sort of fill in the blanks on our maps. We have agreed before hand that the first person who utters the words, "It's too hot!" will be banished to the drippy fog of Fort Bragg for the rest of the summer. We are more than ready for an influx of heat. Our skin needs to be blasted by some rays. Our sickly coastal pallor must be transformed from cabbage green to tomato red.
Mental health is at stake!
Ed replaced all the radiator hoses on his '85 Vanagon. I installed a fresher transmission, shifting mechanism, head gasket, and gas tank sending unit in my Toyota powered ROADCOW.
Ed and I are ready for trouble-free motoring. Lolli and Suzanne have picked out about thirty pounds of novels to read. They are ready for any breakdowns.
E-ha! Spring Break 1994. Here we come!
---
April 14th.
Ichthyosaur. Here we are, Lolli and I holed up for the night wearing all the clothes we can possibly get on, blankets wrapped round us, snow in the shady spots under the junipers, threatening black clouds overhead, Ichthyosaur under our feet, me and my laptop hunkered down in the bus, collecting my thoughts, Lolli reading a book, the dog sleeping in the "way back". Sleet pelting away on the roof of the bus.
What a strange vacation this has been.
You know how you think you are going to do one thing and you end up doing anything, everything else but?
Saturday, April 2nd, we roared out of Fort Bragg heading for the desert and the hot springs of Tecoupa. Spring Break 1994 was officially under way! Confidence was high!
First stop, the Basque Restaurant in Bakersfield. Usually we get there by seven o'clock Saturday evening. This time we finally made it... Monday evening!
Two days late!
ROADCOW performed perfectly but SAGEFOX, Ed and Suzanne's VW bus, decided to change all our plans just south of Tracy, California on I-5. Ed hollered over the CB that his engine was jerking and he was losing power. We took the next off ramp to a gas station and Ed put in a can of "gas drier" and filled the tank.
"Must be water in the gas."
Back onto the freeway and back up to speed but soon a gradual loss of power again. We aimed for the next off ramp. Ed's bus died going down the ramp exit. We coasted to a stop and rooted around in his engine compartment.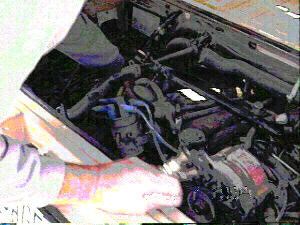 We found the coil wire was burned out at one end. Also a crack in the number four exhaust header. Lolli and Suzanne set up their lawn chairs and started in on their thirty pounds of books, Ed and I hopped in ROADCOW and headed for an auto parts house in the closest town, Patterson, Ca.
Ed bought a coil wire, not the right type but we can make it work, muffler tape and hose clamps. We considered buying a fuel pump but they didn't have the right one.
Back to SAGEFOX and the ladies. Ed and I get to work sealing the crack in the exhaust and installing the coil wire and checking all connections and vacuum lines about the engine. We start up the bus. It is still running rough so we decide to head east to old Highway 99 and the closest large town, Modesto, where there should be a VW garage. Lolli and I follow along behind.
We make it about six miles and I notice Ed's muffler is glowing red hot. I holler at him on the CB and we coast off the road to ponder the situation. Not good. Not good at all. Lolli and I take off in ROADCOW to look around for a decent place to camp for the night. It is all walnut orchards and plowed fields. Driving past a farm house we see some folks unloading groceries from their car. We pull into their driveway and tell them about our problem.
"Sure, you can camp out behind the walnut grove there, just follow the road along the north side."
We go back and tell Ed and Suzanne and they nurse their sick bus along to our new camp site.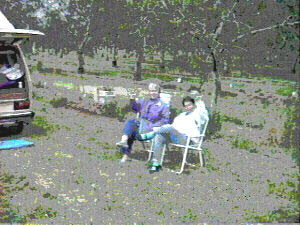 Here we are, Saturday night beside a walnut orchard, the California Aqueduct five hundred feet away.
Sort of interesting.
Next day is Easter, nothing open in town but we all load up in ROADCOW and go in to Modesto anyway and reconnoiter, find the location of the VW dealership, and call a tow truck outfit to make an appointment for 6:30 Monday morning. Then stop at a Baskin Robbins and have a treat.
Monday morning ROADCOW tows SAGEFOX out of the walnut orchard and over to the county road to wait for the tow truck. The truck arrives and SAGEFOX is loaded aboard and hauled to the VW dealership in Modesto.
We set up our lawn chairs in the dealership parking lot and read our books while their mechanics have a go at it.
12:30 PM, new plug wires, a tune-up, and we are out of there!. Yippee, on the road again, heading for Bakersfield down highway 99. We should be there by six.
Two and a half hours later..., loss of power!. We coast to the side of busy highway 99. Ed and Suzanne lock up SAGEFOX and hop in ROADCOW and we drive on to try and find a telephone. Nine miles down the road we find a mini-mart and phone booth and Ed calls the VW Shop back in Modesto.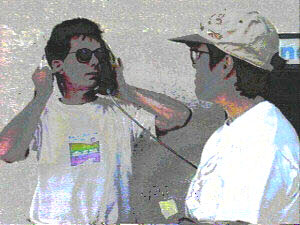 They say, "Remove the catalytic converter".
Back to SAGEFOX. I hook on my tow strap and tow Ed nine hair raising miles down highway 99 to the off ramp and a relatively quiet area to go to work. Out come our tools and we get bus:, the ladies in their lawn chairs reading more novels. The bolts are extremely rusty and none of our wrenches really fit. Fortunately Eddie has a cold chisel and I have a small ax.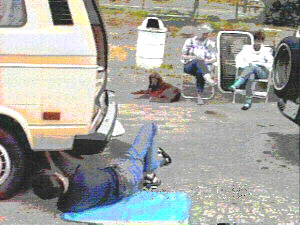 We hammer on the bolt heads with chisel and ax until they are cut off. Finally the "cat" is loose and sure enough, it is plugged full of what looks like charcoal briquettes. We reinstall the muffler, minus the "cat", fire up SAGEFOX and, once again, are on our way.
We arrive in Bakersfield and get to the Basque restaurant one half hour before closing time. We have a fine dinner and then head over Tehachapi Pass for the desert.
We decide to camp at the airport drop zone, in California City, where in the morning Eddie can do a quick sky dive. Heading down the Tehachapi grade I notice smoke coming from Ed's exhaust and when we get to California City, Ed confirms that he used a full tank of gas to go what normally would only take a quarter tank. Oh oh.
Tuesday morning Ed does his sky dive and then we head for a mechanic in California City recommended by the guys at the drop zone. The mechanic takes a look and recommends a specialist down in Lancaster. Off we go to Lancaster.
We find the specialist and again pull out the lawn chairs and novels. The German mechanic determines the problem is the "Mass Air Sensor". He doesn't have one but can order it and get it delivered the next day, Wednesday.
We look at our maps and find that the California Poppy preserve are only about twenty miles away and limp off to camp amongst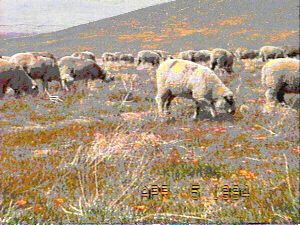 the poppies and sheep.
It turns out to be a beautiful area and a nice place to camp in spite of it all.
Next day, back to the specialist and the installation of the Mass Air Sensor.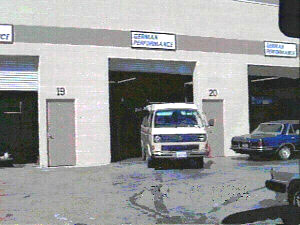 12:00 PM and yippee, vacation is finally happening.
Off to Barstow, then Baker, and then north towards Death Valley and the hot springs of Tecoupa. SAGEFOX has good power, some smoke, and poor mileage. We soak in the hot springs and find a place for the night down in a draw by huge cottonwood trees.
Thursday morning, during breakfast, Ed and Suzanne announce that they have decided that rattling around in the desert is not a good idea the way their bus is running.
"So far we have always been somewhat close to help when trouble struck. Being out in the middle of nowhere might not be a good idea."
Also Ed adds, "With the bus running rich, gas is probably washing the cylinder walls and wearing them out". They call the specialist back in Lancaster and tell him what is happening and that they are on their way back to him.
We part company. Ed and Suzanne head for Lancaster.
And that is why Lolli and I are now sitting in the snow over the bones of the Ichthyosaur.
After Ed and Suzanne depart we look at our map and discover an old trail called Furnace Creek Road leading north out of Tecoupa along the high eastern edge of Death Valley. If the road is passable we should eventually arrive at Dante's View. Why not?
Off we go and in only two hours we are mired down in loose sand. Stuck!
I shut off the engine and we have lunch while listening to the vast silence, then I let the air out of the tires and, with Lolli pushing, back out of the soft spot, get turned around and drive back a ways to hook up with the correct road we had missed. I pump up the tires with the hand pump (don't leave home without one), and finally, after eighty miles of washboard, and lonesome desert scenery, arrive at the blacktop road to Dante's View.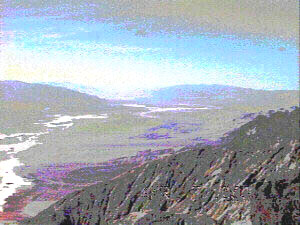 Dantes View is well worth the effort. There is a much easier way to get to it but then, that's not the cowboy way!
The next day we head for Death Valley Junction, then up to Tonopah, Nevada for lunch and, unfortunately, increasing rain showers. During lunch, while looking at our map, we notice an interesting looking road that heads north out of Tonopah to Gabbs, Nevada. We take it and it turns out to be a roller coaster dirt road for miles and miles. While rolling along we suddenly see a small sign beside the road, "Ichthyosaur Site, 19 miles". Whoa, what's this? We back up and turn off onto this small road that leads down into a large valley and finally turns off and leads up into the mountains.
We arrive at the "Site" just as the sun sets and set up camp for the night. Soon, it starts to snow!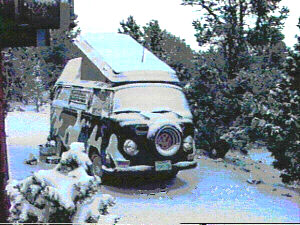 In the morning we wake to just over an inch of snow on the ground! I fire up the espresso machine to raise our spirits and then go find the resident Park Ranger who agrees to open the Ichthyosaur Site. The site turns out to be a large building covering a "dig" where nine, 250 million year old, marine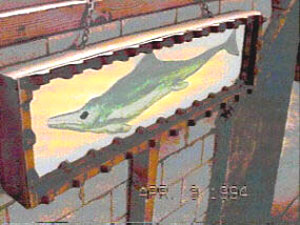 reptile fossils were discovered. Really quite amazing. We spend an hour or so poking around and reading all about it, but it sure is cold. Finally we have had enough. We pack up and head out.
Off to Gabbs and better weather, then up to Fallon, over to Sparks, then Reno, Donner Pass and one last camp out in the Mendocino National Forest up by Indian Valley Reservoir.
SAGEFOX introduced us to places we had no intention of going; totally changed the "original plan" but..., this is how we learn new stuff. ROADCOW did excellent except for the used alternator I bought last year in Colorado. It crapped out near Fallon, Nevada. Western Auto had a rebuilt one. Guaranteed for a year!
When we got home my answering machine told me that Ed and Suzanne got home okay too and that SAGEFOX is running good again after the installation of an oxygen sensor and a new catalytic converter in Lancaster.
Now we are all set to go but, unfortunately, "Spring Break 1994" is over. Oh well, we won't soon forget this one.