December 6 - 12
---
The drill jig that Gene Parsons designed works great for drilling out the broken screws in the window sashes.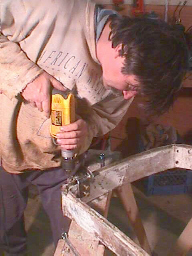 There are 607 screws and bolts that hold the window stops. About 200 broke off when we tried to remove them. The drill jig enables us to drill straight down through the old screw and re thread it. The window sashes are a curved frame and nothing is "flat".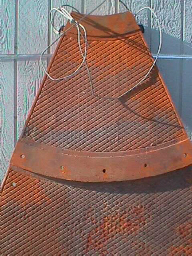 December 8th.
The first 1200 pound deck plate, returned from initial sandblasting, is leaning against the temporary shed. It too has flash rust but the worst part is that the diamond pattern on the deck is rusted rather deeply in several locations. The pattern must be restored to the original condition! We have a product on hand called Belzona, which is a high tech bondo that, after sandblasting the deck plate clean again, we will use to fill in the corrosion areas and then, somehow, put the groove pattern back into the deck plate. After the Belzona fix we will once again sandblast the complete floor plate and quickly coat it with a zinc primer.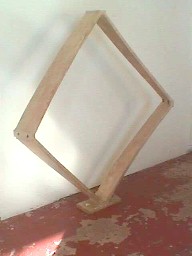 Here is the first bronze window sash that has been "glass beaded" by Mike Stenburg of Fort Bragg. Although it doesn't really show, in this image, it is a spectacular golden color and brought excitement to all who have seen it. Our first hint that when the Lantern is finally, completely, restored and put back together it will be like a jewl box with the Fresnel lens reflecting off all of the window sashes.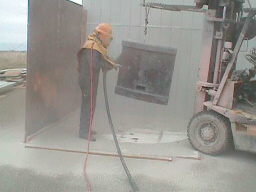 December 10th.
The air compressor, sandblasting equipment and fork lift has arrived. Here, your's truely, is re-sandblasting one of the Parapet pieces. Having a fork truck to move and hang the heavy casting has made life easier.
We are definitly in the middle phase of the project. Everything has been disassembled. We are now fixing, repairing, and painting. Phase three should start soon - putting it all back together.