January 10 - 16
---
It is nice to have a weekend off and my neighbors all come running to hear the latest news about the Lantern Restoration project. Yes. I do live in a gated community!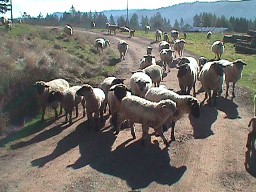 But weekends do not last long and soon it is back to work.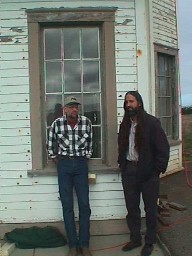 Kevin Fletcher and Bob Schlosser, the Architect, have a rousing discussion about the tinted window situation!! But, when all the dust settles it seems the windows do meet the industry standard for laminated glass and will be used. North Coast Glass, in Fort Bragg, will trim any windows that are a bit oversize. Life goes on.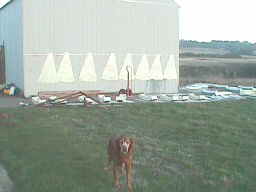 My dog Sarah is beginning to wonder if I will ever throw the dog ball again. Ramiro, Stefan and I have spent most of this week putting two coats of epoxy on all of the parts.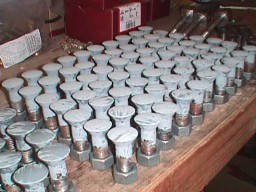 Here are the 102 bolts that hold the window sash and sash plates to the Parapet and Architrave. They have their zinc primer applied. Next comes a coat of epoxy primer.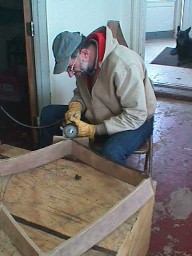 Kevin Fletcher returns to buffing the inside edges of the bronze window sashes.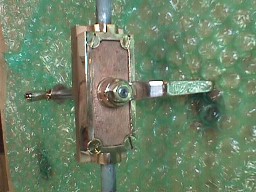 The Lantern door lock mechanism has been refurbished by Gene Parsons. He had to make a new drive shaft and inner and outer handle. The original inner handle was broken and the outer, original handle, was missing. Gene used the dimensions from the 1890 blueprints to reconstruct them! They are beautiful.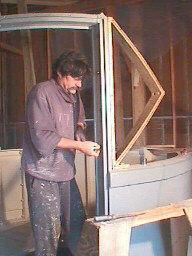 Stefan installs the bolts holding the first window sash. We are putting the window sash and sash plates in place using Vulcem sealant around all mating surfaces.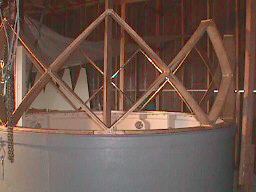 Finally, the first row of window sash and sash plates are mounted to the Parapet.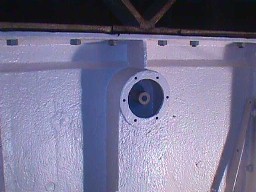 Here is a view of the air duct that is part of the cast iron Parapet. One coat of zinc primer and two coats of epoxy primer have been applied. There are five air ducts. They allow ventilation to the inside the Lantern to dissipate the heat generated by the light.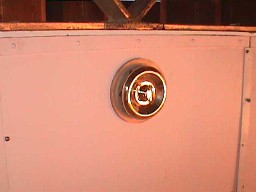 This is the Parapet with the sheet steel liner installed. I put a bronze air regulator in place just to see how it will look. No, the inside of the Lantern will not be pink. The regulator will be taken back off and a final coat of gloss white paint applied.