December 27 - January 2
---
We started the last week of 1998 working on the deck plates. One is finished and placed back into its original position inside the temporary shed, the first sign of re-assembly! Two are at Woodie's Weld-All in Fort Bragg having cracks welded.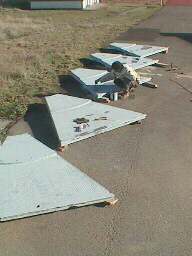 Here are five deck plates that have been sandblasted, Belzona applied to restore corroded areas, sandblasted again and then primed with zinc primer.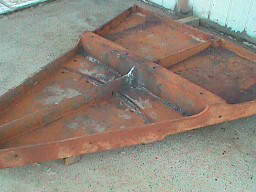 December 29th
One of the welded plates has returned to the job site. The following day the last repaired deck plate returned. When we are finished with them that will be the last of the sandblasting and boy, are we happy about that! We have gone through four tons of sand!
Progress on cleaning the Fresnel lens continues. Here I caught the lens reflecting sunlight coming in through the Lighthouse window. Beautiful.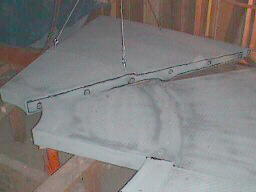 December 30th.
Here, deck plate #3 is being lowered into place. A bead of Vulcem sealant has been applied around the perimeter of the mating surfaces and also around each bolt hole. Once the deck plate is lowered and aligned with deck plate #2 we put in the galvanized 5/8th's bolts and draw the plates to a nice snug fit causing "squeeze-out" of the Vulcem sealer. Perfect! We will finish tightening the bolts after all the deck plates are together; leaving us a little "slop" for final adjustment.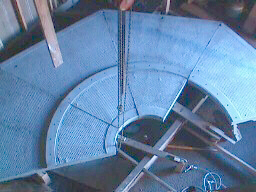 Here is a view from above of four deck plates assembled in the temporary shed. You can see, in the two o'clock position, deck plate #1, the "short" one. It is the deck plate that allows entry to the Lantern from down below when the Lantern is once again sitting atop the Lighthouse.
And, that's it for good ol' 1998. We will be back on the job January 4th, weather permiting, to finish the last two deck plates, put them in place and then move on to assembling the Parapets, window sash, Architrave, and roof and hopefully complete the job by the due date of January 28th, 1999!