Spring Fling 2004
I have become interested in e-powered Radio Controlled airplanes.
A friend tipped me off that there was going to be an all electric meet in Reno, Nevada, March 20~21.
E-ha! I packed my Vanagon and hit the road!
The event meet all my expectations:
Interesting and knowledgeable fliers
Wonderful weather
and a chance to get an e-plane of my own.
Here is part of the group prior to attempting to break their previous record of 17 flying wings up at one time.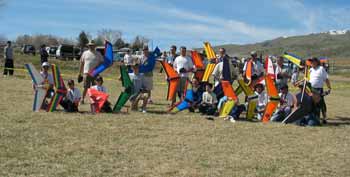 Saturday night the coordinator of the event, Phil, flew his wing with LED lights.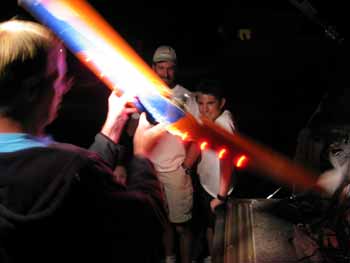 Here he is making adjustment before launch.
Finally, check out my smile. Yes, an e-wing of my own!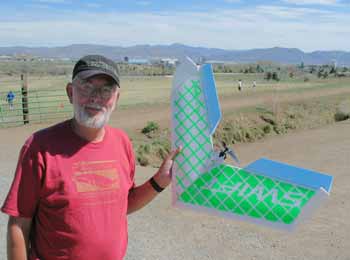 I bought a Swift. It is an EPP foam wing with a Speed 300 brushed motor and a three cell Lithium-Polymer battery.
I have flown it quite a bit since I bought it and it will fly up to 30 minutes on a charge! Loops, rolls, inverted, glide. It does it all!
I really like it.
Meanwhile, the Free Mexican Air Force will soon have a new bomber!